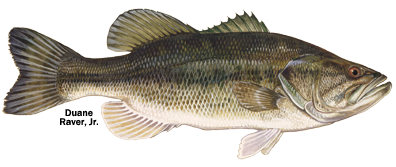 Largemouth bass are found in almost every body of freshwater in Florida. With more than 7,500 lakes and other waters available, anglers sometimes face a tough decision about where to fish. The following list of Top Spots for Black Bass aims to help anglers find a quality place to catch either good numbers of bass or to catch a trophy bass. FWC fisheries biologists selected these Florida lakes and rivers (in no specific order) as top black bass fishing destinations for 2019.  You can review these and other "Sport Fish Top Spots" on our Top Spots Map.
Note: See the Department of Health's Florida Fish Consumption Advisories for important information about eating bass and other fish.
Bass fishing has been outstanding across Florida and FWC biologists have selected an unusually high number of sites that will continue to offer good to excellent fishing throughout 2019! Good luck, and tight lines!

Lake Talquin
(Gadsden and Leon counties)
Lake Talquin is an 8,800 acre lake located west of Tallahassee and provides anglers with high-quality bass fishing opportunities. As of 2018, Lake Talquin has 79 TrophyCatch submissions, the most of any lake in NW Florida. FWC has made extensive efforts for supplemental bass stocking in Lake Talquin from 2000-present. In the past two years, FWC has stocked Lake Talquin with nearly 200,000 Largemouth Bass. Stocking in Lake Talquin has proven to be successful, with biologists collecting bass in excess of 12 lbs. that were confirmed to be stocked by our state hatcheries.
Anglers do well fishing for Largemouth bass during the spring in shallow water using soft plastics on the docks of the main lake and near the lily pads in the back of the creeks. Winter and summer is the time to hit the ledges in deeper water; deep diving crank baits and Carolina-rigged worms usually do the trick. There are plenty of public ramps to choose from on both the Leon, and Gadsden County sides of the lake. The folks at Ingram's Marina (850-267-2241), Lake Talquin Lodge (850-627-3822), and Whippoorwill Sportsman Lodge (850-875-2605) always know when and where they're biting.
Lake Talquin also offers numerous shoreline fishing opportunities. In 2018, FWC installed fish attractors at 4 public fishing piers throughout the lake. These piers include: High Bluff Campground (Gadsden Co.), Pat Thomas Park (Gadsden Co.), Ben Stoutamire Landing (Leon Co.), and Williams Landing (Leon Co.).

Orange Lake
(Alachua County)
At nearly 13,000 acres, Orange Lake is the largest public lake in the North Central Region. This shallow lake is designated as a fish management area (FMA) and is located roughly 20 miles southeast of Gainesville. This lake has historically provided outstanding bass fishing for those seeking to catch trophies as well as numbers. Two popular public access points on the lake are Heagy-Burry Park and Marjorie Kinnan Rawlings Park. Both parks provide boat ramps and ample parking, restrooms, and bank fishing opportunities. The lake can also be accessed from several other private ramps as well as from Lochloosa Lake via Cross Creek. Orange Lake has dynamic water levels that are strongly tied to periods of drought and abundant rainfall. This can sometimes make accessing the lake difficult. Consistently high water the past several years has provided reliable access, increased angler effort, and improved fishing success since the lake nearly went dry in 2012. Strong winds often move floating tussocks around the lake that can hamper access, so it pays to check ahead for conditions at your ramp of choice.
Orange Lake contains varied and extensive aquatic vegetation that provides excellent bass habitat. While nowhere near historic levels, hydrilla and coontail have returned to limited areas of the lake in recent years. A diverse and emergent plant community, including spatterdock (pads), smartweed, and maidencane can also be found around the lake. Bass anglers on Orange typically do well flipping soft plastics in and around emergent pads and floating vegetation mats, especially during the springtime spawn. Anglers should also target submerged vegetation such as coontail and hydrilla beds with spinnerbaits, lipless crankbaits, soft plastics, and topwater lures.
Since the most recent drought and subsequent refilling, biologists have seen tremendous growth in both numbers and size of bass in the lake. One such fish was collected in March of 2017 and weighed 9.5 pounds. The same fish was recaptured by biologists in November of the same year at nearly 13 pounds. Biologists are also working to help boost fish populations through various habitat restoration and fish stocking projects on the lake. The number bass tournament permit requests have been increasing, and recent tournament bag limits have been impressive with one notable bag weighing in at just under 31 pounds. A number of eligible fish have been submitted to FWC's TrophyCatch program recently as well. If stable water levels persist on the lake, the habitat and fishing should only get better with time. Orange Lake has the potential to produce some truly outstanding bass fishing.

Kenansville Lake
(Indian River County)
Kenansville Lake is located in Indian River County, just East of Kenansville, Florida. Kenansville Lake is a 2,300-acre reservoir which is a part of the Upper St. Johns River Basin Project, one of the largest flood control/restoration projects in the world. The lake was flooded in the early 1990's and originally was a top Crappie destination. In 2010, submersed aquatic vegetation (SAV) became established, and quickly covered a majority of the reservoir. Soon after, the bass fishery exploded with anecdotal reports of over 100 bass caught some days. Kenansville Lake has a regulation of catch-and-release only for Bass.
Because of the remote location, we do not have creel data for Kenansville, but our spring electrofishing data shows a very high density of bass, with a high proportion of trophy bass. Our electrofishing catch rates have been as high as over 2 bass per minute in recent years. Electrofishing data also show a high abundance of forage fish including golden shiners. The abundant forage allows these bass to grow quickly and have a high condition factor. Over 50 Trophy Catch submissions have been received for Kenansville Lake, including a 13-pound, 4 oz. giant that is in the Trophy Catch hall of fame. There is only one boat ramp at in the Northwest corner of the lake at the end of Fellsmere Rd. Off of highway 441. Punching through mats of vegetation with heavy 1.5 oz. weights is a popular tactic here and yields large bass. Swimbaits and soft plastic twitch baits are also used often in the open pockets of SAV and can elicit vicious strikes.

Stick Marsh / Farm 13
(Indian River County)
Stick Marsh/Farm 13, known as "The Stick Marsh" to locals, is located near Fellsmere, Florida on the border of Brevard and Indian River Counties. The Stick Marsh is a 6,500-acre reservoir which is a part of the Upper St. Johns River Basin Project, one of the largest flood control/restoration projects in the world. The reservoir gained fame worldwide when it was flooded in the early 1990's and has sustained itself as one of Florida's top bass fisheries ever since. Before flooding, the land was used for agricultural purposes, including orange groves. These orange trees, along with the agricultural infrastructure was left in place when flooded and quickly earned its name, the Stick Marsh. The Stick Marsh has a unique regulation of catch-and-release only for Bass.
From its opening, the bass fishing was incredible, and large portions of the lake were covered with submersed aquatic vegetation (SAV). The hurricanes in 2004 wiped out almost all the SAV, but as of 2011, the vegetation is starting to return along the south end. Angler catch rates calculated from our creel surveys for the Stick Marsh have been consistently among the highest in the state. Since 2011, catch rates have been over 1 bass per hour each year, with 2017 average catch rate at 1.27 bass per hour. During spring electrofishing, Stick Marsh routinely is among the leaders in the area for numbers of trophy bass collected, with fish over 12 pounds being observed in our samples. In 2015, FWC placed 18 fish attractors in the North end of the lake to help concentrate sportfish and give anglers an opportunity close to the boat ramp.
Bass anglers in the stick marsh generally target the SAV habitat in the south end of the lake, and "the back lot" up in the north. The topwater bite can be fantastic with chug bugs and buzzbaits being popular among locals. Swimbaits, plastic worms, and senko-style baits are also very popular, with Junebug, black, and blue among the top color choices. Later in the spring, topwater frog fishing can be excellent in the SAV. In the summer months, the brush attractors hold a lot of bass, as well as some of the water control structures, and the ditch intersections that exist from to agriculture days of the property. Live, wild golden shiners are also always a good bet and give anglers potential to land a trophy. One boat ramp exists at the end of the Fellsmere Grade road in the Northeast corner of the lake.

West Lake Tohopekaliga (Lake Toho)
(Osceola County)
Located adjacent to the City of Kissimmee in central Florida, the 18,810-acre West Lake Tohopekaliga is well known throughout the angling community for producing excellent fishing as well as trophy largemouth bass. In fact, this lake is in the top 5 lakes statewide for TrophyCatch approved entries. The lake continues to provide anglers with a diverse plant community for which to try their luck and also affords fish a wide variety of optimum habitat to utilize. Results from angler surveys conducted from January through April 2018 indicate bass anglers once again experienced an exceptional catch success rate of 0.78 fish/hr, which is well above the average for many other lakes monitored within the state. Usually, catch rates decline in the summer, but this year catch rates remained high with the trend continuing through fall 2018. Based on the reputation of outstanding bass fishing, bass tournament directors annually select Lake Tohopekaliga as "must go to" water body for their respective clubs and tournament trails. This winter, FLW and Major League fishing will be conducting events on Toho so come on out to see what the pros are doing!
The majority of anglers targeting trophy bass use live bait (golden shiners) during late winter/early spring. Anglers typically have good success fishing with shiners inshore near native vegetation or topped-out hydrilla. Plastic baits (worms, crawfish and lizards) or swim jigs flipped or pitched along either grass edges, hydrilla or bulrush will also account for some quality-sized bass. Spinnerbaits, plastic frog imitations, soft jerkbaits and chugging baits can also be very productive. Both Texas- and Carolina-rigged plastic worms, rattling crankbaits, buzz-baits and chugging baits are proven lures during warmer months of the year. Also, schooling activity by bass can usually be observed during warm months and can provide anglers with some fast action on topwater baits and lipless crankbaits. Look for schooling bass just south and east of Makinson Island in open water or adjacent to the Kissimmee grass edges.
North Steer Beach, Lanier Point, Little Grassy Island and Goblet's Cove are areas that bass anglers frequent and have had good success in the past. Both Shingle Creek and St. Cloud Canal (C-31) hold good concentrations of fish when flow is present through these tributaries. Eight man-made fish attractors located in deeper areas of the lake consistently produce good stringers of bass during the summer.
Two fish camps, one marina, one County park and five public boat ramps are available to anglers. Two fishing piers and numerous access points exist for bank fisherman along Lakeshore Drive and Neptune Road at the north end of the lake.
For more information about the Kissimmee Chain of Lakes visit Experience Kissimmee.

Butler Chain of Lakes
(Orange County)
The Butler Chain (11 lakes, 4,700 acres) is a Fish Orlando BIG WATER BODY where the management goal is to preserve, protect and enhance bass fishery habitat. Managers work with Orange County and the FWC's Invasive Plant section to try and keep submersed native vegetation in the 50-70% range. Guides in Osceola County and Orange County often fish the Butler Chain because it routinely produces 30 to 40 bass per trip and certainly grows its fair share of trophy bass. Despite only being 4,700 acres, it is listed in the top 25 for TrophyCatch submissions in the state with over 50 thus far. Public access to the chain is located at RD Keene Park in Windermere.

Lake Kissimmee
(Osceola and Polk counties)
Lake Kissimmee (34,976 acres) is the largest of five main water bodies on the famous Kissimmee River in central Florida. Nationally renowned for consistently producing high quality fishing, Lake Kissimmee continues to be a favorite fishing destination of both residents and anglers visiting Florida. As a result of aggressive habitat management, anglers fishing the lake will find both a diverse and expansive plant community at their disposal, providing numerous areas to try their luck and enjoy their time on the water. Based on results from angler surveys conducted during January through April 2018, bass fishing continued to be very good as anglers experienced a catch success rate of 0.62 fish/hr with an estimated 33,000 bass caught during the survey period. Lake Kissimmee is also a popular water body among the tournament bass fishing community with both area club and professional tournaments held there annually.  Trophy bass is the headliner here.  In fact, Lake Kissimmee is the number one public lake in the state for TrophyCatch approved entries. The only group of lakes that eclipse Lake Kissimmee are private water bodies.
Native grasses, bulrush, cattail, hydrilla and lily pads south of Ox Island down to Jax's Slough, Brahma Island and the Pig Trail provide anglers with excellent cover to pitch or flip plastic baits or slow-troll golden shiners for spawning bass during the winter and spring seasons. Rattling crankbaits, plastic frog imitations, soft jerkbaits, minnow-type stickbaits and Texas- or Carolina-rigged plastic worms fished in open-water or along edges of vegetation are productive during summer and fall. Fly fishermen have access to some outstanding areas to wade fish and consistently have good success with popping bugs during the spring and summer.
Three fish camps, one state park and two public boat ramps are available to anglers.
For more information about the Kissimmee Chain of Lakes visit Experience Kissimmee.

Lake Griffin
(Lake County)
Lake Griffin (10,000 acres), located in central Florida, is part of the Harris Chain of Lakes and is the headwaters for the Ocklawaha River. Lake Griffin has had a dynamic history and restoration work has improved the water quality which has allowed the habitat to improve. The bass population has taken off and resulted in some of the finest bass fishing in the state in recent years. Over 300 bass tournament fish the Harris Chain each year and often, anglers spend the extra effort to lock into Lake Griffin because of the high numbers of quality sized bass and good trophy potential. From our angler surveys (creel) done each year, the anglers catch rates have risen to around 0.8 bass per hour for the past three years, which ranks near some of the most productive bass fisheries in the state. During FWC spring electrofishing surveys, we have observed bass up to 12.5 pounds and TrophyCatch submissions continue to increase. In 2012, FWC placed 18 fish attractors in the lake to concentrate sportfish and they hold the highest number of bass during the warmer months.
Although anglers are quickly beginning to target Lake Griffin as a top bass destination, the diverse angling opportunities and habitat allow anglers to get away from the crowds. Anglers can flip the grass or pads in the southern section of the lake or focus on fishing the expansive submersed vegetation that has expanded offshore in the northern section (north of Haines creek). Lake Griffin also has a large residential canal network that can have quality bass and provide sight fishing opportunities during the spring when the bass are spawning. Several restored shallow marsh areas on the east side of the lake can provide another fishing opportunity for bass. The primary public access to Lake Griffin is at Herlong Park on highway 441 on the south end of the lake. Several fish camps also exist on the west side of the lake.

Rodman Reservoir
(Putnam County)
Rodman Reservoir, east of Gainesville and south of Palatka, covers 9,500 acres of prime largemouth bass habitat. Since its creation in 1968, Rodman Reservoir has been known for trophy largemouth bass. The reservoir has also been recognized on multiple occasions by Bassmaster magazine as a fishery of note in the Southeastern U.S. Much of the fishery's success is attributed to abundant habitat in the form of stumps and submersed aquatic vegetation, and periodic drawdowns occurring every three years. Although drawdowns on Rodman are used primarily to dry-out sediments along the shoreline and control invasive aquatic vegetation, biologists have also demonstrated a relationship between largemouth bass abundance and reservoir drawdowns. During years when drawdowns occur, largemouth bass production and survival tends to be higher than normal water years. These year classes provide "pulses" to the fishery at three-year intervals that make-up the majority of the population and the catch by anglers. An angler survey conducted by biologists from December 2017 – May 2018 showed an average catch rate of 0.95 bass per minute.
Generally, largemouth bass on Rodman Reservoir are most active during cooler months. Anglers targeting trophy largemouth bass use live golden shiners, either floated under a cork or free-lined. Most big bass are caught in the pool area, known as the "stump fields," along the river channel. However, many trophy bass come from the area between Cypress Bayou and Kenwood Landing. Successful anglers also use artificial baits, such as deep-diving and lipless crankbaits, spinner baits and soft plastics. During normal water levels, boat ramps can be found near the town of Interlachen off C.R. 315 in Orange Springs and Kenwood. Additional boat ramps are located at the Rodman Recreational Area off Hwy 19 and at Eureka off C.R. 316. During drawdowns, the lake can only be accessed from gravel ramps at Kenwood and Orange Springs, or by motoring in from upstream via the Ocklawaha River. It is important to note that the taking of Largemouth Bass from Rodman Reservoir is prohibited during the drawdowns. Boaters are encouraged to exercise caution as many stumps and obstructions exist in the lake.

Lake Tarpon
(Pinellas County)
Located in one of the state's smallest and most densely populated counties, Lake Tarpon lies between Tarpon Springs (to the north) and Palm Harbor (to the south). It is the largest lake in Pinellas County at 2,534-acres with an expansive watershed including two large tributaries: South Creek and Brooker Creek. Coined 'The Jewel of Pinellas County', Lake Tarpon is a valuable recreational area, renowned for its largemouth bass fishing. Bass anglers fishing Lake Tarpon in 2018 have reported excellent catches, with most fish ranging from 12 to 16 inches long; however, quality (18 inches plus) and trophy fish (24 inches plus) are also present in good numbers. Results from angler surveys conducted from January through June (2018) indicated bass anglers experienced good catch success at a rate of 0.51 fish/hr. Based on its reputation as an excellent fishery, it is often the site of tournaments.
Anglers are most successful flipping or pitching plastic worms along canal and bulrush edges year-round. During the summer, try fishing offshore ledges, humps, and edges of open water vegetation. In the spring and fall, fish in shallow beds of coontail, pondweed, and eel grass. Popular lures include shad-imitating jigs, crankbaits, jerkbaits and top-water baits. Fishing with live wild shiners and live shad is also effective.
There are two public parks with boat ramps on the lake which are maintained by Pinellas County. A.L. Anderson Park is located on the western shore, off U.S. 19. John Chestnut Park is on the east side of the lake, off C.R. 611. Both parks offer some bank access and have excellent boat ramps and facilities. Boardwalks and piers also serve as great fishing locations.

Winter Haven Chain of Lakes
(Polk County)
Tucked in and amongst the city streets of Winter Haven in north-central Polk County, the Winter Haven Chain of Lakes may well be Central Florida's best kept bass fishing secret. Polk County is home to 554 named lakes and the state's certified record Florida Largemouth Bass (17.27 lbs.). The chain is comprised of 26 lakes ranging in size from 25 to 2,654 acres and totals just over 9,000 acres of fishable waters that offer a wide variety of habitats and bass fishing experiences. The cattail stands on Lake Haines and Lake Rochelle are great for bass angling and when cypress trees are your target Lake Eloise is packed with large beautiful cypress.  Lake Winterset has deep crystal-clear water and open water beds of eelgrass, Lake Hartridge is also an excellent bass fishing lake with plenty of pondweed. The unique residential/urban setting allows anglers to watch bald eagles circling overhead in Lake Shipp or take in a water ski show on the water at Florida's newest theme park, Legoland (Lake Eloise). Ample public access is available in the form of 14 boat ramps, 5 fishing piers, bank fishing at a half-dozen city parks, and public easements alongside the numerous canals that form the connecting links between lakes.  Regardless of what lake is fished, they all offer high quality bass fishing opportunities and the chance of a lifetime to land a trophy size bass. Live shiners, jerkbaits, and the classic plastic worm presentations work well here and several outstanding local bass guides are available for those who want to get on fish quickly. Information about guide services, fishing forecasts, and lodging is available.

Tenoroc Fish Management Area
(Polk County)
The 8,300-acre Tenoroc Fish Management Area near Lakeland provides a special opportunity to bass fish in Florida's famous phosphate pits. These seven to 227-acre lakes were created years ago by draglines during phosphate surface mining operations. As a result, lake bottoms have irregular contours with depths ranging to 35 feet. The bass fishing experience in these phosphate pits can rival any natural lake when the fish are biting well. Bass fishing is best from mid-November through March. Anglers also have a better opportunity to catch large bass. Lake A, Lake B, Lake C, Lake F, Lake 2, Lake 3, Lake 5, Fish Hook Lake, Hydrilla Lake, Butterfly Lake, Shop Lake, Tern Lake, and Lost Lake West offer some of the best bass fishing opportunities on the property.
Probing deeper waters with chrome-colored rattling lures and chartreuse ("Firetiger" color) diving crankbaits is a good bet in phosphate pits. Plastic worms are often the best all-around lure for fishing in these lakes. Red shad and Junebug colors are good plastic worm colors for bass in these lakes. Anglers that can find submersed islands or sandbars off points will find concentrations of bass. In addition, many of the lakes are connected with water control structures. When in operation, bass are concentrated in areas of flowing water. During the spring, flipping worms or soft plastic baits in thick brush will produce largemouth bass.
Tenoroc lakes are managed with a variety of harvest regulations including total catch-and-release (no harvest) and a 16-inch maximum size limit, with daily bag limits ranging from 2 fish to 5 fish per person.
Tenoroc is located two miles northeast of Lakeland on Highway 659 (Combee Road), which can be accessed from Highway 33 just south of Interstate 4. Call the Tenoroc Headquarters at 863-499-2422 for more information or to make reservations. The area is open to public fishing four days a week, Friday through Monday. All anglers must check in and out at the Tenoroc Fish Management Area Headquarters (3829 Tenoroc Mine Road), deposit their valid fishing license and pay $3 for a daily fishing permit unless exempt.

Mosaic Fish Management Area
(Polk and Hardee counties)
A bass fishing trip on the 1,000-acre Mosaic Fish Management Area in Polk and Hardee counties is definitely worth planning. Anglers had an average catch rate of 1 bass/hour last year, well over the statewide average. There are 12 phosphate pits (i.e., lakes created by surface mining) that range in size from 10 to 80 acres with depths that range down to 30 feet. The fishing pressure on these lakes is relatively low and the bass fishing can turn on at a moment's notice. These lakes offer a special opportunity to fish Florida's famous phosphate pit bass fisheries.
Top-water baits around dawn and dusk, white or chartreuse spinner baits, plastic worms, and chrome or "Firetiger" (chartreuse and orange) colored crankbaits can all be successful. Fishing shoreline brush and vegetation works well in the spring. Anglers that can find submerged islands or sandbars off points will usually find concentrations of bass, particularly during warmer months of the year. Lakes Coulter, Pine West, SP11, and SP12 South offer some of the best bass fishing opportunities on the property. Catch rates of bass were highest from Pine Lake West at a rate of 2.5 bass/hour.
Mosaic lakes are managed with a variety of catch-and-release harvest regulations, including total catch and release (no harvest) and 16-inch maximum size limits, in which anglers must immediately release any bass 16 inches or greater in total length.
Mosaic Fish Management Area is located near the town of Ft. Meade in Polk County. Fishing by boat or kayak is the best way to explore the lakes but some bank fishing opportunities are also available. The FMA is only open to public fishing four days a week (Friday - Monday) from 6 AM until 2 PM daily. No reservations are allowed, so lake permits are allocated on a first-come-first-serve basis. Please call 863-648-3200 for more information about fishing at the Mosaic Fish Management Area.

Lake Placid
(Highlands County)
Lake Placid is a 3,400-acre lake located on the south side of the town of Lake Placid, FL in Highlands County. Though often overlooked by anglers headed for other popular area lakes, Lake Placid offers great opportunities for those looking to catch numbers as well as the chance at a lunker. This unique lake has a variety of vegetation and quality habitat types, including deep (50+ ft) flats, ledges, and humps not typical of most Florida lakes. Anglers should fish deeper, offshore areas with deep-diving crankbaits, large spoons, plastic worms, and drop shots; whereas, anglers fishing shallower, vegetated areas should try jigs, plastics, and swim baits near areas of maidencane, bulrush, and Kissimmee grass.
There are two public boat ramps on the lake. The primary ramp is located on the western side of the lake off of Placid View Drive. An additional ramp with limited street parking is located on the northeast side of the lake on Harris Drive.

Lake Okeechobee
(Palm Beach, Martin, Glades, Okeechobee, and Hendry counties)
Lake Okeechobee is Florida's largest lake and the second largest body of freshwater in the contiguous United States. Lake Okeechobee is located on the south-central portion of the Florida peninsula. Vast surface area (730 square miles), shallowness (averages only 9 feet), and enormous habitat diversities make the ecosystem unique on the North American continent. This vast expanse of water includes thousands of acres of productive vegetation, a 100-yard wide rim canal that circles the lake (with plenty of bass too), and many secondary canals and cuts linked to it, resulting in hundreds of miles of fishing water.
Millions of largemouth bass inhabit the huge lake and can be caught year-round. Many anglers from around the country have claimed Okeechobee as the black bass capital of the world. Last year the lake hosted the most tournaments and anglers in the state and produced 115 tournament bags over 20 pounds. A guide is highly recommended, especially your first time to the lake. Numerous boat ramps, fish camps, and marinas are located around the lake to help you catch your dream bass. FWC's interactive Boat Ramp Locator provides a very helpful resource.
While the fishery on Lake Okeechobee is largely catch and release, up to five bass can be kept per day. The statewide regulation for largemouth bass has no minimum size, and only one bass may be 16 inches or longer in total length per angler, per day. Don't forget to register your eight pound and larger bass with TrophyCatch so you can say "My trophy swims in Florida," and earn gift cards and other prizes.

Osborne-Ida Chain of Lakes
(Palm Beach County)
Lake Osborne and Lake Ida are connected by the E-4 canal system and located just off I-95 in Palm Beach County. Though it is not one of the region's largest resources, it does receive a considerable amount of effort in the form of recreational and tournament related activities. On average, the chain receives the 2nd most tournament effort in the South Region, which is impressive considering its relative size. While it is a good location to target good numbers of quality sized largemouth bass, probably the most attractive attribute is unique opportunity to catch butterfly peacock bass at the same time as largemouth. Peacock are in both numerous and found in trophy sizes in the chain. Outside of their aggressive fighting nature, one of the things that make peacocks an exciting catch is the ability to catch them at pretty much any time of the day. The bite should be good on live shiners or early in the morning on top-water lures and later with crank baits. Consider trying jigs or plastic worms for largemouth bass.
The urban location, easy access, and excellent fisheries are some of the many reasons that make the Osborne-Ida Chain of Lakes such a popular destination for recreational and tournament fishing. Lake shorelines predominately consists of mowed grass, common reed, bull rush, and many other types of vegetation, but does provide a considerable amount of shoreline access. The lakes have excellent bank fishing access via John Prince Park at Lake Osborne and to Lake Ida at Lake Ida West Park and Lake Ida East Park. Public boat ramps are available at John Prince Park, Lake Ida West Park, and Lake View Park (Lake Ida).

Everglades Water Conservation Areas 2 and 3
(Palm Beach, Broward and Miami-Dade counties)
The Everglades Water Conservation Areas (WCAs) are south Florida marshlands intersected with over 200 miles of canals. WCA 2 has 210 square miles of marsh, and WCA 3 covers approximately 915 square miles of marsh. Originally designed for flood control and water supply, the area provides some of the best largemouth bass fishing in the country.
Over 25 public boat ramps provide access to the different segments of canals surrounding and intersecting the WCAs. The L-67A, L-35B and Alligator Alley (I-75) are three of the most popular canals in the area for fishing. The L-67A has two boat ramps, one on the northern end at Holiday Park and one on the south end at the S-333 structure off Tamiami Trail (state road 41). Holiday Park also offers camping and boat rentals. The L-35B canal boat ramp is located off state road 27 at the sawgrass recreation area. Numerous boat ramps for alligator alley are located throughout Interstate 75 on both the north and south side of the road.
This is a water-level driven fishery. The best fishing usually occurs in the spring when declining water levels concentrate fish in the canals. Low water levels tend to push fish out of the marsh and concentrate them in the bordering canals. Recent water level and angler catch rate analysis indicates that the larger the drop in water level, and the faster it occurs, the better the fishing. Conversely, a small or very gradual drop in water level may not be sufficient to stimulate fish movement and generate high catch rates.
February and May are often the peak fishing months. Catch rate from last year's creel survey on the L-67A canal was 1.75 fish per hour for non-tournament anglers and 2.93 fish per hour for tournament anglers. These catch rates are very good suggesting that when anglers were out fishing they were having no trouble catching plenty of bass. Electrofishing catch rates were also high at 3.97 fish/min during fish community sampling last April. Anglers will often be most successful working canal edges with plastic worms, top water lures, crankbaits and Rapalas. Flipping the vegetation is also a popular technique. During high water, some anglers will enter the marsh areas where bass can be found in the open slough areas. Catch rates are not as high when entering the marsh but offers a unique style of bass fishing similar to fishing the flats. The L-67A and Alligator Alley canals have access trails off them that are specifically cut to provide boat access to adjacent marsh areas. The L-35B canal does not have specific trails, but open areas boat can go through when water is high to access the marsh. Remember to display an orange flag 10 feet above your vessel when entering the marsh.
Other Black Bass Species:

Chipola River (Shoal bass)
(Calhoun County)
NOTE: Effective June 2019, harvest and possession of shoal bass in the Chipola River and tributaries of the Chipola River is temporarily suspended. Anglers may fish for shoal bass, but all caught shoal bass must be immediately released. 
Shoal bass primarily occur in the Chipola River between Spring Creek (the outflow of Merritt's Mill Pond located above the I-10 Bridge) to Johnny Boy Landing (located off of CR 274 near Altha, FL). There are three public boat ramps located within this stretch of river: Magnolia Bridge (SR-280), Peacock Bridge (SR-278), and Johnny Boy Landing. Canoe and kayak outfitters include the Chipola River Outfitters (850-762-2800) and Bear Paw Adventures (850-482-4948). Individuals planning their own trip can download the Chipola River canoe trail map from the Florida Department of Environmental Protection's Greenways and Trails website listing Florida's designated paddling trails. The FWC recommends checking USGS river levels (Marianna and Altha stations) prior to planning a trip on the river. Boaters should be careful when navigating the Chipola River. There are many limestone shoals and snags throughout the river. Shoals may not be as visible after recent rain events. The river is also used by tubers, divers, and swimmers. Navigation upstream can be difficult to impossible when the river is low, therefore boaters should plan accordingly. When river levels are extremely low, the Look and Tremble Shoal below Johnny Boy Landing becomes a steep, hazardous drop.
Shoal bass can be found in riffles and runs containing limestone or other rocky substrate. They may also be located in runs containing eel grass. Larger shoal bass may be caught in pool areas containing limestone outcropping immediately below or above shoals, particularly during the hot summer months. Crayfish are a major part of the shoal bass diet. Shoal bass may be targeted with the same type of lures used to target largemouth bass. Largemouth bass coexist with shoal bass in this section of the Chipola River although largemouth bass are more associated with logs and woody debris and are often more abundant in the slower moving water with sandy substrates. Several shoal bass over 16 inches were seen during fall 2017 electrofishing surveys and a few of these fish were over 5 pounds. As of this report, the state record shoal bass (5.95 pounds) was caught in the shoal bass conservation zone.
Note: Effective June 2019, harvest and possession of shoal bass in the Chipola River and tributaries of the Chipola River is temporarily suspended. Anglers may fish for shoal bass, but all caught shoal bass must be immediately released.

Blackwater River (Choctaw bass / Spotted bass)
(Santa Rosa and Okaloosa counties)
Note: "Spotted bass" in panhandle streams west of the Chipola River are a newly described species of bass, the Choctaw bass. Choctaw bass are not as abundant as largemouth bass, therefore biologists recommend catch and release for this unique species. Choctaw bass can be distinguished from largemouth bass by the presence of a tooth patch on the tongue. See the Black Bass Regulations rack card for information on how to identify the different black bass species and where they can be found in Florida.
Choctaw bass rarely reach as large a size as largemouth bass (it is extremely rare to catch one greater than 16 inches) and many panhandle rivers have a greater abundance of largemouth bass than Choctaw bass. Choctaw bass may not be river giants, but they fight hard and are a beautiful bass limited to a small part of the state (and country). Biologists recently collected several Choctaw bass in the Blackwater River that were over 14 inches and close to 2 pounds. These Choctaw bass were located between Carpenter's Park in Milton and the diversion upstream; Choctaw bass were more abundant than largemouth bass in this stretch of river. Anglers should focus on the upper reaches of the Blackwater River to have the best opportunity for catching this species. Many canoe outfitters are available for the upper river. The upper river is dominated by canoers in the summer, but week days may allow for more solitude. See the Blackwater River fishing forecast for a more detailed forecast and description of boat launches.
Choctaw bass prefer more current and shallower water compared to their largemouth bass cousins. In-stream cover, such as stumps, log jams, and tree roots located in runs and bends are likely places for anglers to find this species. Crawfish and blacktail shiners (River Roaches) are the prevalent forage for Choctaw bass in the Blackwater River. Anglers should use imitations of these prey items to be successful at catching fish. Plastic crawfish-imitations and finesse worms rigged weedless with a 1/8-1/4 ounce weight can be fished effectively through the wood cover without snagging. Crankbaits in brown or crawfish colors also catch spotted bass when worked along the gravel bars imitating a fleeing crawfish. In-line spinners on an ultralight rod and reel combo also work well.
Catch and release is recommended for Choctaw bass since it is a unique species limited to rivers of the western Florida panhandle.

Wakulla River (Suwannee bass)
(Wakulla County)
The Wakulla River has two access points for anglers with boats or kayaks. Anglers can launch from Shadeville Road (Hwy 365) or at Hwy 98. T-n-T Hide-A-Way rents canoes and paddle boards on the Wakulla River at Hwy 98 (850-925-6412). Anglers should focus on the area between these two boat ramps for the best opportunity for catching this species. Suwannee bass prefer more current and shallower water compared to their Largemouth bass cousins. In-stream cover, such as stumps, fallen trees, and eel grass are likely places for anglers to find this species. Crawfish are the prevalent forage for Suwannee bass in the Wakulla River. Anglers should use imitations of this prey item to be successful at catching fish. Plastic crawfish-imitations (rigged weedless) can be fished effectively through the wood cover without snagging. Crankbaits in darker colors also work well.

Fish consumption advisories:
Generally low levels of mercury have been found to occur in largemouth bass from some of these locations (highest levels are in the Everglades Water Conservation Areas). You can find out more about consumption advisories.

For more information about these lakes, contact the following FWC biologists:
Lake Talquin - Katie Woodside 850-265-3676
Orange Lake - Travis Tuten 352-415-6964
West Lake Tohopekaliga - Steve Kramer 407-846-5300
Lake Griffin - Steve Kramer 407-846-5300
Butler Chain of Lakes - Jim Sweatman 407-452-1990
Lake Kissimmee - Steve Kramer 407-846-5300
Rodman Reservoir - Travis Tuten 352-415-6964
Kenansville Lake - Reid Hyle 321-722-5364
Stick Marsh / Farm 13 - Reid Hyle 321-722-5364
Lake Tarpon - Adrian Stanfill 863-648-3807
Lake Istokpoga - Adrian Stanfill 863-648-3807
Winter Haven Chain of Lakes - Paul Thomas 863-648-3200
Tenoroc Fish Management Area - Adrian Stanfill 863-648-3807
Mosaic Fish Management Area - Adrian Stanfill 863-648-3807
Lake Placid - Cole Harty 863-648-3812
Lake Okeechobee - Andrea Dominguez 863-462-5190
Everglades Water Conservation Areas - Josh Wilsey 561-625-5122
Osborne-Ida Chain of Lakes - Josh Wilsey 561-625-5122
Chipola River - Katie Woodside 850-265-3676
Blackwater River - Katie Woodside 850-265-3676
Wakulla River - Katie Woodside 850-265-3676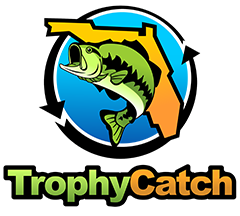 TrophyCatch Program
TrophyCatch is FWC's citizen-science program that rewards anglers for documenting and releasing trophy bass 8 pounds or larger. Registering supports bass conservation and automatically enters you in a drawing for a Phoenix bass boat.