Lake Talquin
Gadsden and Leon counties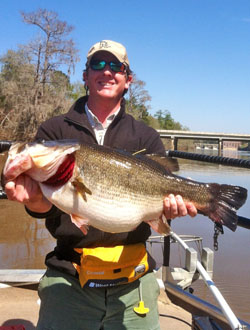 Located just west of Tallahassee, this 8,800 acre reservoir is nationally known for its high quality black crappie (speckled perch) fishery. The best black crappie fishing occurs in winter months (January through April) during the prespawn and spawning period. There is very little vegetation, but lots of tree stumps and logs. At certain times of year largemouth bass, bluegill, redear, white bass, and striped bass fishing are excellent. Lake Talquin, for a Florida lake, is deep with an average depth of 15 feet and a maximum depth of 40 feet. There are 7 public boat ramps and 5 public fishing piers on the Leon County side of the lake (Hwy 20). On the Gadsden County side, there are 3 public boat ramps and 2 public fishing piers. Six fish camps surround the lake.
All crappie that are less than 10 inches in total length must be released immediately. Largemouth bass regulations fall under statewide regulations. Statewide bag and length limits for black bass are: 5 Black bass (including largemouth, Suwannee, spotted, Choctaw, and shoal bass, individually or in total), only one of which may be 16 inches or longer in total length. There is no statewide minimum length limit for largemouth bass.
Contacts:
Ingram's Marina; 354 Lois Lane, Quincy, Florida 32351: 850-627-2241.
Lake Talquin Lodge; 231 Gainey Road, Quincy, FL 32351: 850-627-3822.
Whippoorwill Sportsman Lodge; 3129 Cooks Landing Rd, Quincy, FL 32351: 850-875-2605.
Crappie season on Lake Talquin is beginning to ramp up. Try crappie minnows in and around creek channels early in the quarter, then target the lily pads later in the quarter. Remember that harvest regulations on crappie are 10" minimum and 25 per person, per day. Striped bass and white bass begin to make their spawning runs and can be caught more readily during winter months. Striped bass regulations are three per person, with an 18" minimum size limit. Along with the three striped bass, white bass can be harvested, with a combined total from both species of no more than 20. Target largemouth bass in deep water around ledges and drop-offs.
Popular Species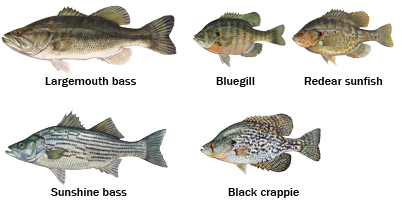 Fish graphics by Duane Raver, Jr.
More species information is available for:
Largemouth bass, Bluegill, Redear sunfish, Striped bass, Black crappie

TrophyCatch Tracker
TrophyCatch is FWC's citizen-science program that rewards anglers for documenting and releasing trophy bass 8 pounds or larger. The following TrophyCatch bass have been submitted from Lake Talquin:
Lunker Club (8 – 9.9 pounds): 64
Trophy Club (10 - 12.9 pounds): 20