Wild Turkey Management Program
Wild Turkey Management Program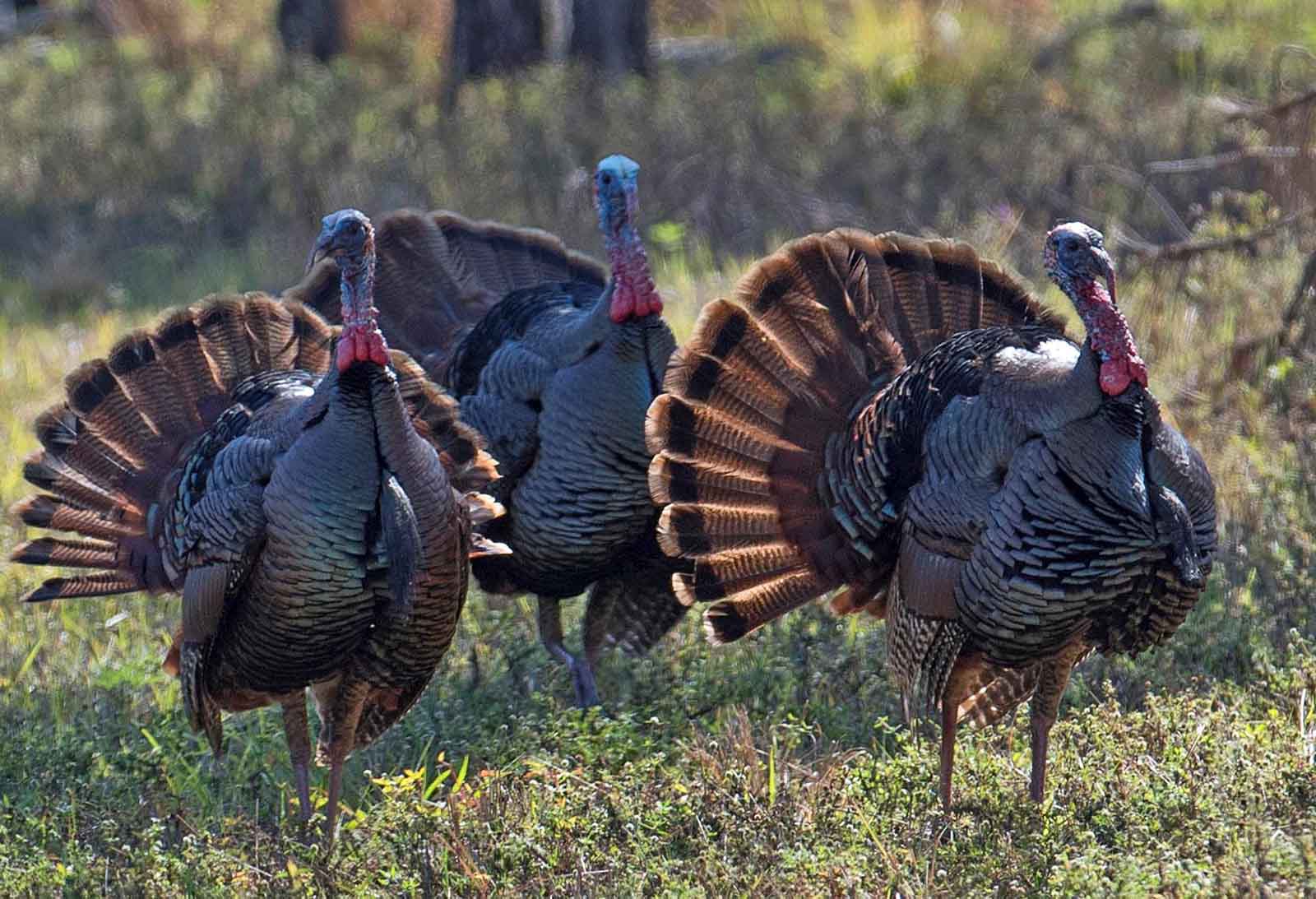 Description
Florida is home to two subspecies of wild turkey — the eastern wild turkey and the Osceola or Florida wild turkey. The Osceola lives on the Florida peninsula and nowhere else in the world. The Osceola wild turkey is best distinguished from the eastern subspecies, which it closely resembles, by the white barring on its wing feathers. On Osceola wild turkeys, the white bars on the primary wing feathers are narrower than the black bars and are irregular or broken, which tends to give the wing an overall darker appearance compared to eastern wild turkeys.
Check out the wild turkey species profile for more information.
Where to Find Osceola Turkey
The National Wild Turkey Federation and the FWC recognize, in their respective turkey registry programs, any wild turkey harvested within or south of the counties of Dixie, Gilchrist, Alachua, Union, Bradford, Clay and Duval, to be an Osceola subspecies.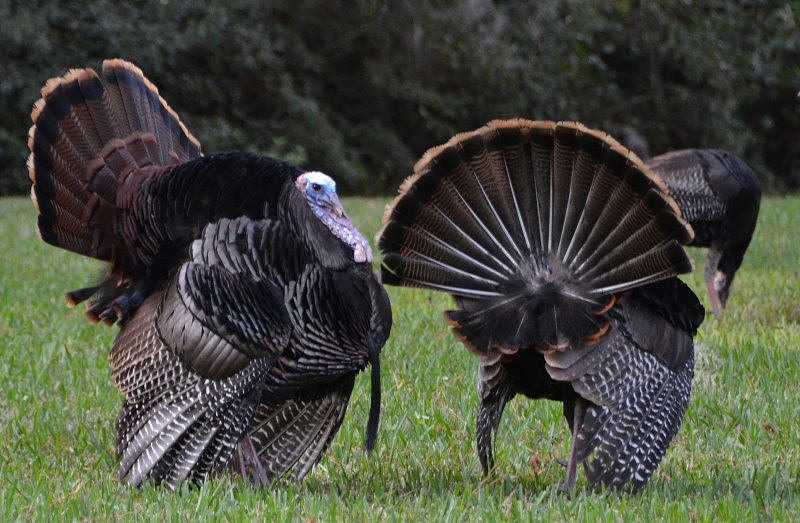 Wild Turkey Registry
If you harvested a turkey with an 11- inch beard or longer and spurs measuring at least 1 ¼ inches, you can apply for an "Outstanding Gobbler Certificate" and have your name listed in FWC's Wild Turkey Registry.
A "First Gobbler Certificate" is awarded to hunters under the age of 16 who have harvested their first gobbler, regardless of beard or spur measurements.
Learn more about FWC's Wild Turkey Registry, including the complete listing and applications for both certificates.
Turkey Cost Share Program
The turkey cost-share program is a partnership between FWC, the National Wild Turkey Federation and the Florida Forest Service to help provide funding for management projects to maintain or improve turkey habitat on public lands.
The cost-share program has grown since it began in 1994-95 with a total funding of $15,463. In 2019-20 the total cost-share funding was $490,925, combined with $1,479,722 from in-kind funding a grand total of $1,970,647 is being used for active habitat management for wild turkeys.
FWC is able to greatly contribute to the cost-share program on an annual basis, to provide funding for wild turkey habitat management, thanks to money generated from the sale of turkey permits.
Check out this year's cost-share projects.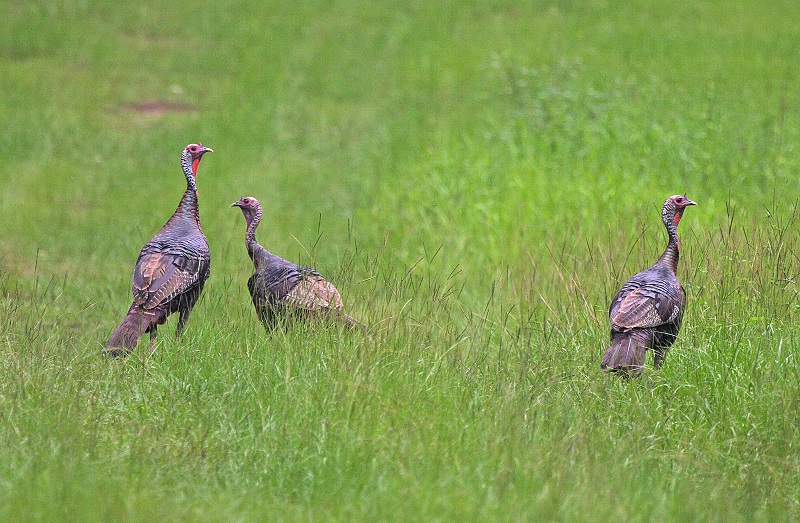 Additional Information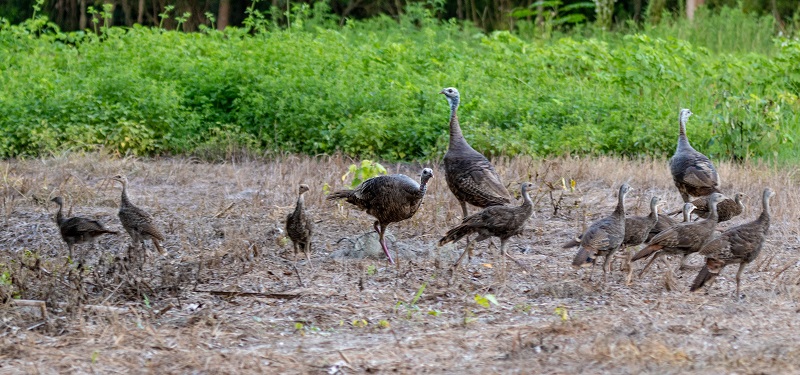 The FWC is encouraging everyone to report all wild turkeys seen in Florida, particularly hens with and without poults, from June 1 to Aug. 31. This information will provide more insight about annual nesting success, brood survival, and distribution and abundance of wild turkeys.
Photo courtesy of Glenn Whittington
In 2011, the Florida Fish and Wildlife Conservation Commission (FWC) put together an interactive map of predicted wild turkey occupancy.
Please note: Although this information is useful for depicting the general location of turkeys within Florida, caution should be taken when considering small units, since this survey information was not intended for such close examination.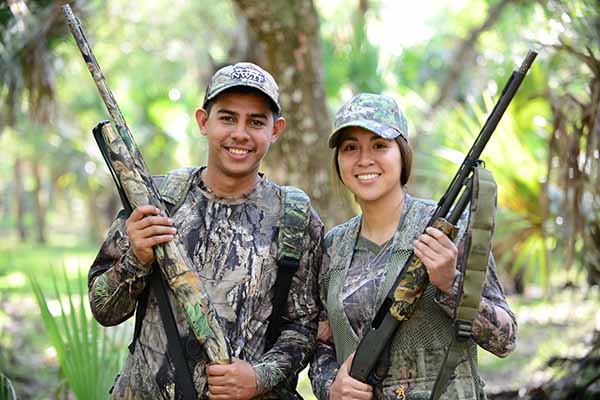 During November and December of 2015, the FWC partnered with researchers from the University of Florida's Center for Public Issues Education to conduct a survey of Florida turkey hunters. The purpose of the survey was to examine the opinions and attitudes of resident wild turkey hunters regarding wild turkey population status, management and associated hunting regulations. View the complete report for this survey.