Support manatees and their habitat by purchasing a "Save the Manatee" license plate.
FWC's Manatee Program
The Florida manatee is a native species found in many of Florida's waterways. The Florida manatee population has grown to a minimum of 7,520 animals today and as a result, in early 2017 the Florida manatee was reclassified from an endangered to a threatened species under the federal Endangered Species Act. This change in the species status is based on an increasing population and the establishment of effective protection measures to ensure the continued conservation of the species.
In 1975, Florida's school children helped designate the endangered Florida manatee as Florida' state marine mammal. Since then, various research, management and educational efforts have occurred to bring back a species that many people thought was on the verge of extinction.
Continued support from thousands of people willing to purchase Save the Manatee specialty license plates or donate funds to the manatee program has allowed the state to develop and administer what was, and is needed for management and research programs that protect and conserve Florida's manatees for future generations to see and enjoy.
Today, manatees are considered one of Florida's keystone species whose behavior can alert researchers to the environmental and habitat changes that may otherwise go unnoticed in Florida's waterways for extended periods of time. Please browse the manatee program web pages to find out more about this unique imperiled species.
FWC Manatee Management, Research, and Law Enforcement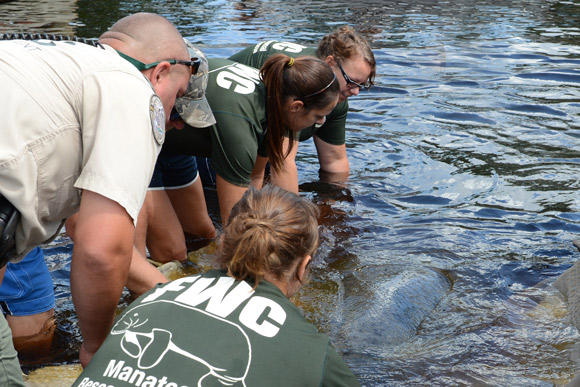 Florida manatees were first protected through Florida State Law in 1893. Manatees are protected by the Florida Manatee Sanctuary Act (§379.2431(2), Florida Statutes) and are federally protected by both the Marine Mammal Protection Act and the Endangered Species Act. 
FWC continues to protect and conserve manatees and their habitat through programs operated in the: Division of Habitat and Species Conservation (Imperiled Species Management Section and Aquatic Habitat Conservation & Restoration Section), the Fish and Wildlife Research Institute, and the Division of Law Enforcement.
Headlines
Donate $5 to get your manatee decal at Florida Tax Collector offices.Click here to view our 2019-2020 Decal: Warm Water Saves Manatees.
View the Manatee Management Plan.
Where Can I See Manatees?
During the winter months, manatees head for warm waters, such as springs and energy center discharge canals. For the remainder of the year, manatees are widely dispersed in Florida's waterways and along the cost. There are several places where you can see the Florida manatee in captivity or in the wild.
While out on the water, please remember to Stash the Trash! Learn more here.
Visit Our Partners

USFWS North Florida Field Office