Tenoroc
New Tenoroc Welcome Center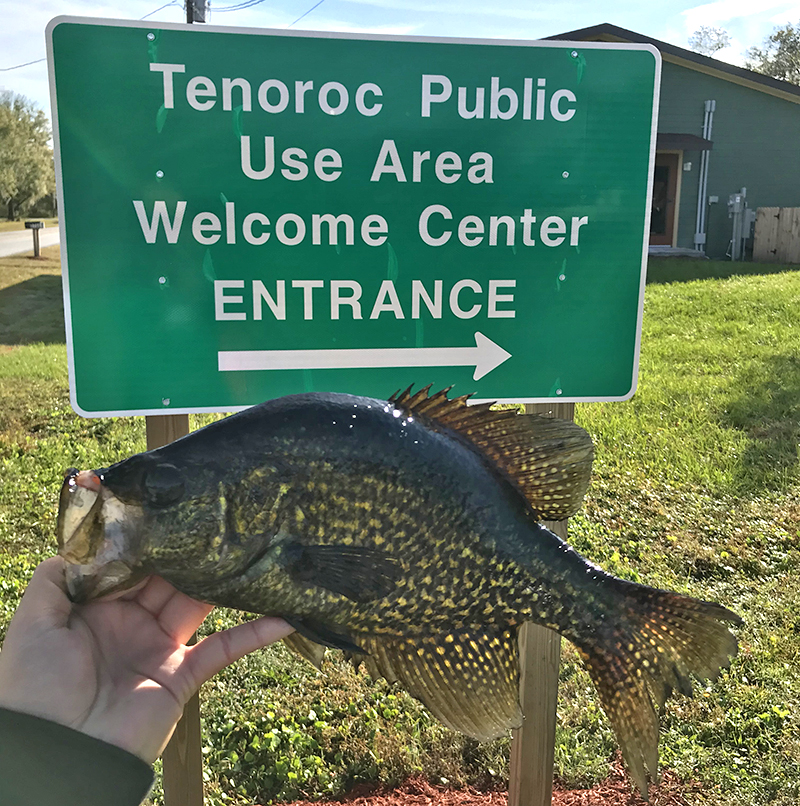 Tenoroc has opened its new Welcome Center (3755 Tenoroc Mine Road, Lakeland, Florida 33805; Phone:863-303-0093) for the general public! Operational days/hours are Friday - Monday from 6AM-7PM EST, shifting to 8PM after March 13th, 2021 for daylight saving time. The Tenoroc Welcome Center will currently be where all visitors check in and out of the FWC-managed property and includes a drive-thru window to cut back on waiting time. Visitors are authorized to enter the building while wearing a mask or face covering to buy drinks and snacks at their leisure, use restrooms, and obtain information about the PUA from 8AM-5PM. Tenoroc Fish Management Area averages a total of 24,776 anglers a year, providing a wide variety of fishing opportunities to both boat and bank anglers.
Polk County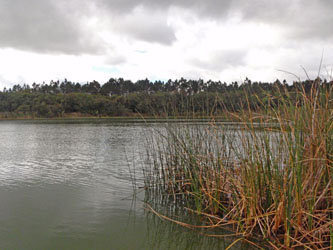 Public Access:

Open Friday, Saturday, Sunday, and Monday, 6 a.m. to 8 p.m. during periods of Daylight Saving Time and 6 a.m. to 7 p.m. during periods of Eastern Standard Time.
Tenoroc Fish Management Area, located northeast of Lakeland, offers a unique fishing opportunity. Tenoroc is an old phosphate mine where 24 lakes ranging in size from seven to 227 acres provide quality public fishing. All anglers are required to register at the area headquarters where a daily use fee of $3 is charged. Access quotas control the number of anglers on all lakes and harvest restrictions on sportfish ensure angler satisfaction. Limitations on the use of boat motors also apply here. Special opportunities are available to children and physically challenged anglers; bank fishing access is provided on many lakes. This intensive management philosophy has created some of the best catch rates in the state for a variety of sportfishes.
Two types of lakes offer different fishing challenges. Unreclaimed lakes have steep banks, brush-covered shorelines and generally greener water color. Reclaimed lakes have gently sloping shorelines vegetated with cattail, bulrush and other aquatic plants. Lakes vary in depth and offer shoreline opportunities, as well as open-water structure fishing. Roads and grounds are well maintained and modern boat ramps are provided on most lakes. Selected lakes also have restrooms and picnic pavilions.
Tenoroc is nationally noted for largemouth bass and provides excellent fishing for panfish (bluegill and redear sunfish), black crappie and several varieties of catfish. Seasonal patterns are well established for these fishes and appropriate fishing techniques are updated quarterly in this report. Most bass anglers prefer to fish the reclaimed lakes, while panfish and crappie anglers target unreclaimed lakes. Nevertheless, all species can be caught in both, so anglers can choose the type of area they wish to fish.
The site also has a shooting and training facility on the property.
Up-to-date fishing reports can be obtained by calling the Tenoroc office at 863-499-2422, Friday through Monday, between 8:00 am and 5:00 pm.
As the water temperatures begin to cool down, bream fishing will also begin to slow down as well. Although some of the bigger individuals of the bream species (bluegill and redear sunfish) will seek deeper waters, presenting natural baits (crickets, night crawlers, red wigglers, grass shrimps, or grasshoppers) under a cork/bobber or free lining with split shot weight on light tackle will entice a bite around structure, submerged timber, pockets in vegetation, humps, and holes. The use of artificial lures (rooster-tails, road runners, beetle spins) have also been successful. Lakes Shop, Pine, Picnic, Legs, F, C, B, 5, 4, 3, 2, Hydrilla, Horseshoe, Fishhook, Derby, & Coronet are good places to target Tenoroc's bream species. The catfish bite will also slow down as temperatures cool. Fishing with a piece of chicken liver, cut bait with high oil content like gizzard shad, commercial stink baits, cheese balls, and night crawlers around the deeper holes and fish feeders (for select anglers only at Lakes Pine & Derby) will produce the best action at the height of the day. Lakes Picnic, Lost Lake East, C, A, Pine, 5, 4, 3, 2, Coronet, Hydrilla, Horseshoe, & Halfmoon are good places to target Tenoroc's catfish & bullhead species.
Largemouth bass fishing, nevertheless, will still be productive. Bass will typically move to deeper water around points, humps, & ledges during this time of the year. A bass can see extremely well, making the bait's color and retrieval at depth important. Threadfin shad are one of the top prey species found at Tenoroc, so imitating shad colors with deep driving crankbaits, heavy spinnerbaits, jerkbaits, & jigging lures have been successful. Fishing with plastic worms in Junebug and red shad colors have also been successful too. Always be mindful when choosing lures, it's all about presentation! Using natural baits (crickets, worms, shiners, & minnows) will also draw in a bite too. Spawning will start in late January or February, making it the best time of the year to find bass near shallow water. Lakes Tern, Shop, C, 5, 10, 2, B, Legs, Picnic, Horseshoe, Hydrilla, Lost Lake West, & Fishhook are good places to target Tenoroc's largemouth bass. Numerous TrophyCatch submissions of largemouth bass larger than 8 pounds were caught and released in 2020 so your trophy still swims at Tenoroc! Black crappie (specks) fishing is just starting to warm up, producing respectful fish at peak feeding times near dusk & dawn. But beware: crappie shy away from most unusual disturbances so keep your distance, avoid unnecessary movements or noise, & use the bare minimum light tackle available! Use a depth finder to locate dredge holes, structure, ledges, or submerged timber and continue to fish them until you find the one holding the specks! Drifting a live minnow or small shiner in 6 to 10 feet of water or trolling small jigs/spinners will produce bites. Remember: a slow retrieval looks more natural! Lakes Shop, Cemetery, Legs, Hydrilla, F, 5, 3, 10, & Horseshoe are good places to target Tenoroc's black crappie. Check with staff regarding boat launching conditions and lake closures due to habitat restoration activities as well as current fishing reports when you are planning your trip. Tight lines!
Popular Species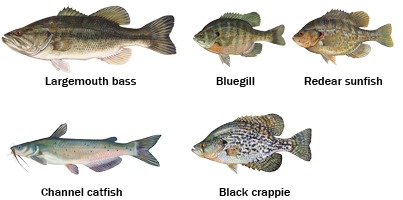 Fish graphics by Duane Raver, Jr.
More species information is available for:
Largemouth bass, Bluegill, Redear sunfish, Channel catfish, Black crappie

TrophyCatch Tracker
TrophyCatch is FWC's citizen-science program that rewards anglers for documenting and releasing trophy bass 8 pounds or larger. The following TrophyCatch bass have been submitted from Tenoroc Fish Management Area:
Lunker Club (8 – 9.9 pounds): 34
Trophy Club (10 - 12.9 pounds): 4