Levy and Citrus Counties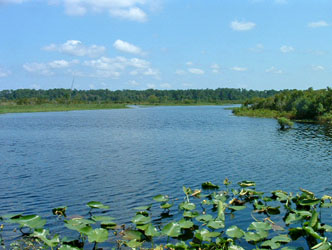 An impoundment of the Withlacoochee River, as part of the original Cross Florida Barge Canal project, this large lake is full of cypress trees, pennywort islands and sometimes hydrilla. Abundant cover and structure grow plenty of bluegill, redear sunfish, catfish, black crappie and largemouth bass. The deeper river channel is always good to locate and fish underwater bends. The rest of the lake is referred to as the "flats" or the backwaters.
Local contacts:
Big Bass Village 352-447-3474, toll free 1-877-463-4742
Lake Rousseau RV Park/Fishing Resort 352-795-6336, lakerousseaurvpark.com
Dunnellon Bait and Tackle 352-465-2755
Lake Rousseau can be a great to place during the summer months. The channels provide excellent deep- water refuge for fishing looking to escape the hot surface water. During the day, anglers should target the edges of the channels. This year bass tournament data has been very positive from Lake Rousseau. Winning bag weights have ranged from 12 pounds to over 25 ponds. The bass have been biting, and that should continue for patient anglers. Post-spawn, bass should be dispersed throughout the lake. Early morning and evening hours should be most productive. Rubber worms or weedless frogs can be fished through patches of vegetation. Find one of the many spots of dense eel grass to fish through. When fishing deeper water, crankbaits fished along the edges of hydrilla should also produce bites. Panfish and catfish anglers should check the lunar cycle before planning their trips. Late evening and early morning trips planned around full moons should make fishing excellent. Panfish will continue bedding in the early part of this quarter. Fishing grass shrimp in open pockets of vegetation should produce bites. Find shallow, sandy bottom and fish worms or crickets in these areas. Use light tackle and line to make the bait presentation seem more natural. Catfish can be found throughout the lake but tend to be more active near the dam. The stump fields can also produce big catfish. Fish stinky baits near the numerous stumps to draw out cats from their holes.
Popular Species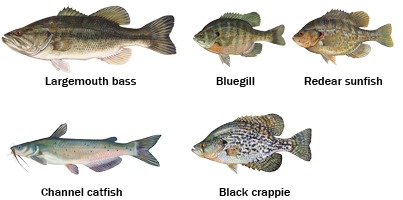 Fish graphics by Duane Raver, Jr.
More species information is available for:
Largemouth bass, Bluegill, Redear sunfish, Sunshine bass, Striped bass, Channel catfish, Black crappie

TrophyCatch Tracker
TrophyCatch is FWC's citizen-science program that rewards anglers for documenting and releasing trophy bass 8 pounds or larger. The following TrophyCatch bass have been submitted from Lake Rousseau:
Lunker Club (8 – 9.9 pounds): 101
Trophy Club (10 - 12.9 pounds): 18
Hall of Fame Club (13+ pounds): 1