Lake Istokpoga
Highlands County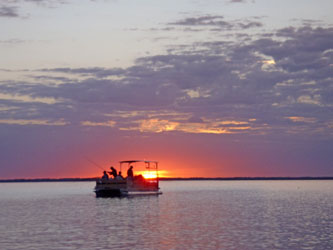 Located five miles northeast of Lake Placid, Highlands County, this 27,692-acre lake has quality fishing for black crappie (specks) and one of the highest largemouth bass catch rates in the state. The best speck fishing occurs during winter months drifting over open water, particularly in the northeast and southwest corners. Predominant aquatic vegetation includes spadderdock (bonnets), bulrush (buggy whips), cattail, and pondweed (pepper grass). Kissimmee grass on the south end is particularly productive when there is flow into the Istokpoga Canal. This canal, located off County Highway 621, provides excellent largemouth bass fishing from the bank when the gates are open. Arbuckle and Josephine Creek mouths are also good areas when there is flow. The island areas and associated grass can hold bass any time of year and the deepest portion of the lake (10 ft) is in the southwest corner. Public boat ramps are located on the north, northeast, and southwest shorelines off of U.S. Route 98, Lake Boulevard off Cow House Road, and Highland Lake Drive off of County Route 621, respectively. There are also six fish camps/resorts on the lake with various accommodations. Anglers can wade fish off of the Cow House Road boat ramp.
For more information contact Henderson's Fish Camp at 863-465-2101, or Cypress Isle RV Park & Marina at 863-465-5241.
Lake Istokpoga is one of the best lakes in the state at having a chance to get your hands on a fish of a lifetime. As of September 2019, there have been a whopping 520 approved TrophyCatch submissions of Largemouth Bass larger than 8 pounds since the program was launched in October 2012. A total of 435 fish have been entered into the Lunker Club (8-9.99 lbs.), 83 into the Trophy Club (10-12.99 lbs.), and now we are thrilled to celebrate 2 Hall of Fame Club (13 pounds or more) catches submitted last season. Remember, as part of the TrophyCatch program, all of these big Bass have been released, so your trophy still swims in Lake Istokpoga. Largemouth Bass have also been tagged by Biologist on the lake. If you catch a tagged fish, remember to remove the tag and call the number provided. You will need it to collect your $100 reward! Largemouth Bass fishing has been slow on Lake Istokpoga but should improve as water temperatures continue to drop over the next few months. Early winter will produce some chilly, windy days on the water that may slow the bite. As the sun reaches its highest point in the middle of the day, begin flipping thick vegetation with deeper water nearby for Bass seeking the warmer water provided by the vegetation. Usually this technique is most effective when you pair a heavy weight (3/4 – 1.5oz depending on thickness of cover) with a crawfish style bait to produce a reaction strike from the pigs lurking below the vegetation mats. Braided line and a heavy action rod is critical in landing fish with this technique. Try using lipless crankbaits and spinnerbaits in areas with moving water (creeks and near water control structure) or where fish may come to the surface schooling on baitfish. Also, try plastic worms and lizards in black and blue, Junebug, and red shad colors to fish offshore bulrush patches when the bite slows down. Fishing with live wild shiners will be the best bet for larger Bass during late fall and early winter. Patience will be key when fishing after cold fronts, but hard work can produce. Black Crappie (specks) fishing is slow right now but should really get going as the water temperature drops. Fish with live Missouri minnows under a cork, or troll with small spinners and jigs for some good speck action. The best areas to target specks are Henderson's Cove, deeper cuts around the islands, and open water areas near submersed vegetation. Bluegill (bream) and Redear Sunfish (shellcracker) fishing will begin to slow over the next month as spawning slows down. Tight lines!
Popular Species

Fish graphics by Duane Raver, Jr.
More species information is available for:

TrophyCatch Tracker
TrophyCatch is FWC's citizen-science program that rewards anglers for documenting and releasing trophy bass 8 pounds or larger. The following TrophyCatch bass have been submitted from Lake Istokpoga:
Lunker Club (8 – 9.9 pounds): 435
Trophy Club (10 - 12.9 pounds): 83
Hall of Fame (13+ pounds): 2