Sumter County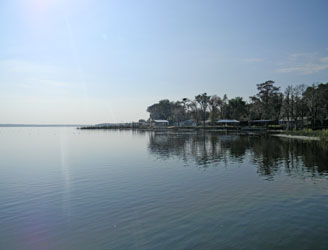 This is a 4,460-acre Fish Management Area located by the town of Lake Panasoffkee. Panasoffkee is unusual; a true spring-fed lake, water depths seldom exceed four feet. I-75 runs along the eastern edge and C.R. 470 along the southern and western shore. A public ramp is available on the Outlet River, west of the lake on C.R. 470.
For more information on fishing conditions you can contact the Pana Vista Lodge at 352-793-2061. For information on other fish camps in the area, please call our Ocala office at 352-732-1225.
Lake Panasoffkee water levels are higher than normal but, the water is clear, and vegetation is growing rapidly.This lake has always been famed for excellent Bluegill and Red-Eared Sunfish (shellcracker) fishing for many years.FWC biologists have recently observed Red-Eared Sunfish on their spring beds, and sight fishing is the best way to locate beds. Once beds are located, it is best to anchor just off of them so that you don't spook the fish. Anglers also can catch Spotted Sunfish, also known as Stumpknockers, in abundance. Fishing on bottom with a worm works well. Fishing in the eelgrass in open holes with soft plastics usually produces bass. Fishing in the deepest holes you can find is a good bet. Remember to cast long distances, because the bass spook easily in the clear water. Local fishermen like to use white or watermelon colored baits.
Popular Species

Fish graphics by Duane Raver, Jr.
More species information is available for:

TrophyCatch Tracker
TrophyCatch is FWC's citizen-science program that rewards anglers for documenting and releasing trophy bass 8 pounds or larger. The following TrophyCatch bass have been submitted from Lake Panasoffkee:
Lunker Club (8 – 9.9 pounds): 24
Trophy Club (10 - 12.9 pounds): 2