Alachua County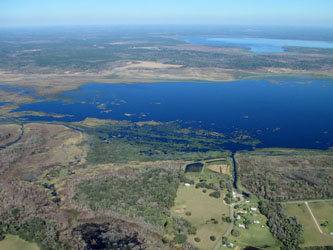 Orange Lake is the largest lake in the North Central Region at 12,550 acres. It is designated as a Fish Management Area and is located about 20 miles southeast of Gainesville. Orange Lake averages 5.5 feet deep with a maximum depth of 12 feet. Water levels fluctuate an average of 2 feet, annually. Outflow is controlled by a fixed-crest weir located at Highway 301 (southeast portion of lake). Orange Lake receives inflow from Newnans Lake through River Styx and from Lochloosa Lake through Cross Creek. Cross Creek (1.8 miles) is navigable to most boats during normal water levels.
Orange lake has an extensive aquatic vegetation community, dominated by spatterdock (lily pads) and periodically hydrilla. Shallow marsh areas are inaccessible to anglers due to the dense growth of vegetation. Bluegill, redear sunfish, black crappie and largemouth bass are generally caught in the deeper spatterdock, emergent grasses and hydrilla.
Marion County and the Florida Fish and Wildlife Conservation Commission allocated funds to establish a fishing pier at Heagy-Burry Park (southwestern part of the lake). The pier is handicap-accessible. A fish attractor is located near the pier, which provides for good fishing.
For updated information please call:
South Shore Fish Camp 352-595-4241
Sportsman Cove Fish Camp 352-591-1435
Orange Lake is still offering up some outstanding fishing with high water levels, open boat ramps, and your favorite fishing hole easily accessible. Largemouth Bass and bream have provided some great fishing days over the summer, but it's about time to go get some Black Crappie. Black Crappie have provided some great fishing days over the past three years and it is on track to be another great year. Try drifting or trolling with minnows, grass shrimp, and jigs in open water during the fall. There's not as much Hydrilla out on the lake this year to snag you up. You might also still be able to pick up on a nice bream bite near shore. There have been good reports of bream catches in the patches of pads on the southeast side of the lake all the way up through September. Try using crickets and grass shrimp to catch bream. For those of you that want to keep bass fishing, Orange Lake is one of the best spots in the state for a chance of catching a trophy. Topwater plugs and soft plastics are the bait of choice for many bass anglers fishing Orange Lake.
Popular Species

Fish graphics by Duane Raver, Jr.
More species information is available for:

TrophyCatch Tracker
TrophyCatch is FWC's citizen-science program that rewards anglers for documenting and releasing trophy bass 8 pounds or larger. The following TrophyCatch bass have been submitted from Orange Lake:
Lunker Club (8 – 9.9 pounds): 24
Trophy Club (10 – 12.9 pounds): 9
Hall of Fame (13+ pounds): 2