Santa Rosa and Escambia counties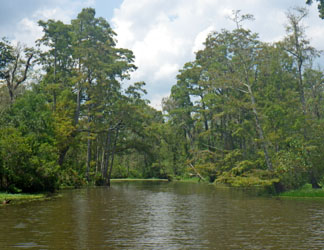 The Escambia River is a 92-mile river of which 54 miles are found in Florida. The river has its headwaters in southern Alabama and is called the Conecuh in that state, changing names as it comes into Florida as it drains into Pensacola Bay.  The Escambia is the fourth largest river in Florida and harbors the richest assemblage of native North American freshwater fish of any Florida river with 85 native freshwater species.
The major landings are listed below:
Jim's Fish Camp - U. S. Highway 90, Pace, FL 32571; 850-994-7500. Located just off Highway 90, at the mouth of the river in the tidal delta. (Commercial fish camp, with facilities.) Swamp House Marina and Landing - 10421 N. Davis Highway, Pensacola, FL 32514; 850-478-9906. Located just off Highway 90, at the mouth of the river on the main channel in the tidal delta. (Commercial fish camp with facilities.)
Floridatown landing - Located on the eastern shore of Escambia Bay, near the mouth of the river in Pace, Florida. (Public landing, no facilities. Condition: Good.)
Quintette landing - Located on east side of the river, south of Highway 184, Santa Rosa County. (Public landing, no facilities. Condition: Good.) Molino landing - Located on the west side of the river, near Molino, in Escambia County. (Public landing, no facilities. Condition: Good.)
Cotton Lake landing - Located on west side of the river, at end of Cotton Lake Road, off U. S. Highway 29, Escambia County. (Public landing, no facilities. Condition: Good.)
McDavid Boat Ramp (Mystic Springs Landing) - Located on west side of river, near McDavid, Florida, off U. S. Highway 29, Escambia County, Florida. (Florida Fish & Wildlife Conservation Commission boat ramp, no facilities. Condition: Good.)
Bluff Springs Landing - Located on west side of river, near Bluff Springs, Florida, off U. S. Highway 29, Escambia County, Florida. (Department of Environmental Protection boat ramp, no facilities. Condition: Poor.)
Lake Stone - Located 1.5 miles west of Century, Escambia County, Florida, off Highway 4. (Lake managed by FFWCC; camping and picnic areas managed by Escambia County. Condition: Good.)
Becks Fish Camp: Off Hwy. 29; (850-375-0383). (Located in Beck's Lake, and provides access to Escambia River.)
Anglers should note that high water and flooding can sometimes make the upper stretches of the river difficult to fish, and should check the current water stage online.
Numerous access points are available along the Escambia River. Three fish camps are located along Highway 90 between Pensacola and Pace.  From these, the lower river and delta marshes may be accessed directly.  A boat ramp is also located just below the mouth of the river on the northeast shore of Escambia Bay, just south of Pace.  Quintette Landing, off Highway184, north of Pace, is good point from which to reach choice fishing spots of both the upper and lower river, including backwater areas.  The boat launch at Beck's lake, off highway 29, offers anglers another option when accessing fishing areas between Quintette landing and ramps located farther downstream. The ramp is located in Beck's Lake, and offers angler's the choice to fish in still water, as well as providing access to nearby Escambia River.  Other boat landings along the upper river include Molino, Sandy Landing (Closed Jan 1st to Feb 15th), Webb Lake, McDavid, Cotton Lake, Bluff Springs, Kyser Landing, Fisher landing (Century) and Oil Plant (north of Jay). Due to low-water conditions, anglers should use precaution when launching their boat as concrete ramps may be out of the water.  Particular problem areas include Bluff Springs, Oil Plant, Sandy Landing, and Mystic Springs.
Anglers needing advice regarding fishing spots or information on river conditions can call Blackwater Fisheries Research and Development Center near Holt (850-957-6175), or Ted Brown at Becks Lake Fish Camp (850-375-0383).
Excellent largemouth bass fishing is expected during the months of April through June in the Escambia River. Small-to-medium size largemouth bass are abundant in the delta marshes around Highway 90, between Pensacola and Pace. The winding channels near Jim's Fish Camp provide great fishing for bass anglers that catch a falling tide. Soft plastic worms and lizards work well and should be fished near the undercut banks and points of grass. The topwater bite should also start to heat up around late April. Look for baitfish activity on the surface and use a chug-and-pause retrieve with lures such as Rebel Pop-R's and Storm Chugbugs.
Bigger largemouth bass are typically found farther up river, although they are not as abundant as in the marsh. Anglers should try soft plastic baits and shallow to medium diving crankbaits around logs and overhanging brush. Soft plastic frogs, such as the Zoom Horny Toad and Stanley Ribbit also produce nice bass and can be worked through the patches of aquatic vegetation. Casting accuracy is very important in this portion of the river. Most of the strikes will come within inches of shoreline, so anglers that can present their lures in this shallow structure will be the ones to catch a nice stringer of bass.
Excellent fishing for bream, such as bluegill, redear sunfish (shellcracker) and spotted sunfish (stumpknocker), is expected on the Escambia River during the next several months. Fish can be found very shallow in early to mid April as the sunfish spawn begins. Good places to fish following the spawn include the marsh area near Highway 90. Anglers should fish red wigglers or crickets around eel grass in 3-5 feet of water. Beck's lake, located farther up river, also offers good bream fishing and is located out of the current from the main river.
In addition to typical sunfish and bass species, the upper Escambia River also harbors other sport fishes such as Choctaw bass, longear sunfish, warmouth, spotted sunfish, shadow bass, and black crappie. While all these species can be caught from the mainstem river, large tributaries should not be neglected. Big Escambia Creek and Pine Barren Creek have Choctaw bass populations that are rarely exploited. Fishing success in the middle and upper river depends largely upon water levels. If above normal rainfall occurs, resulting high water levels may make the upper river difficult to fish, thus anglers should check river levels before visiting the middle and upper sections. Current water levels throughout Florida are available.
Anglers who would like to land a record-sized fish should consider blue catfish and flathead catfish. These large catfish are not native to our state, although both are native to the Mobile drainage. Historically both the former state record for blue catfish (61.5 pounds, from Little Escambia Creek), and flathead catfish (43.5 pounds) were caught from the Escambia River. The optimal bait for flatheads is sunfish, but anglers are reminded to familiarize themselves with current regulations. Live sunfish can only be used for bait, if collected and fished using hook and line. Sunfish cannot be used as bait on any other fishing gear (e.g., bush hooks or trot lines). Most anglers wait until dark and then target areas where you would normally fish for bluegill during daylight hours. Optimal fishing locations for these fish include outside bends, behind large snags in 8-10 feet of water. Use 6/0-8/0 live bait or circle hooks and stay mobile. Live baits will quickly draw the attention of a hungry flathead. If an area does not produce any bites after 30 minutes, then move to another spot. Anglers are also reminded that the flathead catfish is an invasive species to Florida, and keeping all fish caught is highly encouraged, since this species may negatively impact native sportfish populations (e.g., sunfish and catfish).
Striped bass fishing will be excellent in April and decline as the summer approaches. Good locales for striper fishing, from April through June include the tidal, lower section of the river, from the thermal canal of plant Crist down to the Spoil Islands near the mouth of the river and any cold water refuge you may find. Dawn and dusk during a falling tide seems to be prime times for striper fishing. Some anglers have discovered great success fishing after dark especially near artificial lights. In the lower tidal section of the river, you should try to fish around points of land extending into the river, live mullet or menhaden make good baits. Anglers should use plugs that resemble bait fishes, such as shad or mullet. During these months, striped bass may often be found schooling at the surface and may be caught by casting into the schools with top water plugs or stick baits. Live shrimp or Bucktail jigs are also appropriate. Striped bass are available in the Escambia River as a result of long-term stocking by the Florida Fish and Wildlife Conservation Commission.
Anglers should be aware of potential obstacles, such as downed trees and other debris in the river and exercise caution while navigating the Escambia River. Passages into some backwaters and sloughs that were formerly open may now be blocked. Downed trees and log jams can provide prime habitat and shelter for largemouth bass and bream, and anglers may want to try their luck in areas where these occur.
The FWC reminds anglers that it is illegal to possess Alligator Gar without a Scientific Collectors Permit. Alligator gar are an endemic top predator found only in the panhandle rivers and grow to more than 120 pounds. Due to limited numbers, harvest is restricted. Their gator-like snout is distinctly different than spotted and longnose gar, the two other species of gar found it the panhandle.
Popular Species

Fish graphics by Duane Raver, Jr.
More species information is available for:
Largemouth bass, Spotted bass, Bluegill, Redear sunfish, Striped bass, Sunshine bass

TrophyCatch Tracker
TrophyCatch is FWC's citizen-science program that rewards anglers for documenting and releasing trophy bass 8 pounds or larger.
Be the first to submit a trophy bass from the Escambia River!