Palm Beach County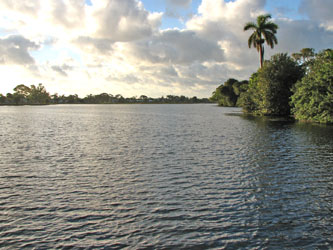 Lake Osborne is a 356-acre water body located in Palm Beach County. Aquatic vegetation consists of cattail, spikerush, willow and hydrilla. Nine fish attractors have been installed in the lake and are marked with buoys. Fish present in Lake Osborne include largemouth bass, sunshine bass, butterfly peacock bass, black crappie, bluegill, redear sunfish, catfish, and Mayan cichlids.

Because much of the lake is surrounded by John Prince Park, bank access is plentiful. The park has a public boat ramp and fishing dock. Picnic pavilions, a campground and public restrooms are also present. There are no marinas, fish camps, or bait and tackle stores on the lake. An Osborne-Ida Chain of Lakes map and brochure is available. Numbers to call for information or guide service on Lake Osborne are Xtreme Rods, Inc. (561-296-7637) and fish guide Butch Moser (561-732-5996).
Butterfly Peacock Bass and Largemouth Bass fish should be at its best this quarter with the cooler weather. While the peacock bass bite is very good this time of year, expect catch rates to fall off during cold fronts. Fishing should be good in the early morning on topwater lures and later with crank baits, and live shiners. Also, consider trying jigs or plastic worms for Largemouth Bass. Anglers have also been catching some Crappie and the Sunshine Bass in deeper areas of the lake. Crappie and Sunshine Bass are best targeted in deep holes with small jigs and minnows, shiners can also be used for Sunshine Bass. The Osborne Chain of Lake is also an excellent place to target Bluegill and trophy sized Redear Sunfish. As we enter early spring, the Redear Sunfish and Bluegill bite should start to pick up. Anglers should target patches of eel grass for best results. Grass shrimp, crickets, and small jigs have been the preferred baits for Bluegill and Redear Sunfish. Nice size channel catfish can be caught using chicken liver or live worms.
Popular Species

Fish graphics by Duane Raver, Jr.
More species information is available for:
Largemouth bass, Bluegill, Redear sunfish, Mayan cichlid, Peacock bass, Sunshine bass, Clown knifefish

TrophyCatch Tracker
TrophyCatch is FWC's citizen-science program that rewards anglers for documenting and releasing trophy bass 8 pounds or larger. The following TrophyCatch bass have been submitted from the Osborne Chain-of-Lakes:
Lunker Club (8 – 9.9 pounds): 2