Palm Beach County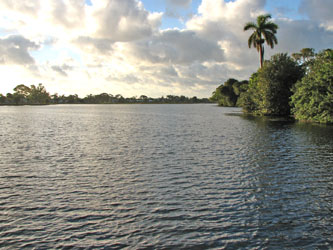 Lake Osborne is a 356-acre water body located in Palm Beach County. Aquatic vegetation consists of cattail, spikerush, willow and hydrilla. Nine fish attractors have been installed in the lake and are marked with buoys. Fish present in Lake Osborne include largemouth bass, sunshine bass, butterfly peacock bass, black crappie, bluegill, redear sunfish, catfish, and Mayan cichlids.

Because much of the lake is surrounded by John Prince Park, bank access is plentiful. The park has a public boat ramp and fishing dock. Picnic pavilions, a campground and public restrooms are also present. There are no marinas, fish camps, or bait and tackle stores on the lake. An Osborne-Ida Chain of Lakes map and brochure is available. Numbers to call for information or guide service on Lake Osborne are Xtreme Rods, Inc. (561-296-7637) and fish guide Butch Moser (561-732-5996).
Good fishing should continue through September for bluegill and redear sunfish as they continue to spawn through the months of summer. Look for bedding areas with a shallow, sandy bottom and areas that provide cover to be the most productive. Baits such as live grass shrimp, crickets, and red wigglers will produce good results from many of the shoreline access points. Catfish can be caught on chicken liver or live worms throughout the summer by fishing the bottom. Largemouth bass will retreat to the deeper areas of the lake as the summer heat intensifies. Rat-L-Traps and crank baits seem to work for the deeper areas once the sun gets up, but plastic worms or jigs can also be productive in the deeper holes. Early mornings may find bass using the edge of the vegetation particularly near patches of eel grass scattered throughout the lake. The summer heat will drive sunshine bass to the deep refuges in the lake and will provide little or no action. Crappie fishing should also be slow until we see cooler weather again around October. Mayan cichlids and peacock bass should be active during the summer months when water temperatures are typically warmest. These exotic fishes will bite throughout the day, even into middle of the day when fishing for natives will often slow down.
Popular Species

Fish graphics by Duane Raver, Jr.
More species information is available for:
Largemouth bass, Bluegill, Redear sunfish, Mayan cichlid, Peacock bass, Sunshine bass, Clown knifefish

TrophyCatch Tracker
TrophyCatch is FWC's citizen-science program that rewards anglers for documenting and releasing trophy bass 8 pounds or larger. The following TrophyCatch bass have been submitted from the Osborne Chain-of-Lakes:
Lunker Club (8 – 9.9 pounds): 2