Crappie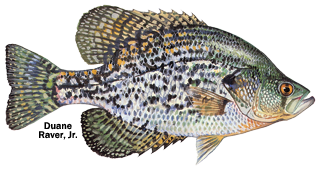 The following areas were selected by Florida's freshwater fisheries biologists as being the most likely to be highly productive for black crappie during 2019. You can review these and other "Sport Fish Top Spots" on our Top Spots Map.
Lake Talquin
(Gadsden and Leon counties)
This 8,800-acre reservoir is located just outside Tallahassee and is home to the 3-pound, 13 ¼-ounce state record. A 10-inch minimum size limit helps maintain the crappie fishery and 12-14-inch fish are common. This lake has a lot of submerged stumps and snags, so proceed with caution, particularly in the eastern half of the lake. Anglers typically long-line troll in summer, late fall, and winter using jigs or minnows in creek channels. In late February through April, anglers fish shallow pads as fish move up to spawn.

Lochloosa Lake
(Alachua County)
Lochloosa Lake produced a great crappie bite this past year with the highest angler catch FWC has estimated in the past 20 years. Most of the fish measured between 10 and 12" and the anglers who took advantage of this opportunity were thankful they did, with a bunch of limits being filled. An FWC reward tagging study estimated that 36% of the crappie were harvested from the lake. After considering the percent harvested by anglers and the percent that may not live to the next year naturally, the numbers this year may not be as good as they were last year, but there are certainly some monster fish ready to be caught. While sampling Lochloosa Lake in the fall of 2018, FWC biologists captured multiple 15" fish and most of the fish are in great condition. Fishing reports from anglers have been scattered, but those who are able to find fish, and stay on them, are having success. Most anglers fish open water during the summer and fall but move closer to shore and fish vegetated areas in the spring. There are large pad fields on the southeast, north, and west sides of the lake that are known to hold crappie during the spawn. Hydrilla has been hard to find on the lake this past year, but if you see any, try dropping a line near a small patch for a chance for some good bites. Preferred baits include jigs and minnows, or a combination of jigs tipped with minnows. Some anglers also use grass shrimp, which can increase the chance of catching some large Bluegill. The lake can be accessed using the county ramp near the post office, Lochloosa Harbor Fish Camp, and Twin Lakes Fish Camp. Anglers should be aware of tagged Black Crappie. If you catch a tagged fish, call the number on the tag to claim a reward and help us with our crappie research.

Orange Lake
(Alachua County)
Orange Lake has produced a dependable crappie bite for the past three seasons!! There are a lot of fish and some nice size speckled perch too. The lake has had its share of past troubles with extremely low water and floating islands impeding access, but the water is back. In fact, the habitat in Orange Lake is the prettiest it has been in a long time and the bite is on. Anglers are starting to fill up parking lots at the ramps this year and catching good numbers of really nice black crappie measuring between 10 and 14 inches, with some fish even larger. Most of the anglers are fishing in the northern and southern ends of the lake with a lot of folks using minnows and grass shrimp as bait. Anglers are also reporting catches of monster bream while fishing for crappie. The lake can be accessed through public boat ramps at Marjorie Kinnan Rawlings Historic State Park in Cross Creek and at Heagy Burry Park off US 441 just south of McIntosh. There are also several private boat ramps on the lake that anglers can use.

Lake Monroe
(Seminole and Volusia counties)
At approximately 10,000-acre, this lake is part of the St. Johns River chain and is located just off of I-4 about half way between Orlando and Daytona Beach. The lake is known for quality size fish and black crappie angling is popular during the cooler months. Flooding in the area from Hurricane Irma negatively impacted much of the fishery, but early reports by black crappie anglers indicate good catches are still possible if you locate the schools. Crappie over 12" and two pounds are not uncommon. Drifting and trolling near the river channel and offshore from the power plant on the northwest shore are popular, but schools may be located all over the lake. Crappie move inshore in late winter/early spring for spawning and appear to prefer bulrush if available in the right water depths.

Lake Weohyakapka / Walk-in-Water
(Polk County)
Hydrilla has not returned to this 7,800-acre lake since the hurricanes of 2004, leaving plenty of open water to troll and drift minnows, jigs, and spinners for crappie. Good numbers and some quality fish are caught in deeper (10 ft) areas of the lake during the cooler months and in shoreline vegetation (bulrush, knotgrass, and maidencane) during the spring spawning season. Missouri minnows fished under corks or on small jig heads, as well as Hal-Flies and small spinners, are excellent for catching your share of crappie. Seven brush-type fish attractors were installed in December 2010 and refurbished in winter 2014 and should concentrate fish for anglers offshore. Fish attractors are about ¼ acre in size and marked with a white and orange buoy. Use caution if you plan to anchor when fishing around the buoys to avoid getting hung up. GPS coordinates for fish attractor locations are available. There is a public boat ramp on the western shoreline of the lake off Lake Walk-in-Water Road. For more detailed information, please contact an FWC fisheries biologist at 863-648-3200.

Lakes Dora / Beauclair
(Lake County)
Located near Mount Dora, these lakes are connected by a short canal and both have long been among the best crappie lakes on the Harris Chain of Lakes. Sampling data from the fall of 2017 showed that crappie on Lake Dora reach 10" in two years, and 11" in three. Anglers troll the open water during the fall and winter and move to the bulrush and cypress near the shore as the water begins to warm around February. FWC has installed ten fish attractors at various points in Lake Dora and early reports this season indicate good success on these. The attractors are each marked with an orange and white buoy. For access to the lakes there is one public boat ramp on Lake Beauclair in Trimble Park off 441 south of Mount Dora, and two public boat ramps on Lake Dora at Gilbert Park in Mount Dora on the east end and at Wooten Park in downtown Tavares on the west end. Shore anglers find crappie along the boardwalk and in the boat basin near the Gilbert Park ramp.

Lake Arbuckle
(Polk County)
This 3,800-acre lake produces quality crappie year after year. Previous FWC sampling has indicated that Lake Arbuckle is arguably one of the best crappie fisheries in the region. Crappie can be found in each of the three basins that make up the lake. During the cooler months, crappie are caught by drifting or trolling in the deep water in the middle of the basins, and in spring the fish move to the grass patches and the lily pads on the edges to spawn. Live Missouri minnows and small spinners are the baits of choice on the lake. Lake Arbuckle offers a park, camp ground, and boat ramp. Access is controlled by a gate, so anglers planning on an early morning or late evening fishing trip should contact Polk County Parks and Recreation (863-534-4340) for park hours and reservations.

Lake Marian
(Osceola County)
Lake Marian (5,742 acres) is arguably one of the most consistent black crappie fisheries on the Kissimmee Chain of Lakes. Anglers routinely catch limits of crappie trolling or drifting minnows in open water off Whiskey Point, Jordan Slough, and Four-Mile Point. In summer 2016, artificial fish attractors were installed in the lake, which will benefit both fish and anglers alike. When crappie are inshore during the winter spawning season, jig fishing can be outstanding in and around native grasses, bulrush and lily-pads. Crappie in the lake reach 10" in two years and angler surveys from January thru April 2018 showed that anglers were catching crappie at a rate of 1.5 fish/hour and 78% of the fish they took home were 10" or larger. FWC sampling in the fall of 2018 collected lots of 12 and 13-inch fish. There is a public ramp at the lake (just west of US 441), and a fish camp (Lake Marian Paradise 407-436-2021) conveniently located nearby.

Lake Kissimmee
(Osceola and Polk counties)
Classified by many as a stellar bass fishing lake, Lake Kissimmee (34,976 acres) also ranks high on the list of popular black crappie destinations. During the first half of 2018, anglers harvested almost 2 fish an hour. Anglers consistently catch limits of fish drifting minnows in open water near the mouth of the C-37 canal, the north end of North Cove, between Brahma and Bird Islands and around channel markers 7 and 8. Anglers also have success jig fishing in and around patches of lily pads and native grasses in these areas.

Winter Haven Chain of Lakes
(Polk County)
Tucked in among the city streets of Winter Haven in north-central Polk County, the Winter Haven Chain of Lakes offers some of the finest and most easily accessible crappie (speck) fishing in central Florida. Polk County is home to 554 named lakes and typically sells more freshwater fishing licenses annually than any other county in the state. That's because residents take their crappie fishing seriously! The chain is comprised of 26 lakes ranging in size from 25 to 2,654 acres and totals just over 9,000 acres of fishable waters that offer a wide variety of opportunities for crappie angling. FWC Division of Freshwater Fisheries Management personnel sample the chain's sportfish twice a year and routinely observe crappie over a half-pound. Standard state regulations apply to the entire chain - 25 crappie per person per day with a possession limit of no more than a two days' bag limit (50). Ample public access is available in the form of 14 boat ramps, 5 fishing piers, bank fishing at a half-dozen city parks, and public easements alongside the numerous canals that connect the lakes. Lake Eloise and Lake Shipp are excellent lakes for crappie on the south chain while lakes Rochelle, Haines and Hartridge are key crappie lakes on the north chain. During cooler months, crappie are taken by drifting or trolling bladed jigs tipped with minnows around offshore submersed vegetation. When waters start to warm, crappie migrate to shallow water to spawn and can be targeted by dropping jigs tipped with minnows near bulrush, cattails and pads. Guide services, fishing forecasts, and lodging may be found through Polk County's Outpost 27 Visitor Center.

Lake Istokpoga
(Highlands County)
This lake may be known best for its Largemouth Bass fishing, but others know that winter is prime time to catch crappie in this 28,000-acre fishing wonder. Black Crappie are fast growing in this productive Florida lake, reaching 10 inches by age three. Angler surveys from fall 2017 through spring 2018 showed that anglers caught 2.5 crappie per hour. Anglers have the best success in deep water areas north and east of Big Island and west of Long Island. From November through April, Lake Istokpoga anglers troll open water with Hal-Flies, doll flies, spinner jigs and Napier jigs to locate schools of crappie and then rack up the numbers. When the spring water temperature stabilizes around 65 degrees, crappie move into bulrush and spatterdock along the shoreline to spawn. The trick to catching these spawning crappie is to move slowly through the vegetation in three to six feet of water and use a crappie jig to thoroughly fish the vegetation patches. There are public boat ramps on the north end of the lake off Hwy 98 (Lake Istokpoga Park), on the east side off Cowhouse Rd in Lorida (Cowhouse boat ramp) and on the Southwest side off of SR 621 near Windy Point Road (Windy Point ramp). For more information, please contact a FWC fisheries biologist at 863-648-3200.

Lake Okeechobee
(Palm Beach, Martin, Glades, Okeechobee and Hendry counties)
Lake Okeechobee, located in south-central Florida, is known world-wide for quality largemouth bass fishing, but it has also historically been known for a quality black crappie fishery. Its surface area of 730 square miles makes it the largest lake in Florida, and the second largest fresh water lake entirely in the contiguous United States. During the 1980s, the lake produced exceptional numbers of crappie which brought anglers from across the nation and the world to catch the famous Lake Okeechobee "speckled perch" or "speck". Crappie anglers have continued to fish Lake Okeechobee and have witnessed the resiliency of this fishery. The 2017-2018 season proved to be extremely successful with anglers catching an average of almost 4 fish per hour. Catch success rates have steadily increased since 2010 when fewer than 2 fish per hour were caught. Black crappie fishing is usually best during the winter, and the best fishing occurs early and late in the day. When spring water temperatures reach 65 degrees crappie move from the deeper, open water and into shallower water along the marsh edge. Most anglers fish the Kissimmee River when it's flowing, and many report good fishing outside the mouth of the river. Regardless of where you fish, angling should be concentrated near the edges of vegetation stands. Use the usual fishing techniques for crappie, moving slowly and often through the vegetation. Minnows should be suspended at different depths until you find a school, but using a jig is more productive since you can cover more area. Black crappie in Lake Okeechobee under 10 inches in total length must be released. The bag limit is 25.

Lake Trafford
(Collier County)
Lake Trafford is #1 in numbers among a variety of great speck fishing spots across Florida!
Lake Trafford has traditionally been known as a "numbers" lake with about a 70% higher catch rate for black crappie than the statewide average. Lake Trafford dominates the state year after year for crappie catch rates in both angler catches and fisheries sampling. However, now the lake is more than a numbers lake. Anglers are consistently catching fish larger than 10 inches, with 12 and 14-inch fish mixed in. Crappie fishing was decent in November and as water temperatures have begun to cool, angler catches are really taking off. As temperatures continue to cool we should see peak catch rates during January and February as crappie reach peak spawning condition. Biologist Lee Grove (561-882-5722) recommends drifting minnows or jigs early or late in the day and, if you can't locate schooling crappie in the middle, try jigs and minnows along the vegetated shoreline. Crappie are always moving in Trafford. Public boats ramps are located at Lake Trafford Marina (239-657-2401) and Ann Olesky Park.