Lake Monroe
Seminole & Volusia counties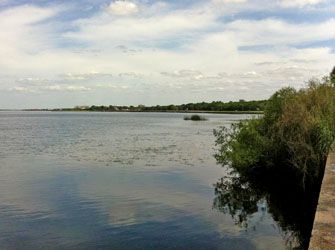 The St. Johns River flows through this 9,406-acre lake. The city of Sanford borders the southern shoreline. Public access can be utilized off the Seminole County side of the intersection of Highway 17/92 and I-4; the north side of the lake off of Enterprise Road; and at Monroe Harbor Marina in downtown Sanford. Private access and more recent fishing information can be obtained from Highbanks Marina and Camp Resort (386-668-4491) and Monroe Harbour Marina (407-322-2910).
For further information please contact our Regional Office at 352-732-1225.
Hurricane Irma's effects are still being felt, with a lot of vegetation in the lake lost. However, what vegetation that's left should hold fish. The shoreline near Enterprise should provide some habitat and some deeper water bulrush patches for largemouth bass, black crappie (speckled perch), bream, and occasionally striped bass. Black crappie should be moving closer to shore, especially during the full moons of February and March. Anglers targeting largemouth bass will see Sunshine bass more regularly as stocked fish continue to enter the fishery.
Popular Species

Fish graphics by Duane Raver, Jr.
More species information is available for:

TrophyCatch Tracker
TrophyCatch is FWC's citizen-science program that rewards anglers for documenting and releasing trophy bass 8 pounds or larger. The following TrophyCatch bass have been submitted from Lake Monroe:
Lunker Club (8 – 9.9 pounds): 13
Trophy Club (10 - 12.9 pounds): 4