Alachua County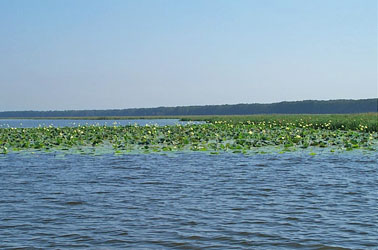 Newnans Lake (5,800 acres), designated as a Fish Management Area, is located about two miles east of Gainesville on Highway 20. The lake is surrounded by cypress trees that provide good angling when water levels are high. Sparse areas of emergent grasses, bulrush, and spatterdock (water lilies) are found around the shoreline of Newnans Lake. The most consistent fisheries on Newnans Lake are catfish and bream, and these can be caught year-round in deeper areas of the lake and the lake shoreline, respectively.
For updated information please call:
Travis Tuten, FWC fisheries biologist, 352-955-3220, for tag information.
Gary's Tackle Box, 352-372-1791 for fishing information.
The water level on Newnans Lake have been up for a few years now and this has provided some great opportunities to catch lots of different species. After a heavy rain, try getting up into some flowing water and fish the tree line for a good bass bite. There just might be a bunch of bass in there feeding on shad. Also try any of the clumps of pads you see offshore, they usually hold one or two nice sized fish. FWC biologists observed lots of Black Crappie in the lake the past few years and those fish are expected to produce an excellent bite this fall with high numbers of fish and some of those fish measuring almost 16 inches and weighting over two pounds. Anglers fishing for black crappie may want to try closer to shore and in the pads this spring as the fish move up to spawn. Try using minnow, crickets, and artificial jigs. The pads on the north and east sides of the lake are also known to offer up some great catches. Anglers should be aware of tagged black crappies with rewards. If you catch a tagged crappie, call the number below to receive information on how to claim your reward.
Travis Tuten, FWC fisheries biologist: 352-415-6964
Popular Species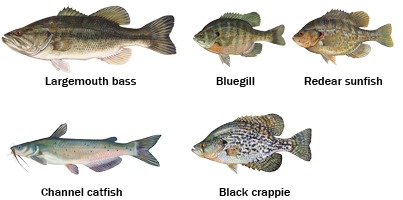 Fish graphics by Duane Raver, Jr.
More species information is available for:
Largemouth bass, Bluegill, Redear sunfish, Channel catfish, Black crappie

TrophyCatch Tracker
TrophyCatch is FWC's citizen-science program that rewards anglers for documenting and releasing trophy bass 8 pounds or larger. The following TrophyCatch bass have been submitted from Newnans Lake:
Lunker Club (8 – 9.9 pounds): 2
Trophy Club (10 - 12.9 pounds): 1