Alachua County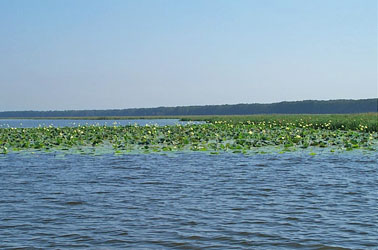 Newnans Lake (5,800 acres), designated as a Fish Management Area, is located about two miles east of Gainesville on Highway 20. The lake is surrounded by cypress trees that provide good angling when water levels are high. Sparse areas of emergent grasses, bulrush, and spatterdock (water lilies) are found around the shoreline of Newnans Lake. The most consistent fisheries on Newnans Lake are catfish and bream, and these can be caught year-round in deeper areas of the lake and the lake shoreline, respectively.
For updated information please call:
Travis Tuten, FWC fisheries biologist, 352-955-3220, for tag information.
Gary's Tackle Box, 352-372-1791 for fishing information.
We need some rain! The water level on Newnans Lake has dropped quite a bit in the past three months, but the lake has still produced some great fishing for several different species. The peak Black Crappie season is about to wind down for the year but keep those poles ready because there are a lot of specks out there and fishing should be fantastic later this year. As the water temperatures rise in late spring, catches of large bream should be common over the next several months during the full moons from April through September around pads, emergent grasses, and bulrushes. Also, catfish catches should be steady throughout the majority of the lake, especially near Palm Point and the Powers Park pier. Use liver and worms for catfish and try minnows and grass shrimp for crappie and bream. If we end up getting some good rain early this summer, get your bass rods out and try to find some moving water, there just might be some schooling bass waiting to tighten a line. Both the Earl P. Powers Park boat ramp off of SR 20 and the Owen-Illinois Park ramp off of CR 234 in Windsor are open. Anglers should also be aware of tagged black crappie with rewards. If you catch a tagged crappie, call the number below to receive information on how to claim your reward.
Travis Tuten, FWC fisheries biologist: 352-415-6964
Popular Species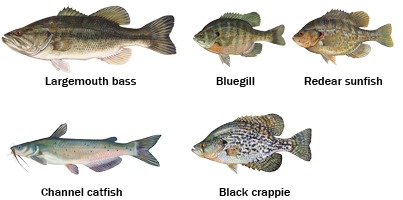 Fish graphics by Duane Raver, Jr.
More species information is available for:
Largemouth bass, Bluegill, Redear sunfish, Channel catfish, Black crappie

TrophyCatch Tracker
TrophyCatch is FWC's citizen-science program that rewards anglers for documenting and releasing trophy bass 8 pounds or larger. The following TrophyCatch bass have been submitted from Newnans Lake:
Lunker Club (8 – 9.9 pounds): 2