Lake Trafford
Collier County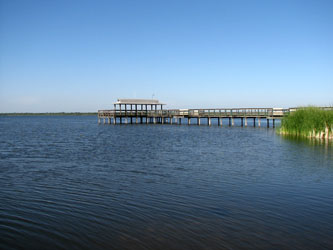 Lake Trafford, located in Collier County, encompasses approximately 1,500 acres. Aquatic vegetation consists of cattail, American lotus, and eelgrass. Fish species present in the lake include largemouth bass, black crappie, bluegill, redear sunfish, and large brown bullheads. Access to Lake Trafford is mainly by boat. However, there is a small county park located on the lake that provides some bank access along with a nice public fishing pier. Lake Trafford Marina and the park both have public boat ramps. Services available from the marina include boat rentals, guide service, airboat tours, and bait and tackle.
Anglers wanting the most current lake conditions can contact the Lake Trafford Marina at 239-657-2401.
Lake level is right at average for this time of year and may come up as summer rains begin. Bass anglers had their best season in recent year this past spring with several TrophyCatch submissions and better than average catch rates. As the weather continues to warm up and the water get hot expect the bite to slow down. Crappie anglers had a great year too. As with bass, the bite should really slow down during the hot summer months. However, Lake Trafford is one of the few lakes in Florida that anglers still find some success targeting Crappie during the summer months. Target Crappie in the deepest parts of the lake early in the morning using jigs or minnows. Anglers should have no problems catching Bluegill and Oscars during the summer months. Both crickets and red wigglers have been excellent baits for most anglers and some anglers are reporting good catch rates on jigs as well. Bluegill are best targeted early in the morning in shallow water around vegetation stands with sandy bottoms. Anglers can contact the Lake Trafford Marina (239-657-2401) for additional information on current lake conditions.
Popular Species

Fish graphics by Duane Raver, Jr.
More species information is available for:

TrophyCatch Tracker
TrophyCatch is FWC's citizen-science program that rewards anglers for documenting and releasing trophy bass 8 pounds or larger. The following TrophyCatch bass have been submitted from Lake Trafford:
Lunker Club (8 – 9.9 pounds): 13
Trophy Club (10 - 12.9 pounds): 2