Lake Crescent
Flagler & Putnam Counties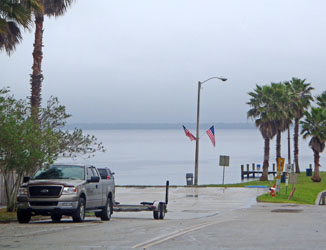 This 15,960-acre lake is a tributary of the St. Johns River. Public access to Crescent Lake can be obtained on the west shore off of Highway 17 in Crescent City. Private access can be obtained from Lake Crescent Resort (386-698-2485). For additional listings of fish camps or more information, please call our Regional Office at 352-732-1225.
Hurricane Irma knocked back a lot of the bulrush, lily pads, and eelgrass on Crescent Lake. Largemouth bass anglers using live shiners and artificial baits usually target docks in deeper waters. Cooler temperatures bring out the black crappie (speckled perch) anglers and this area lake is a local favorite. Anglers should have good luck drifting or trolling minnows or crappie jigs, particularly in the southern end of the lake early in the season, and moving closer to shore as the waters get cooler.
Popular Species

Fish graphics by Duane Raver, Jr.
More species information is available for:

TrophyCatch Tracker
TrophyCatch is FWC's citizen-science program that rewards anglers for documenting and releasing trophy bass 8 pounds or larger. The following TrophyCatch bass have been submitted from Lake Crescent:
Lunker Club (8 – 9.9 pounds): 27
Trophy Club (10 - 12.9 pounds): 4