Striper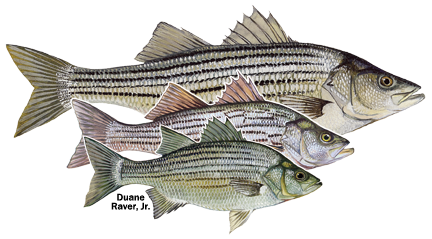 The following areas were selected by Florida's freshwater fisheries biologists as being the most likely to be highly productive for stripers, striper hybrids (sunshine bass) and white bass during 2020.
Apalachicola River / Lake Seminole
(Jackson, Gadsden, Calhoun, Gulf, Liberty and Franklin counties)
Species: Striped bass, sunshine bass and white bass.
This is where the largest Morone species (Stripers, Sunshine bass, and White Bass) in the state are found. The state record striped bass (42.25 pounds), sunshine bass (16.31 pounds), and white bass (4.69 pounds) were all caught in the Apalachicola River/Lake Seminole system.
In the last two years, USFWS/FWC stocked nearly 275,000 striped bass fingerlings and 61,000 sunshine bass into Lake Seminole. Lake Seminole, a 35,000-acre reservoir located on the Florida-Georgia border in Gadsden and Jackson Counties, is the headwater of the Apalachicola River. Here, striped bass and sunshine bass aggregate along the old river channels and the lower lake near the dam during fall and winter and migrate up the Chattahoochee and Flint Rivers during the spring. Larger fish move to cool water springs, which are closed to fishing during the summer. Fish are discharged downstream through the Jim Woodruff Dam into the Apalachicola River during high-water periods. Striped bass greater than 20 pounds and sunshine bass weighing from seven to ten pounds are common. Striped bass over 40 lbs. are caught or collected annually from the Apalachicola / Chattahoochee / Flint River system. Stripers and sunshine bass move throughout the Apalachicola river system during the fall and winter months and can be caught from the dam to the coast. Larger fish migrate up the river and aggregate below the dam during late winter and spring. Bucktail jigs, flukes, and crankbaits that resemble shad are popular lures around bridge pilings and along deep channels and drop-offs. Live shrimp are very productive in the lower river. Shad are most productive below the dam.

Lake Talquin / Ochlockonee River
(Leon, Gadsden and Liberty counties)
Species: Striped bass and white bass.
In the last two years, USFWS/FWC stocked 315,000 striped bass fingerlings into Lake Talquin. Normally on high rain events, stripers discharged into the lower Ochlockonee River through Jackson Bluff Dam resulting in a high aggregate below the dam during late winter and early spring. However, fishing has slowed below the dam in recent years, likely due to limited rain events. This has resulted in a high number of stripers remaining in Lake Talquin. Therefore, fishing in the main reservoir section should be excellent again this year. Striped bass in the 5 to 10-pound range are common, and fish over 20 pounds are possible. Live shad, flukes, and bucktail jigs are favorite baits of local anglers. Striped bass can be found throughout Lake Talquin during the fall thru early spring, particularly along the old river and creek channels and on the rock wall near the dam. In summer months, stripers aggregate in the back of creeks to seek cooler water.
White bass were introduced here during the 1980s. This species was negatively impacted by drought conditions from 2006-2012 but has been increasing recently. A spawning run occurs above Lake Talquin during years of high water and white bass are stocked in and above the lake to supplement poor reproduction caused by drought conditions. In the last two years, FWC stocked this system with nearly 63,000 white bass fingerlings. Anglers should target current breaks using small jigs, crankbaits, or live bait (i.e. crayfish or freshwater "grass" shrimp). The best time of year to fish is February through April. White bass in this system exhibit extremely fast growth and two to four-pound white bass are common.

St. Johns River
(Brevard, Flagler, Lake, Orange, Putnam, Seminole, St. Johns and Volusia counties, but the best fishing is found from Deland north to Jacksonville)
Species: Striped bass and sunshine bass.
FWC has stocked over 1 million sunshine bass in the Lower St. Johns River since 2016. The 2016 stocking of 425,000 sunshine bass should provide good fishing for some nice-sized fish this winter/spring. Sunshine bass grow quickly and usually reach a maximum of around ten pounds in the St. Johns River. Striped bass are also stocked here annually, with nearly 300,000 stripers stocked in 2019. Fish in the 8 to 12-pound range are common, but larger stripers are rare.
Striped bass and sunshine bass move throughout the system during fall and winter. Important areas include the jetties in Lake George, the lower Ocklawaha River, Buffalo Bluff, Memorial Bridge (Hwy. 17) in Palatka, Shands Bridge (I-95) in Green Cove Springs, and Buckman (I-295) and other bridges in Jacksonville. They have also been showing up in catches in the river from the outflow of Lake Jessup, SR415 Bridge, near the mouth of the Econlockhatchee River, and Lake Monroe. Larger fish congregate in creeks with cool-water discharge and in large springs, such as the Croaker Hole, during summer. Popular baits include freshwater "grass" shrimp, live shad, shiners, jigs, and shad-imitating crankbaits.

Lake Harris
(Lake County)
Species: Sunshine bass.
Over the past three years (2017-2019) Lake Harris has been stocked with more than 600,000 sunshine bass. Lake Harris offers quality fishing for sunshine bass during spring and anglers are reporting good catch rates. Sunshine Bass like moving water, so fishing after rain events could yield some increased catches. Favorite local lures include the Little Cleo and a small Rat-L-Trap. Areas to target include where the spring flows into the lake on the south shore and artificial fish attractors installed by FWC. Recently, the Lake County Water Authority (LCWA) and FWC installed an underwater fishing light at Hickory Point Park fishing pier (27341 State Road 19 Tavares, FL 32778). Underwater lights are known to attractor bait fish (e.g. shad) and thus bring in predatory sportfish fish such as sunshine bass. This provides an excellent shoreline fishing opportunity to target sunshine bass at Lake Harris.

Blackwater & Yellow Rivers
(Santa Rosa, Okaloosa and Walton counties)
Species: Striped bass.
Striped bass fingerlings are stocked into the Blackwater and Yellow rivers annually. Since 2017, FWC has stocked 201,000 and 70,000 striped bass in the Blackwater and Yellow River, respectively. The best place in the Blackwater River to target this species is between the Interstate 10 and Highway 90 bridge during the fall and winter months. In the Yellow River, try the river mouth and other braided channels, such as the Weaver River and Skim Lake. During the spring, striped bass migrate upstream and may be targeted in cool-water outflows that provide thermal refuge from the summer heat. Fish in the 10 to 20-pound range are common and stripers in the 20 to 30-pound range are now occurring more frequently. The lower stretches of this river provide some of the best fishing. Live mullet, menhaden, and shrimp are favorite baits, along with shad-imitating lures and large soft-plastic swimbaits.

Escambia River
(Santa Rosa and Escambia counties)
Species: Striped bass and sunshine bass.
The Escambia River and Bay in Escambia and Santa Rosa counties was stocked with nearly 160,000 sunshine bass in 2018. Striped bass and sunshine bass are found in the lower 10 miles of the river and upper bay during the fall and winter. Sunshine bass will make a small run up river during the spring. Additional striped bass also find their way over from the Yellow and Blackwater rivers and make a spring run upriver. Dawn and dusk are prime times for striper fishing, and anglers should try to catch a falling tide for best results. In the lower section of the river, fish near the Highway 90 bridge, as well as banks with steep drop offs or the mouths of tidal creeks. Live mullet and menhaden are popular baits, along with shad- or mullet-imitating lures such as large soft-plastic swimbaits. Live shrimp under a popping cork or fished on the bottom work well near the bridge and twister-tail type jigs are also popular when fish are found schooling near the surface.

St. Mary's and Nassau Rivers
(Nassau County)
Species: Striped bass.
Striped bass are the principle sport fish in the St. Mary's and Nassau Rivers, which are interconnected via the Amelia and South Amelia Rivers (Intra-Coastal Waterway).
The St. Mary's / Nassau system also connects to the St. Johns River through Sister Creek (Intra-Coastal Waterway). Striped bass tend to overwinter in the lower portions of the system and move upstream above U. S. Hwy. 17 during spring. On the St. Mary's River, look for stripers between I-95 and the town of St. Mary's near the mouths of larger tributaries, along the deeper banks, and the I-95 bridge pilings. On the Nassau River, stripers are most commonly found from the confluence with Thomas Creek to below U.S. Hwy. 17 in the vicinity of Pearson Island. In both rivers, striped bass congregate in or near tributaries with coldwater discharge during summer.
Check with the local fish camp where U.S. Hwy 17 crosses the Nassau River for updates on striper fishing in the river. Trolling along or casting to steep banks with bucktail jigs or shad-imitating lures is productive, and fishing with live shrimp is also popular.

Eagle Lake
(Hamilton County)
Species: Sunshine bass.
Eagle Lake Fish Management Area is a 200-acre reclaimed phosphate pit located in Hamilton County. In the past six years, FWC has stocked over 100,000 sunshine bass in Eagle Lake. Spring sampling indicates that most sunshine bass average about 15 inches in length after one year. Sunshine bass grow rapidly because of abundant shad and reach six to seven pounds in 2 years. The best angling occurs during fall and winter. Important habitats in Eagle Lake include deep or narrow cuts between the fingers, where sand bars drop off quickly into deep water. Rapidly retrieved crankbaits fished deep, as well as suspended shad-imitators are productive lures.

Clear Lake (Fish Orlando FAB FIVE)
(Orange County)
Species: Sunshine bass.
Clear Lake is a 313-acre lake in the heart of downtown Orlando. The lake features excellent shoreline access with an excellent opportunity to catch sunshine bass. FWC stocked over 15,000 sunshine bass in Clear Lake in 2019. Most fish caught are less than 18 inches, yet the action is fast and furious and 20-40 fish days under the right conditions are not uncommon. Action is best from November through March. Use your depth finder to find dredge holes, drop-offs, and schools of baitfish. Small crappie minnows or shiners work best.

Edward Medard Reservoir
(Hillsborough County)
Species: Sunshine bass.
Edward Medard Reservoir (770 acres) is a former phosphate pit lake located south of Plant City. Since the 90's, the reservoir has gained a reputation as one of the top sunshine bass fisheries in the state. This popular reservoir was dewatered in 2010 to repair an aging dam and refilled in 2011. Since then, the reservoir is stocked with 75,000 sunshine bass annually that are reared at the FWC's Bass Conservation Center in Richloam. Growth rates are extremely fast for sunshine bass in Medard due to the abundance of their preferred food supply, shad. Most of the fish caught by anglers are around 1-2 pounds, but fish in excess of 2 pounds are also common. Schooling sunshine bass are typically found in open water; however, anglers have had success catching them off the footbridge on the east side of the reservoir. The most productive time to fish for sunshine bass is fall through early spring when water temperatures are cooler. Best baits are live shiners or shad, but fish will sometimes take cut bait or worms fished on float with a 2-foot leader. If fishing with artificial baits, try using shad-imitation crankbaits retrieved quickly. Fish around the rip-rap near the dam for a good chance of encountering a large school of these scrappy predators.
Days and hours of operation, park entrance and other user fees shall be designated by Hillsborough County and posted at the park main entrance. The Edward Medard Park website provides current information.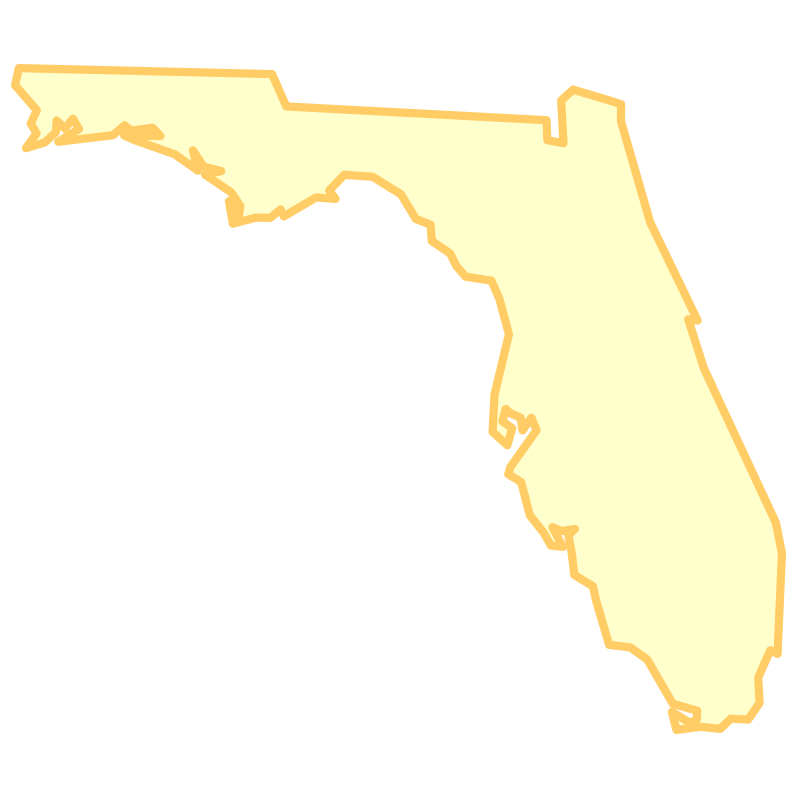 Florida Top Spots
See our Top Spots Map for all the top Florida freshwater fishing locations and species!