Upper St. Johns River and Lakes
Upper St. Johns River and Lakes
Brevard County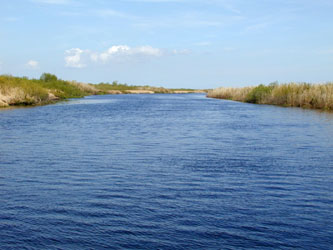 This 60-mile stretch of the St. Johns River is the southernmost headwaters where the tannin-stained river originates out of the vast marshes, swamps, water management areas and canal systems.  The river flows through a number of lakes ranging from 350 to 4,500 acres in size (Lake Hell'n Blazes, Lake Sawgrass, Lake Washington, Lake Winder and Lake Poinsett). The river is not marked for navigation, flowing within a single channel downstream to Cocoa at which point the river becomes braided into multiple channels as the river flows across the floodplain downstream to Puzzle Lake. Water levels fluctuate around six feet annually between the dry (winter-spring) and wet season (late summer-early fall). These extreme annual water level changes can radically affect the physical dimension of the river, causing a less than 150 foot wide river to expand out over the flood plain and become several miles wide, changing the navigability of the river and the distribution of the fish. Most of the upper St. Johns River and lakes are surrounded by State-owned lands which makes it a very scenic environment for all users.
The "River Returns" is a high definition television show about the St. Johns River that will air in October on PBS. Meanwhile their web site provides some excellent information about the river.
For further information, listings of fish camps, or ramp locations please contact our fisheries Regional Office in Ocala at 352-732-1225 or consult the Northeast Regional Freshwater Fishing Guide.
Water levels in the upper St. Johns River basin are a little low going into this quarter. We got a little slug of rain in February that boosted a record low flow back closer to average but the water was dropping fast in March. Many river stretches will get too shallow for all but hand carry vessels, airboats, or boat equipped with mud motors. Anglers should target the edges of vegetation like pennywort along banks in middle river (Poinsett to Winder) and south of Lake Washington. It is probably very difficult to get south of Lake Winder until the rains return. North of Lake Poinsett target the deeper water in sharp bends and drop-offs near shallow bars. Due to the shallow water anglers may have to do some walking to get around/over sandbars. Use caution. Traditional methods for taking all species will work. The St. Johns River is a great place to go throw a small spinner and see what kind of mixed bag of fish you can catch. Many bass anglers who fish this area prefer to swim plastic worms and jerk baits or twitch shallow-running minnow imitations for bass. Fly-fishing with a surface popper is another rewarding way to catch both bass and panfish in these sections of the river.
As the water drops the best fishing associated with the lakes will be at the river entrances and outlets or adjacent canals. The February electrofishing samples produced good numbers of quality bass in Lake Poinsett so it may be worth the effort to find bulrush or pads that still have a foot or two of water around them along the south shore of the lake.
Popular Species
Fish graphics by Duane Raver, Jr.
More species information is available for:

TrophyCatch Tracker
TrophyCatch is FWC's citizen-science program that rewards anglers for documenting and releasing trophy bass 8 pounds or larger. The following TrophyCatch bass have been submitted from the St. Johns River:
Lunker Club (8 – 9.9 pounds): 95
Trophy Club (10 - 12.9 pounds): 20