Upper St. Johns River and Lakes
Upper St. Johns River and Lakes
Brevard County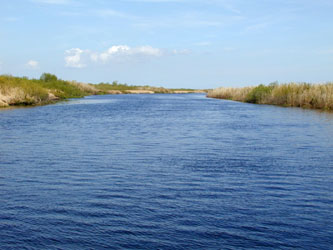 This 60-mile stretch of the St. Johns River is the southernmost headwaters where the tannin-stained river originates out of the vast marshes, swamps, water management areas and canal systems.  The river flows through a number of lakes ranging from 350 to 4,500 acres in size (Lake Hell'n Blazes, Lake Sawgrass, Lake Washington, Lake Winder and Lake Poinsett). The river is not marked for navigation, flowing within a single channel downstream to Cocoa at which point the river becomes braided into multiple channels as the river flows across the floodplain downstream to Puzzle Lake. Water levels fluctuate around six feet annually between the dry (winter-spring) and wet season (late summer-early fall). These extreme annual water level changes can radically affect the physical dimension of the river, causing a less than 150 foot wide river to expand out over the flood plain and become several miles wide, changing the navigability of the river and the distribution of the fish. Most of the upper St. Johns River and lakes are surrounded by State-owned lands which makes it a very scenic environment for all users.
The "River Returns" is a high definition television show about the St. Johns River that will air in October on PBS. Meanwhile their web site provides some excellent information about the river.
For further information, listings of fish camps, or ramp locations please contact our fisheries Regional Office in Ocala at 352-732-1225 or consult the Northeast Regional Freshwater Fishing Guide.
What a difference a year makes! Last year the river was on the high side from Hurricane Irma but dropping fast in January. The river is very low going into 2019. Navigation will be tricky downstream from the Lake Washington weir and fish will be concentrated in whatever deeper sections they can find. Plastic worms, jerk baits, spinner baits, weedless spoons, and twitching shallow running minnow imitations are some favorites among many bass anglers. Small to medium spinner baits are a favorite to catch bass and a variety of other species in the river. A small spinner can have you catching bass, bluegill, crappie, warmouth, white catfish, channel catfish, and maybe even a tilapia all in one trip on one lure. Cut bait fished in the holes north of Lake Poinsett can produce some surprisingly big channel catfish for such a skinny little river.
Crappie can be found around vegetated areas, especially bulrushes, sheltered from the wind. The bulrush lines on the west side of Poinsett are known to be especially productive. Specks will also congregate in the deep bends of riverine sections upstream and downstream from lakes. Anglers should take fair numbers of fish by slow trolling artificials (small jigs and beetle spins, 1/32-1/8 oz.) or by drifting with live minnows in the deeper, open water areas of lakes Poinsett, Winder, and Washington. Bends in the middle river section between lakes Winder and Poinsett can also be productive for crappie anglers. There was some floating water lettuce at last check and where it mats up on snags in the deeper bends is usually a great place to jig for specks. Twister tail or tube jigs in combinations of pinks, greens, chartreuse, salt and pepper, and pearly whites seem to be the most productive colors. A 10 or 12 ft. jig pole tipped with an appropriately colored jig, can be very productive when methodically fished along grass and other vegetation edges along the river.
The spawning runs of the anadromous American and Hickory shad occur in this quarter. The St. Johns River from Hatbill Park to Lake Harney is a historically productive area for excellent catches. Other river sections where shad anglers may be successful are between SR 528 and SR 50 and the stretch between Lake Harney and Lake Monroe. Some anglers prefer trolling while others like to fly fish or cast with ultra light tackle from an anchored boat or riverbank. Low water will concentrate the American Shad in areas where they can find flowing water. Commonly used artificial lures include shad darts, streamer flies, and miniature spoons and jigs. Anglers who hook shad will be rewarded with a strong fight and the aerial acrobatics of these long distance swimmers. Anglers are reminded that a saltwater fishing license is required to target/possess shad.
Popular Species
Fish graphics by Duane Raver, Jr.
More species information is available for:

TrophyCatch Tracker
TrophyCatch is FWC's citizen-science program that rewards anglers for documenting and releasing trophy bass 8 pounds or larger. The following TrophyCatch bass have been submitted from the St. Johns River:
Lunker Club (8 – 9.9 pounds): 93
Trophy Club (10 - 12.9 pounds): 20