Jackson, Gadsden, Calhoun, Gulf, Liberty, and Franklin counties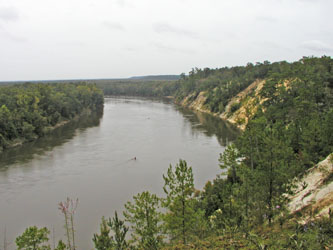 The Apalachicola River runs from Lake Seminole, on the Florida-Georgia border at Chattahoochee, 106 miles south through the Panhandle to the Gulf of Mexico, at the town of Apalachicola. In terms of volume of water discharged, it is Florida's largest river. While there are many areas of good fishing along the Apalachicola River, the best areas are the upper river, which is influenced by discharge from Lake Seminole, and the lower river, which is influenced by Apalachicola Bay and the Gulf of Mexico.
Bag and size limits for striped bass follow those for Northwest Florida: The bag limit for stripers, hybrids, and white bass is 20 fish per day, aggregate, but only three may be striped bass and striped bass must be a minimum of 18 inches total length. There is no minimum length limit for hybrids or white bass.  Statewide bag and length limits for black bass are: 5 Black bass (including largemouth, Suwannee, spotted, Choctaw, and shoal bass, individually or in total), only one of which may be 16 inches or longer in total length. There is no statewide minimum length limit for largemouth bass, however spotted bass and shoal bass less than 12 inches in total length must be released.
The upper Apalachicola River has good shore access from Jim Woodruff Dam to Race Shoal (0.9 miles) on the east bank, and from the dam to Hwy. 90 (0.6 miles) on the west bank. Access above Hwy 90 is on Corps of Engineers (COE) property and includes a fishing catwalk adjacent to the powerhouse at the dam. Boat landings are also located at Chattahoochee, Sneads, Aspalaga (Navigation Mile 98.9), and Ocheesee (NM93.9).
The lower Apalachicola River consists of the main river channel and the distributaries which form the delta: the St. Marks River, Little St. Marks River, and East River. Shoreline access is available only from the public docks on the waterfront in Apalachicola and at the City Dock (Ten-foot Hole) under the Hwy. 98 Bridge. Public boating access include the City Dock, Gardner Landing on East River, Cash Creek off of Hwy. 65, Magnolia Bluff on the east end of the Hwy 98 Bridge in East Point, and at the end of Bluff Road within Box-R WMA. Private launching facilities can be found at several marinas in Apalachicola, in East Point, and Howard's Creek off the Brother's River, and on Searcy Creek (Intracoastal Waterway) in White City. FWC and the U.S. Fish and Wildlife Service annually stock striped bass and sunshine bass in the lower river.
For more information contact Riverview Bait & Tackle (850-663-2462) in Chattahoochee, Bay City Marina (850-653-9294) or Scipio Creek Marina (850-653-8030) in Apalachicola, and Fisherman's Choice (850-670-8808) in Eastpoint.
UPPER APALACHICOLA RIVER (Jackson, Gadsden, Calhoun, Liberty, Franklin, and Gulf counties):
Striped bass and sunshine bass fishing will taper off as larger fish seek cool water refuge during the heat of the summer. While springs and creeks in the river are not closed to fishing, the small fish you catch out during the summer will not be available as large, aggressive fish in the fall. If trends of drought begin, expect the summertime heat to be particularly hard on the stripers and hybrids. However, the reservoirs above Lake Seminole are full, and normal rainfall in Georgia should provide release of some water through Jim Woodruff Dam all summer. This should help buffer the high water temperatures, allow access to refuges for stripers and hybrids, and discharge other gamefish into the river. Smaller hybrids and stripers will continue to school in the river throughout the summer, particularly along submerged sandbars in the early morning. Largemouth bass and panfish will move to deeper channels as the water temperature continues to increase. Fish the deeper water for the best success. Flathead catfish fishing should be excellent this quarter. Try live bream or shad in deep water structure during daylight hours and adjacent shallow sand bars at night.
LOWER APALACHICOLA RIVER (Gulf, Liberty, and Franklin counties):
Stripers and sunshine bass continued to school in the lower river through June, as far upstream as the Pinhook. Look for schooling to continue in this area, although numbers will decline through the summer as larger fish move out of the lower river in search of cooler water. If normal water flows continue, historical hotspots in the East, St. Marks, and Little St. Marks rivers will be productive. If flows are not normal and we begin to see dryer conditions, move upstream to find a better mix of fresh and salt water. Fish the slack or outgoing tides for best results. If water levels begin to drop, this may also impact largemouth bass and panfish fishing in the lower river as well. Both may move further back into creeks, especially in Lake Wimico, to avoid saltwater influence. Low flow in the river will allow the mixing zone to move further upstream, and trout, redfish and tarpon will move into the rivers and channels. If water flow increases with the rainy season in July and August, the mixing zone will move further downstream, and fish will move to the river mouths and out into the channels in the bays.
Popular Species

Fish graphics by Duane Raver, Jr.
More species information is available for:
Largemouth bass, Bluegill, Redear sunfish, Sunshine bass, Striped bass

TrophyCatch Tracker
TrophyCatch is FWC's citizen-science program that rewards anglers for documenting and releasing trophy bass 8 pounds or larger.
Be the first to submit a trophy bass from the Apalachicola River!