Lake George
Putnam & Volusia counties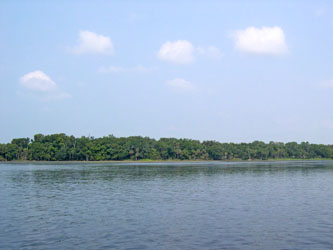 This lake is a 46,000-acre natural impoundment of the St. Johns River with extensive vegetation that provides excellent habitat for fish. There are jetties located on the south end of the lake where the St. Johns River enters the lake. Most of the lake is less than ten feet deep but a natural channel provides navigation for boats as large as oil barges.
Public access can be obtained from Blue Creek Road to Lake George Road off of Highway 40, (see Central Region Boat Ramps for more detail). Private access to Lake George can be obtained from Pine Island fish camp (386-749-2818) or Georgetown Marina & Lodge (386-467-2002). For additional listings of fish camps or more information, please call our Regional Office at 352-732-1225.
Impacts from Hurricane Irma will be felt on Lake George for quite some time. The eelgrass which was fairly thick on the eastern and western shores and sparse on the southeastern shore is still gone, a situation very similar to what happened after the 3 hurricanes hit Lake George in 2004. There is some sparse eelgrass north of Lisk Point, which is on the south end of Salt Cove, and more eelgrass on the south end of Willow Cove. Largemouth bass anglers may find success using live shiners and artificial baits fished near pilings, dock, and around scattered vegetation. The mouths of the various creeks on Lake George might also prove productive. Cold water temperatures might drive the fish deep, with fish coming in shallow at the end of the day as the shallows warm up. Live shad and grass shrimp fished near the jetties when the river is flowing should produce catches of largemouth bass and stripers. Cooling waters this quarter should bring success to black crappie (speckled perch) anglers fishing the sunken barge at the center bombing target and Willow Cove on the east shore. These cool waters should also bring more success to striper anglers, especially near the bombing targets and the jetties.
Popular Species

Fish graphics by Duane Raver, Jr.
More species information is available for:
Largemouth bass, Bluegill, Redear sunfish, Black crappie, Striped bass, Brown bullhead

TrophyCatch Tracker
TrophyCatch is FWC's citizen-science program that rewards anglers for documenting and releasing trophy bass 8 pounds or larger. The following TrophyCatch bass have been submitted from Lake George:
Lunker Club (8 – 9.9 pounds): 150
Trophy Club (10 - 12.9 pounds): 29