Bream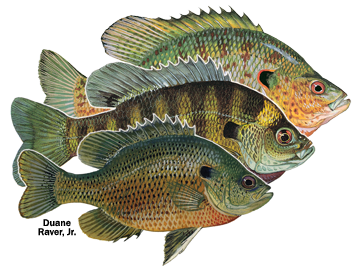 Florida has more than 7,700 named lakes and ponds and over 10,000 miles of streams and rivers. All of these waterbodies are inhabited by sunfish, which includes bluegill, redear sunfish (shellcracker), redbreast sunfish, spotted sunfish (stumpknocker) and warmouth. Sunfish are often called "bream" (pronounced "brim"). Almost any waterbody in the Florida, regardless of size or location, contains the popular bluegill and, to a lesser extent, redear sunfish.
Sunfish concentrate to spawn in water depths that range anywhere from one to ten feet, but are usually found at the shallower end of this range. Bluegill seem to opt for slightly shallower areas, but it's not unusual to see redear sunfish and bluegill intermingle, using the same bedding areas at the same time. Redear sunfish typically begin spawning about one month before bluegill.
Seasonal advice for bluegill and redear sunfish:
In south Florida, redear sunfish may spawn as early as late February but more likely around late March. In central Florida, spawning begins around late March. If water temperatures remain low through March in central Florida, then expect redear sunfish to spawn early to mid-April. In the panhandle, they will likely begin to concentrate in mid to late May. Redear sunfish will bed well into August, while bluegill will periodically spawn throughout the summer months and sometimes even as late as November in south Florida.
Based on fishery surveys and local expertise, here are predictions from Florida Fish and Wildlife Conservation Commission biologists on which sites they think should be highly productive for bream (in no particular order) for the year 2019. You can review these and other "Sport Fish Top Spots" on our Top Spots Map.
Lake Kissimmee
(Osceola and Polk Counties)
Lake Kissimmee (34,976 acres), located in the heart of Osceola County, has an expansive and diverse plant community, excellent spawning substrate and fertile water, Lake Kissimmee provides optimum habitat for both bluegill and shellcracker to thrive. In recent years, bream effort (number of hours fished) have been low; however, catch rates have remained high (averaging around 2 fish per hour) and the lake has good populations of quality size bream (Bluegill and Redear "shellcracker" sunfish). Therefore, Lake Kissimmee could provide anglers with "uncrowded" opportunities for quality bream angling. Anglers often anchor in open water adjacent to main lake shoreline vegetation or edges of the four islands within the lake and use weighted crickets to lure bluegill off their spawning beds. Shellcracker anglers do best in these areas using red wigglers instead of crickets. Savvy anglers have known for years that some of the most consistent spawning areas within the lake, and hence where good concentrations of fish can be located, will consist of a mixture of water lilies or bulrush and native grasses. Boat trails cutting through these vegetation types also produce good numbers of fish. Areas of the lake that successful anglers frequent include Brahma and Grassy Islands and shoreline areas at 27-Palms, Jackson Slough, Philadelphia Point and Lake Kissimmee State Park. Historically, mid-February to late April is prime time for shellcracker fishing on Lake Kissimmee, while the warmer months (May-September) are ideal for bluegill.

West Lake Tohopekaliga / Lake Toho
(Osceola County)
Aside from being one of the best bass fisheries in the country, Lake Toho, located adjacent to the City of Kissimmee, also supports good populations of quality sized bream (bluegill and redear "shellcracker" sunfish). Even though bream effort (number of hours fished) has decreased in recent years, the catch rate remains high averaging over 2 fish per hour. Lake Toho could provide anglers with "uncrowded" opportunities for quality bream angling. Annual vegetation maintenance within shoreline areas continues to provide excellent spawning habitat for these panfish. Yearly fish population surveys indicate that an abundance of large adult bluegill (up to 10 inches) inhabit offshore FWC fish attractors, as well as, within numerous shallower water areas of the lake. Local fishing hot spots include native grasses or hydrilla edges, water lilies, bulrush or open-water areas at Brown's Point, the mouth of Goblet's Cove, South Steer Beach and the eastern shore of Makinson Island. Of the wide variety of baits anglers use to catch bluegill and shellcracker, the most popular and most successful for bluegill would be crickets, while the "go to" bait for shellcracker is earthworms or red wigglers. As with most water bodies in central Florida, warmer months of the year (May – September) are prime times for anglers to try their luck on Lake Toho for bluegill, while mid-February through April is best for anglers searching for shellcracker.

Lake Talquin
(Gadsden and Leon Counties)
Anglers in the Tallahassee area are advised to break out their fly rods, cane poles, or light spinning tackle this spring, because shellcrackers (Redear Sunfish) should be bedding in Lake Talquin by late April/early May and bluegill and Redbreast Sunfish (redbellies) won't be far behind. What's more, all species should continue biting well throughout the summer months. Local biologists recommend working the upper end of the reservoir and in the back of various creeks in depths ranging from three to seven feet. The standard fare-live worms and crickets, small jigs, beetle spins, and fly gear-will all provide good results.
Boat ramps and fishing piers are located off Hwy 20 (Coe Landing Road, William's Landing, etc.) and Hwy 267 (Cooks Landing Road, McCall Bridge Road, etc). Check out the Florida Boat Ramp Finder on our website for specific details on boat ramps and directions. Also, in 2018 FWC installed fish attractors at 4 public fishing piers around Lake Talquin. Those piers include: High Bluff Campground (Gadsden Co.), Pat Thomas Park (Gadsden Co.), Ben Stoutamire Landing (Leon Co.), and Williams Landing (Leon Co.).
Check in at the Lake Talquin Lodge (231 Gainey's Road), Whippoorwill Sportsman's Lodge (3129 Cooks Landing Road), or Ingram's (354 Lois Lane) for more up-to-date information.

Lake Istokpoga
(Highlands County)
Located a few miles southeast of Sebring, the large, relatively shallow Lake Istokpoga is outstanding for bream. FWC fish sampling on the lake has shown good numbers of 8 inch plus Bluegill and Redear Sunfish (shellcrackers). Bream anglers can concentrate their efforts from April through June around inshore and offshore Cattail and Bulrush stands. The thicker vegetation is difficult to fish but usually holds good numbers of large bream. In other months, productive areas to fish for bream include Big Island, Grassy Island, Bumble Bee Island, and around various sandy bars. Anglers prefer crickets for Bluegill and live worms for Redear Sunfish. Fly fishing anglers can experience great action with small popping bugs as well.

Little Econlockhatchee River
(Orange County)
This is probably one of the best panfishing secrets in Orlando. Located in northeast Orlando, bank access can be found via Orange County's Blanchard Park located off Dean Road (SR 425). Canoes and kayaks can be launched and used in the channelized section located in the park but downstream of the dam (unchannelized section) there are too many blow-downs to effectively use any type of boat. For your best bet, fish behind the dam when the water is flowing after a big rain. Night crawlers, wigglers and grass shrimp fished beneath a split shot is all you will need to catch quality to trophy-sized panfish (bluegill, redear sunfish, redbreast sunfish). Don't be surprised if you hook into a large white or channel catfish as well.

Tenoroc Fish Management Area
(Orange County)
The 8,300-acre Tenoroc Fish Management Area near Lakeland provides a special opportunity to bass fish in Florida's famous phosphate pits. These seven to 227-acre lakes were created years ago by draglines during phosphate surface mining operations. As a result, lake bottoms have irregular contours with depths ranging to 35 feet.
The bass fishing experience in these phosphate pits can rival any natural lake when the bass are biting well. Bass fishing is best from mid-November through March. Annual bass angler success rate was about one fish per hour last year; however, during the peak bass months, angler success generally exceeds this rate on many lakes. Anglers also have a better opportunity to catch large bass. Lake 2, Lake 3, Lake 5, Lake C, Hydrilla Lake, Butterfly Lake, Horseshoe Lake, Lost Lake East, and Lost Lake West offer some of the best bass fishing opportunities on the property.
Probing deeper waters with chrome-colored rattling lures and chartreuse ("Firetiger" color) diving crankbaits is a good bet in phosphate pits. Plastic worms are often the best all-around lure for fishing in these lakes. Red shad and Junebug colors are good plastic worm colors for bass in these lakes. Anglers that can find submersed islands or sandbars off points will find concentrations of bass. In addition, many of the lakes are connected with water control structures. When in operation, bass are concentrated in areas of flowing water. During the spring, flipping worms or soft plastic baits in thick brush will produce Largemouth Bass.
Tenoroc lakes are managed with a variety of harvest regulations; including total catch and release (no harvest) and 16-inch maximum size limit, two fish bag, in which anglers must immediately release all bass larger than 16 inches in total length.
Tenoroc is located just two miles northeast of Lakeland on Highway 659, which can be accessed from Highway 33 just south of Intestate I-4. Call the Tenoroc Headquarters at 863-499-2422 for more information or to make reservations. The area is open to public fishing four days a week, Friday through Monday. All anglers must check in and out at the Tenoroc Fish Management Area Headquarters, deposit their valid fishing license and pay $3 for a daily fishing permit unless exempt.

Winter Haven South Chain of Lakes
(Polk County)
Tucked in and among the city streets of Winter Haven in north-central Polk County, the south portion of the Winter Haven Chain of Lakes offers some of the finest and most easily accessible bream (Bluegill and Redear Sunfish) fishing in central Florida. Polk County is home to 554 named lakes and typically sells more freshwater fishing licenses annually than any other county in the state. That's because residents take their bream fishing seriously! The chain is comprised of 14 lakes ranging in size from 25 to 1,160 acres and totals just over 4,000 acres of fishable waters that offer a wide variety of habitats for both bream and bream anglers, from shoreline Bulrush/Cattail stands and Cypress trees to open water beds of eelgrass and pondweed. FWC Division of Freshwater Fisheries Management personnel sample the chain's sportfish twice a year and routinely observe bream 10 inches in length or more with weights over a half-pound. Standard state regulations apply to the entire chain-50 panfish (bream) per person per day. Ample public access is available in the form of six boat ramps, two fishing piers, bank fishing at a half-dozen city parks, and public easements alongside the numerous canals that form the connecting links between lakes. Crickets, wigglers, or grass shrimp are best bets for live bait while small Beetle Spins and jigs lead the artificial arsenal. Guide services, fishing forecasts, and lodging may be found through Polk County's Outpost 27 Visitor Center.

Lake Weohyakapka (Walk-in-Water)
(Polk County)
Lake Weohyakapka, commonly known as Lake Walk-in-Water, is a 7,536-acre lake located in eastern Polk County. Recent fish surveys on Lake Weohyakapka have proven this resource to be an excellent opportunity for anglers to catch good numbers and sizes of all bream species. Anglers should target bluegill and redear sunfish near full moon phases in shallow, vegetated areas where they typically congregate to spawn. These species can be caught with live bait (crickets, wigglers, and grass shrimp) and artificial lures (Beetle Spins and panfish jigs) in the bulrush and cattail stands located throughout the lake. Lake Weohyakapka also offers anglers the unique opportunity to catch above average spotted sunfish (a.k.a., stumpknocker) and redbreast sunfish. Anglers can target these beautiful species at the mouth of Tiger Creek using the same tactics they would use to catch bluegill and redear sunfish. Remember to bring your tape measure and camera to document and submit your eligible catches to the FWC Big Catch program.

Lake Pierce
(Polk County)
Recent fish surveys on Lake Pierce may have uncovered a "sleeper" Bluegill and Redear Sunfish fishery. Both species are present in good numbers and sizes in this 3,779-acre lake situated as part of the headwaters to the Kissimmee Chain of Lakes. These sunfish can be targeted near full moon phases in shallow, vegetated areas where they typically congregate to spawn and can be caught by fishing on the bottom with live crickets or wigglers. Use small hooks and light line when targeting these species and be ready for a fun fight when you hook one! When these sunfish are not spawning, anglers should try their luck around the 5 natural brush pile fish attractors strategically placed in deeper water. For more information on the location of fish attractors, visit FWC's Interactive Fish Attractor Map. There are two public boat ramps on Lake Pierce that anglers can launch from to begin their memorable day on the water. For more information on how to access Lake Pierce, please visit our Florida Boat Ramp Finder.

Lake Seminole
(Pinellas County)
Lake Seminole, not to be confused with the larger Lake Seminole in north Florida, is a 680-acre reservoir with a wide variety of habitat for panfish including stands of Bulrush, eelgrass and Cattails. Lake Seminole in Pinellas County is an excellent choice for Tampa and St. Petersburg residents looking for big panfish. Recent FWC fish surveys on the lake documented numerous bream 10 inches and larger which would be eligible for FWC's Big Catch program if caught and submitted by an angler. Excellent public access is available for both boaters and bank anglers at the Lake Seminole County Park on the southeastern shore of the reservoir. Crickets and nightcrawlers along with Beetle Spins and panfish jigs are an excellent choice for seeking bream while at Lake Seminole.

Choctawatchee River and Holmes Creek
(Walton, Washington and Holmes counties)
Redear sunfish
For river and stream lovers in Florida's Panhandle, the Choctawhatchee River and Holmes Creek are ideal, particularly for shellcracker (redear sunfish) aficionados. Shellcracker usually bed in quieter waters during April and remain active through the early-fall months. Multiple redear sunfish greater than 10 inches and several bluegill larger than 8 inches were found in Holmes Creek during FWC electrofishing surveys in fall 2015. Quality bluegill and redear sunfish (8 to 10 inches) were also seen while electrofishing throughout the Choctawhatchee River this past fall 2017. The presence of snags and log jams that often span the width of the river can make navigation in Holmes Creek difficult or hazardous. Log jams often span the entire reach of other Choctawhatchee tributaries (such as East River). Live Oak Landing boat ramp in Holmes Creek is extremely steep and boaters should use caution. Also, high water levels can be dangerous, please check river levels prior to your trip. Live Oak Landing is an excellent place to bank fish. If boating around in smaller creeks off the main channel and sloughs of the Choctawhatchee River or Holmes Creek during the late spring and summer months, be sure to also try for some redbreast sunfish, spotted sunfish (stumpknocker), and warmouth. Worms, crickets, and grass shrimp are favorite baits.

Dead Lake
(Gulf and Calhoun counties)
Hand-Paint Bluegill
Enjoy this beautiful Panhandle Gem! The Dead Lakes are located on the Chipola River near the town of Wewahitchka. Both live and dead cypress trees paint an eerie yet beautiful backdrop for your day on the water. However, anglers should take caution while navigating due to the many snags and stumps in the lake. This area was hit hard by Hurricane Michael, but the Dead Lakes still offers excellent bluegill and redear sunfish (aka "shellcracker") fishing opportunities. In fact, the Dead Lakes are home to the "Hand-Painted" Bluegills. These colorful bluegill are found throughout the Apalachicola Watershed and should be on any bream angler's "bucket list". Anglers should fish an ultra-light rod with bobber and hook setup tipped with a worm or cricket. Also, inline spinners and micro crankbaits around stumps and snags can be very effective. The best time of year to target bream in the Dead Lakes is late April through September.

Orange Lake
(Alachua County)
At nearly 13,000 acres, Orange Lake is the largest public lake in the North Central Region. This shallow lake is designated as a fish management area (FMA) and is located roughly 20 miles southeast of Gainesville. Two popular public access points on the lake are Heagy-Burry Park and Marjorie Kinnan Rawlings Park. Both parks provide boat ramps and ample parking, restrooms, and bank fishing opportunities. The lake can also be accessed from several other private ramps as well as from Lochloosa Lake via Cross Creek. Strong winds often move floating tussocks around the lake that can hamper access, so it pays to check ahead for conditions at your ramp of choice.
Orange Lake contains varied and extensive aquatic vegetation that provides excellent habitat for Bluegills, Redears ("Shellcrackers"), and Warmouth. While nowhere near historic levels, hydrilla and coontail have returned to limited areas of the lake in recent years. A diverse and emergent plant community, including spatterdock (pads), smartweed, and maidencane can also be found around the lake. Panfish can be caught on a variety of live baits and artificial lures, but proven favorites include grass shrimp, live crickets, earthworms, small soft plastics, and micro-sized spinnerbaits. Anglers targeting these tasty and abundant fish would do well to "dip" live baits or jigs in and around patches/holes of spatterdock or other vegetation either freelined or under a float. The edges of matted floating vegetation are also great places to try. Hitting the lake during a spawning period when the fish are congregated can be a great way to quickly score the makings for a fish fry. Bream fishing usually picks up from April through September, but you can expect to catch fish year-round.

Lochloosa Lake
(Alachua County)
Lochloosa Lake is designated as a Fish Management Area and located 5 miles south of Hawthorne near the town of Lochloosa. Most of the shoreline is bordered by old-growth cypress trees, and knotgrass and spatterdock (bonnets) are the predominant aquatic plants in the lake. A public boat ramp provides access to the lake from U.S. Highway 301 in the town of Lochloosa, and at Lochloosa Harbor Fish Camp just north of the town of Lochloosa, also accessed from U.S. 301. In addition, a public pier is located south of the town of Lochloosa on Burnt Island and is a popular fishing site for those without a boat. Lochloosa Lake offers good bluegill, redear sunfish and warmouth (bream) fishing during April through September; however, some bream can be caught year-round. Anglers targeting bream should fish with grass shrimp in deep-water spatterdock or deeper grass patches.

Lake Okeechobee
(Okeechobee, St. Lucie, Martin, Palm Beach, Hendry and Glades counties)
The Bluegill and Redear Sunfish populations in Lake Okeechobee are providing excellent fishing opportunities to anyone seeking a fight from the other end of a line. At 730 square miles, Lake Okeechobee is Florida's largest lake and the second largest body of fresh water in the contiguous United States. This vast expanse of water includes more than 150,000 acres of productive vegetation. A 100-yard wide rim canal circles the lake, and many secondary canals and cuts are linked to it, resulting in hundreds of miles of available fishing water. Big bream can be found in the grassy areas of the "Big O" during most times of year and in shallow, sandy areas while spawning in late spring and summer. Other excellent fishing areas are along the edges of the surrounding canals and the mouth of the Kissimmee River. Beetle Spins, grass shrimp, and crickets are the preferred baits for Bluegill and Redear Sunfish.

Everglades Water Conservation Areas 2 and 3
(Broward, Dade and Palm Beach Counties)
The Everglades Water Conservation Areas (WCAs) are south Florida marshlands intersected with over 200 miles of canals. They are collectively managed by FWC as Everglades and Francis S. Taylor Wildlife Management Area. WCA 2 has 210 square miles of marsh, and WCA 3 covers approximately 915 square miles of marsh. Originally designed for flood control and water supply, the area provides some of the best largemouth bass fishing in the country, in addition to great opportunity for a variety of panfish (Bluegill, Redear Sunfish, Warmouth, and exotic species).
Over 25 public boat ramps provide access to the different segments of canals surrounding and intersecting the WCAs (some of them are mapped in our Water Conservation Area Brochure). The L-67A, L-35B and Alligator Alley (I-75) are three of the most popular canals in the area for fishing. The L-67A has two boat ramps, one on the northern end at Holiday Park and one on the south end at the S-333 structure off Tamiami Trail (state road 41). Holiday Park also offers boat rentals. The L-35B canal boat ramp is located off state road 27 at the Sawgrass Recreation Area. Numerous boat ramps for Alligator Alley are located throughout Interstate 75 on both the north and south side of the road.
Bluegill can be targeted along canal edges. Crickets and worms suspended on a bobber below the spatterdock edge of the canals is an effective tactic. Along with live bait, Beetle Spins and small jigs can also be effective. Expect the best bites to occur from February to May. Some of the best catch rates biologists observe for Bluegill in the Water Conservation Areas are small poppers on a fly rod. Live bait anglers typically anchor along the spatterdock edge, and fly anglers and artificial lure anglers typically drift down the canal casting down, or into the spatterdock edge. Anglers can cover much more ground drifting the spatterdock edge as opposed to anchoring.
Along with Bluegill, anglers can also expect to run into Oscars and Mayan Cichlids. These two aggressive nonnative species are excellent fighting fish and can be best described as fighting like a Bluegill on steroids. There are no limits for these nonnative species and anglers regularly fill coolers full of these species when the bite is strong. Oscars and Mayan Cichlids can be caught using the same tactics for Bluegill. Oscars also tend to be a loosely schooling fish, so if drifting down the canal and one is caught, it is recommended anglers keep fishing that same spot to try and pull out a few more before returning to drifting. The Oscar and Mayan Cichlid bite is best with warmer water temperatures. If we have a mild winter, expect the bite to start picking up by March, and last throughout the summer and into the fall. If coming from out of town, it is recommended that you contact south Florida's regional biologists before planning your trip to check on the fisheries status.

Lake Osborne
(Palm Beach County)
Lake Osborne (356 acres) was once a system of natural freshwater lakes along the coastal ridge in Palm Beach County. The lake is now part of the E-4 canal system that connects it to Lake Ida and other water bodies. John Prince Park borders the western shore of the lake and provides substantial shoreline access and a public boat ramp. The urban location, easy access, and excellent fisheries are some of the many reasons that make Lake Osborne such a popular destination for recreational and tournament fishing. It is an excellent place to target Bluegill and Redear Sunfish. Lake shorelines predominately consists of mowed grass, common reed, bull rush, and many other types of vegetation, but does provide a considerable amount of shoreline access. Bluegill and Redear Sunfish can be targeted with live bait including crickets, red worms, or grass shrimp. They can also be successfully targeted with artificial baits including popping bug flies, small jigs, and Beetle Spins, and more fishing and rigging tips are available.
NOTE: For more information about these lakes and rivers, contact the following FWC biologists:
Lake Kissimmee and West Lake Toho - Kevin McDaniel 407-846-5300
Econlockhatchee River - Jim Sweatman 407-846-5191
Lake Talquin - Andy Strickland 850-717-8730
Choctawhatchee River and Holmes Creek – Katie Woodside 850-265-3676
Lake Istokpoga - Eric Johnson 863-648-3200
Dead Lake – Katie Woodside 850-265-3676
Lochloosa Lake - Patrick Kroboth 386-754-6252
Orange Lake - Travis Tuten 352-955-3220
Winter Haven South Chain of Lakes - Eric Johnson 863-648-3200
Lake Weohykapka (Walk-in-Water) - Adrian Stanfill 863-648-3200
Lake Pierce - Adrian Stanfill 863-648-3200
Lake Seminole - Eric Johnson 863-648-3200
Lake Okeechobee - Andrea Dominguez 863-462-5190
Everglades Water Conservation Areas - Josh Wilsey 561-625-5122
Lake Osborne - Josh Wilsey 561-625-5122