Catfish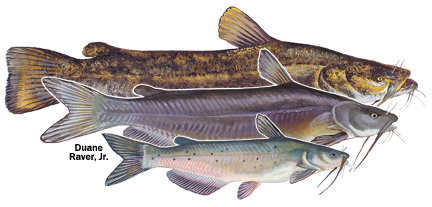 The following areas were selected by Florida's freshwater fisheries biologists as being the most likely to be highly productive during 2020 for channel, flathead, blue, and white catfish, and yellow and brown bullhead.
Apalachicola River
(Jackson, Gadsden, Calhoun, Gulf, Liberty and Franklin counties)
Species: Channel, flathead and blue catfish.
Big channel catfish can be found in the Apalachicola River from April into early July near the dam. Flathead fishing picks up in April and runs into the summer months. Smaller catfish can be caught year-round, but spring and summer are best. Fish the Jim Woodruff Dam, south to Owl Creek, while trying deep holes with structure, old creek channels and around mouths of tributaries. Best baits include live bream on the bottom for big flatheads, while stink baits or night crawlers on the bottom should do the trick for channels. Try some type of fresh cut bait, such as mullet, for blue cats.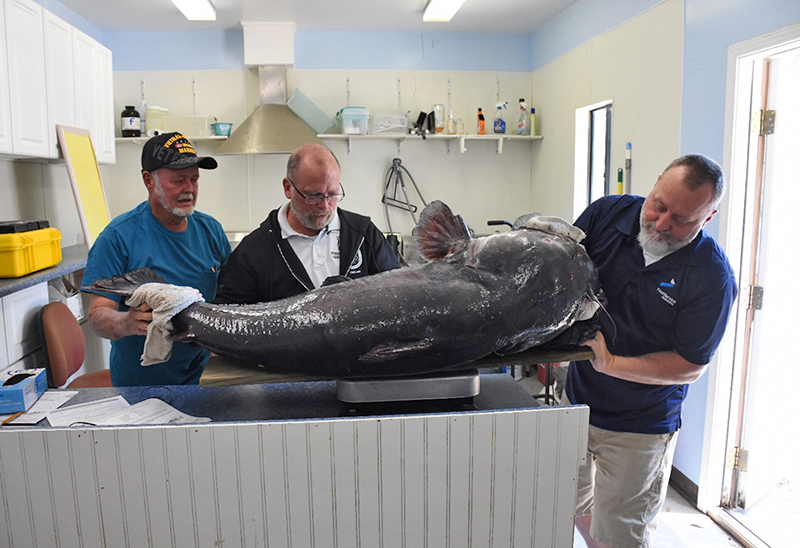 Choctawhatchee River
(Holmes, Walton and Washington counties)
Species: Channel, flathead and blue catfish.
Big channel catfish are usually caught in the Choctawhatchee River in late May through early July and from October thru November if the water stays warm. Small cats are caught year-round, but expect the bite to slow when it is cold outside. Work the Alabama line south to Choctawhatchee Bay and around the mouth of Holmes Creek and other tributaries. Most of the larger catfish are found in the northern portion of the river but some fish can be found throughout the river within deep bends and holes that contain large woody debris. Fish live bream on the bottom for flatheads up to 30 pounds and try stink baits or night crawlers on the bottom for channels.

Yellow River
(Santa Rosa, Okaloosa and Walton counties)
Species: Flathead catfish.
The biggest Yellow River flatheads are usually caught during April through October along the stretch from the Alabama line to the I-10 bridge. Anglers should try live bream on the bottom for these big flatheads, while targeting any deep holes in the river containing structure.

Escambia River
(Santa Rosa and Escambia counties)
Species: Channel, flathead and blue catfish.
Larger channel catfish and big flatheads in the Escambia River are usually caught from April through October. Fishing for smaller catfish is good year-round except during cold weather. The best fishing is typically from the Alabama line to the I-10 bridge. Live bream on the bottom is the bait of choice for big flatheads while stink baits or night crawlers should do the trick for channels.

St. Johns River and Dunn's Creek
(Brevard, Flagler, Lake, Orange, Putnam, Seminole, St. Johns and Volusia counties)
Species: Bullhead, channel catfish and white catfish.
Big channel catfish are usually reported in the Upper and Lower St. Johns River, as well as the Dunn's Creek system, from early May through June. Smaller catfish can be caught year-round but the best fishing occurs in spring and fall. Places to target include Dunn's Creek to Lake Crescent, Murphy Creek and the river from Palatka to Little Lake George. Try the hole on the North side of Buffalo Bluff Bridge but bring plenty of hooks and weights due to the many snags located there.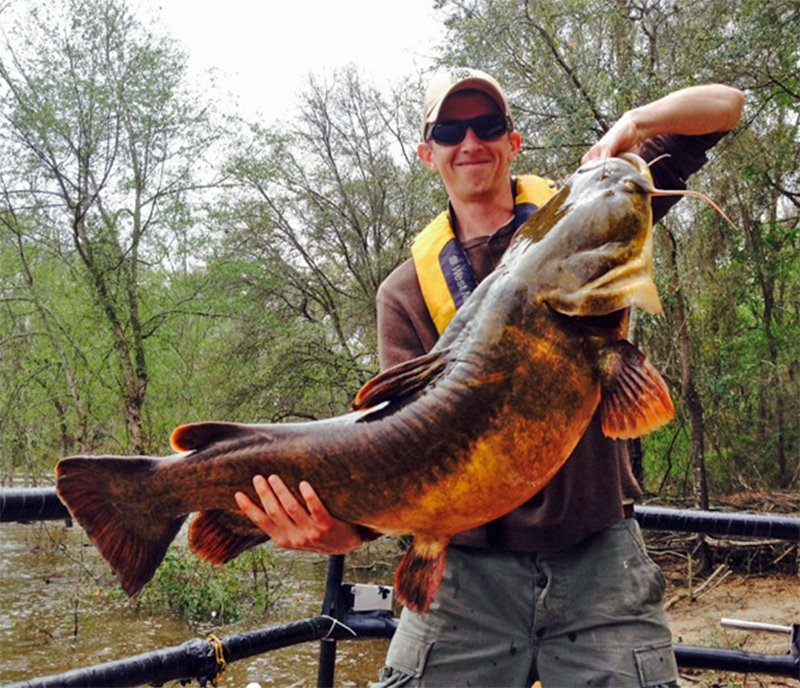 Ochlockonee River and Lake Talquin
(Leon, Gadsden and Liberty counties)
Species: Bullhead, channel, flathead and white catfish.
The best Ochlockonee River catfishing occurs in April and May for flathead catfish and in mid-May into early summer for channel catfish. Both channels and flatheads bite until the water turns cold in October or November. Small catfish bite year-round but fishing slows in cold months. Fish throughout the entire river, especially in the Lake Talquin tail race area, for channels and flatheads. Try fishing deep river bends holding structure further downstream for flatheads as well.
Channel catfish are plentiful in Lake Talquin. Catfishing on the lake is best in April and May, with a consistent bite throughout the summer. Commercial stink bait tends to be the best bet for a consistent channel catfish bite around the lake.

Upper Kissimmee Chain of Lakes
(Osceola and Polk counties)
Species: Bullhead, channel and white catfish.
Big channel catfish in the upper Kissimmee Chain of Lakes experience peak spawning periods between April and June each year and can be targeted during that time. Bullheads can be caught year-round. Look for flowing water, which will often concentrate catfish and make them easier to locate and catch. Specific sites include C-31 (East Lake Canal), C-35 (Southport Canal), C-36 (canal between Lake Cypress and Lake Hatchineha), C-37 (canal between Lake Hatchineha and Lake Kissimmee), below the Kissimmee River structure (S-65), around mouth of and in Shingle Creek and in the lake around fish attractors. Catfish are often found near drop-offs or around bottom structure in the canals.

Tenoroc Fish Management Area
(Polk County)
Species: Bullhead and channel catfish.
The 8,300-acre Tenoroc Fish Management Area (FMA) near Lakeland is a great catfishing destination for all ages as channel catfish are stocked periodically and can be caught year-round. Native brown bullheads reproduce successfully in most Tenoroc lakes and are also frequently caught on site. When fishing for catfish, it is important to remember that they detect and identify potential prey with their whisker-like barbels, making live or dead baits with a high oil content or strong smell (such as cut fish, chicken livers and worms) ideal to use. Anglers have had greater success catfishing on Derby Lake, Cemetery Lake, Picnic Lake, Coronet Lake, Lake 3, Lake 5, Lake C, Lake G, and Legs Lake. Tenoroc accommodates all users with boat ramps, bank fishing and ADA accessible piers/facilities.
Channel Catfish regulations at Tenoroc FMA require a bag limit of six fish per day/per angler with a no size limit restriction. All other species of catfish in Tenoroc lakes may be harvested with no bag or size limit.
Tenoroc is located just two miles northeast of Lakeland off Highway 659 (Combee Road), which can be accessed from Highway 33, just south of Interstate 4. Call the Tenoroc Headquarters at (863) 499-2422 for more information or to make fishing reservations. The area is open to public fishing four days a week, Fridays through Mondays. All anglers must check-in and out at the Tenoroc Fish Management Area Headquarters (located at 3829 Tenoroc Mine Road), deposit their valid fishing license if applicable and pay $3 for a daily fishing permit unless exempt.

Joe Budd Pond
(Gadsden County)
Species: Channel catfish.
Channel cats can be found throughout the lake, particularly around the fishing fingers and along the dam. Fishing worms or night crawlers on the bottom will almost always work and fish typically range from 9 to 14 inches in length. Fish can be caught from shore or by fishing from a boat but remember that gasoline motors are not permitted. A harvest limit of 6 channel catfish per person, per day is strictly enforced. This 20-acre impoundment is only open to the public on weekends, beginning the first Saturday in July through Labor Day weekend, including the Labor Day holiday.

Medard Reservoir
(Hillsborough County)
Species: Channel catfish.
The many ledges and bars (flats) within the main body of the reservoir provide areas for boat anglers to focus efforts for channel catfish. Medard Reservoir was drawn down during the fall of 2009 by the Southwest Florida Water Management District to make necessary repairs on the dam and structure. Medard Reservoir was stocked with 200,000 channel catfish in 2011, following the drawdown to provide an excellent opportunity for anglers to catch channel catfish. An additional 20,000 channel catfish were stocked in 2014 and 2017. Chicken liver, commercial stink bait or night crawlers should work well when fished on or near the lake bottom.
Days and hours of operation, park entrance and other user fees shall be designated by Hillsborough County and posted at the park main entrance.

Bobby Hicks Park
(Hillsborough County)
Species: Channel catfish.
Bobby Hicks is a small 21-acre lake in south Tampa that has a maximum depth of 19 feet and is part of the FWC's Urban Fisheries Program. A large amount of the lake has shoreline access and plenty of shoreline suitable for launching kayaks or small jon boats. FWC has aggressively stocked channel catfish in this waterbody for 20 years. The fishing pier located there presents an awesome opportunity for anyone to land a trophy channel catfish. There are two fish feeders positioned on the pier that disperse floating pellet catfish feed which helps bring large channel catfish up close for anglers. Anglers usually have no problem filling their daily limit of channel catfish, which is 6 per person, per day. FWC biologists have commonly collected channel catfish greater than 10 lbs. from this resource, with some fish nearing the 20-lb. mark. Channel cats can be caught on chicken livers, night crawlers, stink bait and live bream fished on or near the lake bottom. Live bait is best presented for catfish on a slip sinker rig and non-live bait is best presented on a 3-way swivel rig to suspend the bait just off the bottom.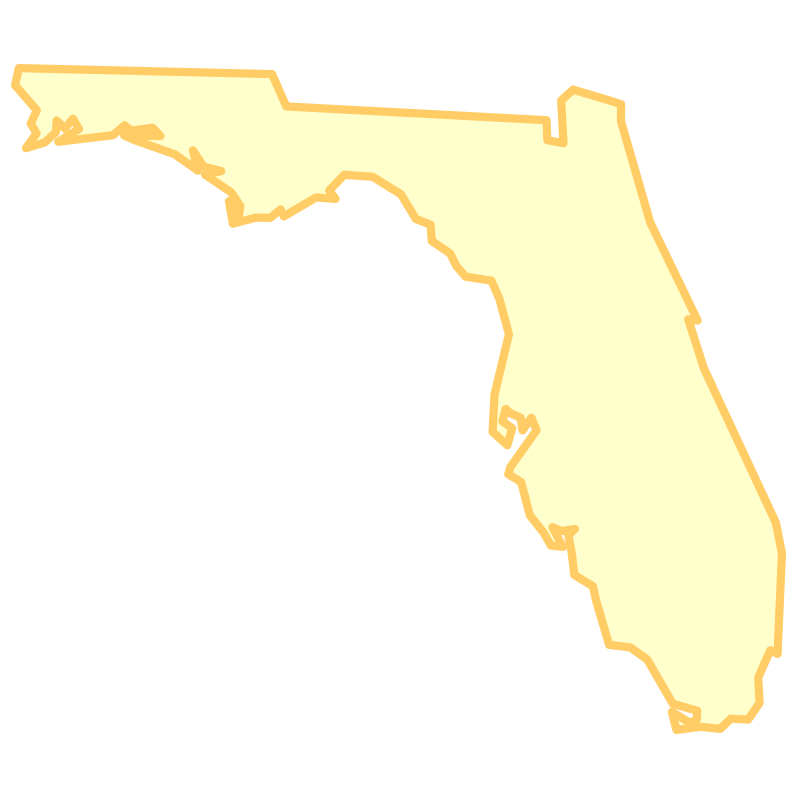 Florida Top Spots
See our Top Spots Map for all the top Florida freshwater fishing locations and species!