J.W. Corbett - Planning Your Visit
J.W. Corbett - Planning Your Visit
Helpful Information
In the fall, hunting pressure on Corbett is intense. Hunters can camp at a number of sites and enjoy fishing in semi-circular, stocked manmade ponds. The Hungryland Boardwalk and Trail is located far from the hunting area and is open year-round. Hiking along the 1.2-mile trail is most pleasant in the fall, winter, and spring. In the spring and fall, oak hammocks and cypress swamps along the trail are alive with songs of migratory warblers. During fall and winter, you may see pairs of sandhill cranes that nest on the area. In the summer, the Everglades Youth Conservation Camp offers a host of programs for youth and families. The cooler, drier months of the year are good for camping and observing wading bird.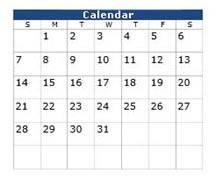 J.W. Corbett Hunt Calendar
 This calendar is not a comprehensive guide to the hunting seasons on this area. For additional information about dates, times and regulations please check the regulations summary.
Seasons Summary Dates (range July 2019 through June 2020)
| Season | Dates |
| --- | --- |
| Archery | August 31 - September 22 |
| Muzzleloading Gun | October 5-20 |
| General Gun | November 9 - January 1 |
| Small Game | January 2 - February 16 |
| Spring Turkey - Youth | February 29 - March 1 |
| Spring Turkey | March 7 - April 12 (Saturdays, Sundays and Wednesdays only) |