Holey Land - Planning Your Visit
Helpful Information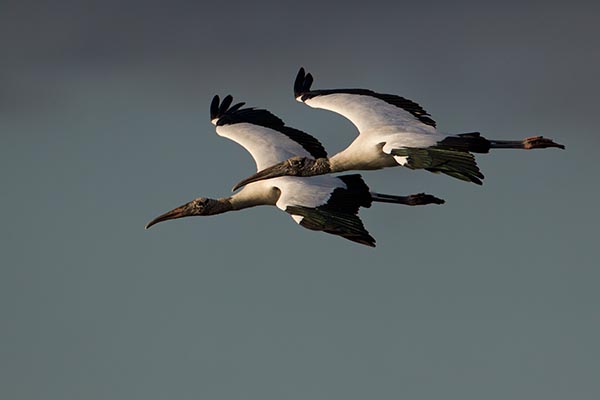 Fall and winter are the best seasons to hunt waterfowl and white-tailed deer. Winter is also a good time to observe snail kites, red-shouldered hawks and migratory birds. White ibis, snowy egrets, great egrets and other wading birds are common on the area, as well as many water birds, including limpkin and bitterns. The best time to observe an abundance of wading birds is in the spring, when water levels are usually low and fish are concentrated in the canals. Songbirds use the western forested area during spring and fall migration. Hiking and bicycling is best on non-hunting days in the fall through the spring when temperatures are lower and bugs fewer. Hikers, bicyclers and paddlers should wear brightly colored clothing during seasonal hunts, and avoid the first hour or so of daylight to minimize disturbance to hunters.
Get directions to Holey Land Wildlife Management Area 
See the regulations summary for hours of operation and vehicle use guidelines.
Dogs are permitted, but must be kept under physical restraint at all times.
Regulations regarding hunting dogs can be found in the regulations summary.
Restrooms are not available at this location.
No daily-use permit is required. To hunt or fish you must possess the appropriate license and permit.
Camping is allowed only on the L-5 and Miami Canal levees during hunting seasons and on Fridays, Saturdays and Sundays only during non-hunting periods. See the regulations summary for hunting season dates.
When water levels are adequate, the marsh can be accessed from unimproved boat ramps located in the southwestern and southeastern corners of the property. The northern seepage canal can be accessed from a boat ramp in the northwestern corner of Holey Land.
Seasons Summary Dates (range July 2018 through June 2019)
| Season | Dates |
| --- | --- |
| Archery | August 4-26 |
| Muzzleloading Gun | September 1-9 |
| General Gun-Walk | September 29 through October 14 |
| General Gun-Vehicle | October 20 through November 4 |
| Small Game | November 5 through March 3 |
| Non-Native Reptiles | March 4 through April 14 (Year-round when using methods other than guns) (Shooting hours are 1/2 hour before sunrise until 1/2 hour after sunset) |
Calendar does not reflect migratory game bird hunting seasons; please check the regulations summary for specifics.