Caravelle - Habitat and Management
Caravelle - Habitat and Management
Habitat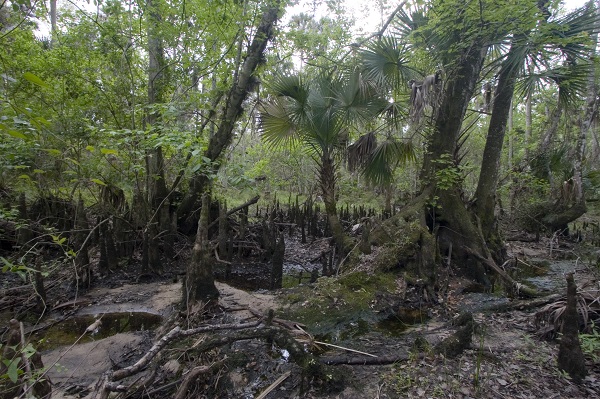 Habitats provide the food, water, shelter and space animals need to thrive and reproduce. Several natural communities provide habitat for fish and wildlife found at Apalachee. The WMA is divided into three zones. The largest and most diverse is Zone A, an expanse of longleaf pine and wiregrass interspersed with ponds, wetlands, lakeshore, small islands in Lake Seminole and agricultural fields. Zones B and C are primarily floodplain forest, small floodplain ponds and oxbows associated with the Chattahoochee River.
Management
Previous owners cleared and ditched portions of Caravelle Ranch in the early 1970s to create improved pastures for cattle grazing. Today wildlife managers are restoring portions of these pastures by planting longleaf pine and removing bahia and other exotic grasses. Prescribed fire is a critical component to restoration efforts. Portions of disturbed pasture sites are used as dove fields, food plots and wildlife openings.
In addition to the management work described here, biologists with the Florida Fish and Wildlife Conservation Commission rely on a wide range of techniques to ensure that natural areas throughout the state stay healthy for wildlife and inviting to visitors.