The 2020 sea turtle nesting season is coming to an end. We had 219 beaches surveyed this year, covering approximately 839 miles of Florida's coastline. Our permit holders are working hard to compile their data for the annual reports that are due to FWRI by November 30th. As you can imagine with so much data coming in, it takes time to proof and verify these data before we can post the final numbers to our webpage. We strive to have finalized data by the end of January 2021, so please check back to find out how many sea turtle nests were observed during the 2020 season. Thank you for your interest in sea turtle conservation.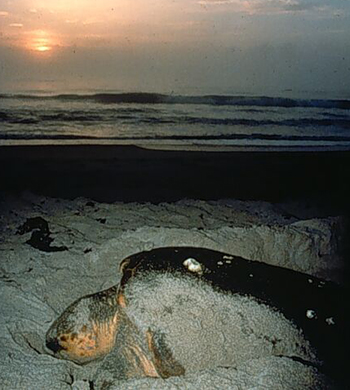 The Florida Fish and Wildlife Conservation Commission's Fish and Wildlife Research Institute coordinates nesting beach survey programs around the state.
Sea Turtle Monitoring (the SNBS and INBS Programs)
The state of Florida, through the Florida Fish and Wildlife Conservation Commission's Fish and Wildlife Research Institute, coordinates two sea turtle monitoring programs: the Statewide Nesting Beach Survey and the Index Nesting Beach Survey.
Index Nesting Beach Survey Totals (1989-2020)
The Florida Index Nesting Beach Survey records sea turtle nest counts on a standardized set of index beaches. Researchers use the annual survey to determine nesting trends.
Statewide Atlas of Sea Turtle Nesting Occurrence and Density
This resource provides a summary of the geographical distribution of sea turtle nest occurrence and nest density throughout the state of Florida during the last five years.
2019 Statewide Nesting Totals
The following table contains the Florida Statewide Nesting Beach Survey data for the 2019 season. The data are divided into two main regions (east and west) and divided by county.
Loggerhead Nesting In Florida
The southeastern United States hosts the world's largest nesting aggregation of the loggerhead turtle.
Green Turtle Nesting in Florida
Florida's green turtle nesting aggregation is the second largest in the Western Atlantic Hemisphere.
Leatherback Nesting In Florida
Florida is the only state in the continental U.S. where leatherback turtles regularly nest.
Training Materials for the Nesting Beach Survey Workshops
The training materials contained in this article are intended for principal permit holders and their volunteers.
Sea turtle nesting activity in the state of Florida 1979-1992
A 1995 publication on sea turtle nesting activity.