Loggerhead Nesting in Florida
Loggerhead Nesting in Florida
The 2020 sea turtle nesting season is coming to an end. We had 219 beaches surveyed this year, covering approximately 839 miles of Florida's coastline. Our permit holders are working hard to compile their data for the annual reports that are due to FWRI by November 30th. As you can imagine with so much data coming in, it takes time to proof and verify these data before we can post the final numbers to our webpage. We strive to have finalized data by the end of January 2021, so please check back to find out how many sea turtle nests were observed during the 2020 season. Thank you for your interest in sea turtle conservation.
The Northwest Atlantic Ocean's loggerhead (Caretta caretta) nesting aggregation is considered to be the largest in the world (Casale & Tucker 2015). Florida hosts approximately 90 percent of the nests associated with this aggregation (Ceriani & Meylan 2015). The majority of this nesting takes place in five counties on the east coast of Florida (Brevard, Indian River, St. Lucie, Martin and Palm Beach counties).  Beaches in these counties represent approximately 20 percent (160 miles) of the 835 miles of beach in Florida where sea turtle nesting activity is monitored.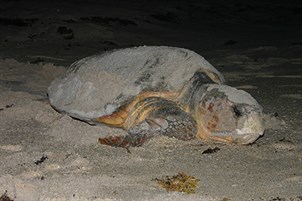 The loggerhead turtle is the most common sea turtle found in Florida. It has a reddish-brown shell and is named for its large head. Adults can weigh between 200 and 350 pounds and can reach 3 feet in length. Loggerheads typically nest in Florida from April to September.
Females return to their nesting beach every two or more years (average 2.7 years) to lay an average of 4.1 clutches, one about every 14 days (Witherington et al. 2006). Each nest contains an average of 114 eggs (Brost et al. 2015).  
To view loggerhead nest density by beach, see the Statewide Atlas of Sea Turtle Nesting Occurrence and Density.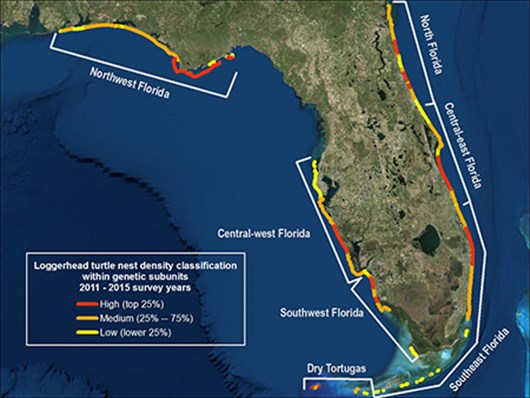 Citations
Brost, B., B. Witherington, A. Meylan, E. Leone, L. Ehrhart, and D. Bagley.  2015.  Sea turtle hatchling production from Florida (USA) beaches, 2002-2012, with recommendations for analyzing hatching success.  Endangered Species Research 27:53-68.
Witherington, B., R. Herren, and M. Bresette. 2006.  Caretta caretta — Loggerhead Sea Turtle.  In:  Biology and Conservation of Florida Turtles, P.A. Meylan, Ed. Chelonian Research Monographs 3:74-89.