Suwannee - Planning Your Visit
Suwannee - Planning Your Visit
Helpful Information
Opportunities for outdoor recreation abound throughout the year, although during hunting days, the area is open only to individuals participating in the hunt. These special hunts for the disabled are held on several days in the fall and spring, in conjunction with the adjacent Holton Creek Wildlife Management Area. Holton Creek WMA is also open for activities such as horseback riding, bicycling and fishing, which are not permitted at Suwannee Ridge. Suwannee Ridge hosts resident populations of protected species such as gopher tortoises and fox squirrels as well a variety of migratory warblers and other seasonal wildlife.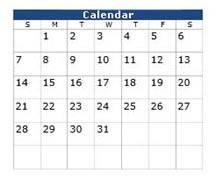 Suwannee Ridge Hunt Calendar
This calendar is not a comprehensive guide to the hunting seasons on this area. For additional information about dates, times and regulations please check the regulations summary brochure.