Fish Identification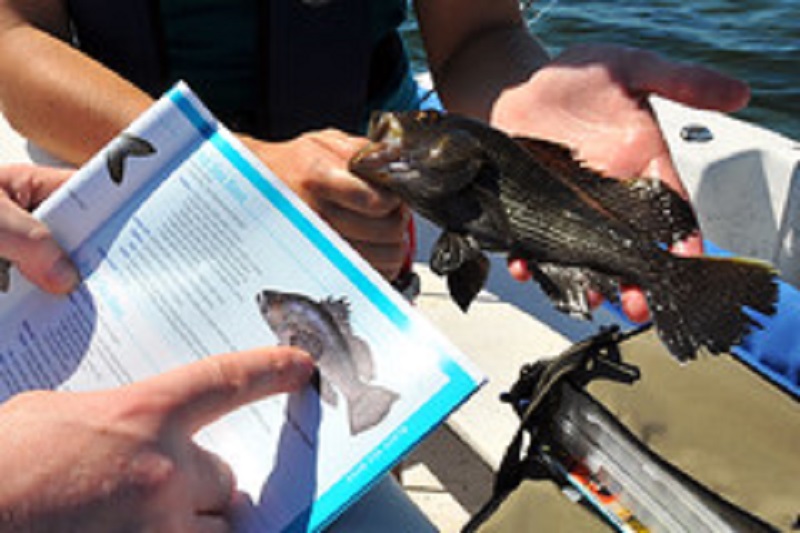 Knowing the fish that you want to catch helps maximize your time on the water. More importantly, knowing your desired species gives you an idea of where to go and what to bring. One great option to help identify your catch is a copy of a fishing field guide like Fishing Lines. This will provide you with pictures, names and even handling tips. You could also opt to purchase a more detailed field guide or try out different fish identification mobile apps and websites, like our saltwater species profiles.
The best way to identify your catch is to look at the shape, colors, fins and any distinct markings. Also, consider what you know about your catch. Compare your observations with the information found in the guide.
Ethical Angling and Fishing Regulations
No matter how good your tackle is, if you're not in the right spot at the right time, then you still might strike out. This means considering moon phases, tides, time of day, water temperatures, and more (TIP: colder water temperatures can lead to more lethargic fish, try slowing your jigging during the colder months). Keeping detailed notes of successful fishing days is essential to knowing where each species of fish will tend to gather.
Knowing which habitats and food sources fish prefer is also key. Some species are more commonly found in the high action wave zones of beaches, while areas that offer reliable food sources and shelter such as mangroves or salt marshes are popular with other species. Seagrass, oyster bars, and other structures such as rock piles and docks can also provide good fish habitat.
Fishing the beach is an inexpensive and fun way to spend the day. Besides enjoying the beautiful Florida beaches, you could catch snook, pompano, red drum, sharks (you'll need a no-cost shore-based shark fishing permit) and more. Using a longer surf rod is key to casting your bait into the surf, where many of these fish tend to school. If you're fishing with weights, you will want one that is designed to stick in the sand like a pyramid or sputnik weight.
Beach fishing can be done year-round; however, snook tend to populate beaches more frequently during the summer months. Remember to be courteous to other beach goers when fishing from the beach. Watch a video on how to set up your own surf rig!
Pier fishing is a great option to get further from shore without the expense of a boat. This can open a whole new world of species such as king mackerel, tarpon, cobia, sharks (you'll need a no-cost shore-based shark fishing permit), croaker, black drum, sheepshead, and much more. Dropping dead bait or shrimp down to the bottom is a common method for catching whiting and croaker. It's likely that you'll end up catching catfish or stingray if you spend enough time pier fishing. Use caution and a dehooking tool to remove the hook while avoiding the spines. Watch this video to learn how to use a dehooking tool!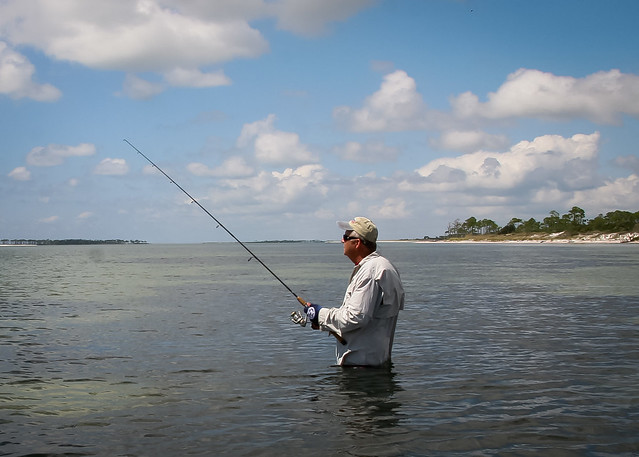 Perhaps one of the most iconic places to fish in Florida, fishing flats can bring in red drum, snook, spotted seatrout, flounder, tarpon and even the occasional cobia. There are many flats around Florida accessible from shore, meaning you don't need a boat to fish a flat. Kayaks and wade fishing are both viable options that can even get you closer to the fish than a boat. Fishing a flat can be a puzzling task but the reward is well worth it. The incoming tide (several hours before high tide) may be preferable as many fish gather closer to the shore or middle of the flat. Outgoing tides give anglers the opportunity to reel in some fish while schools are forced to leave the flat for deeper water. Every flat is unique, so it is important to keep a lookout for signs of life such as mullet jumping and birds diving. Being in the right spot on the flat at the right time is the key to success.
If you have a boat, try fishing over an artificial reef or trolling in open water. No boat? Consider hiring a charter to get you offshore and help you learn about commonly caught fish in your area and ways to target them.
How to Fish: Techniques, Baits and Knots
Learn about saltwater fishing basics like knot tying, tackle rigging, selecting the best bait and more.
Still Fishing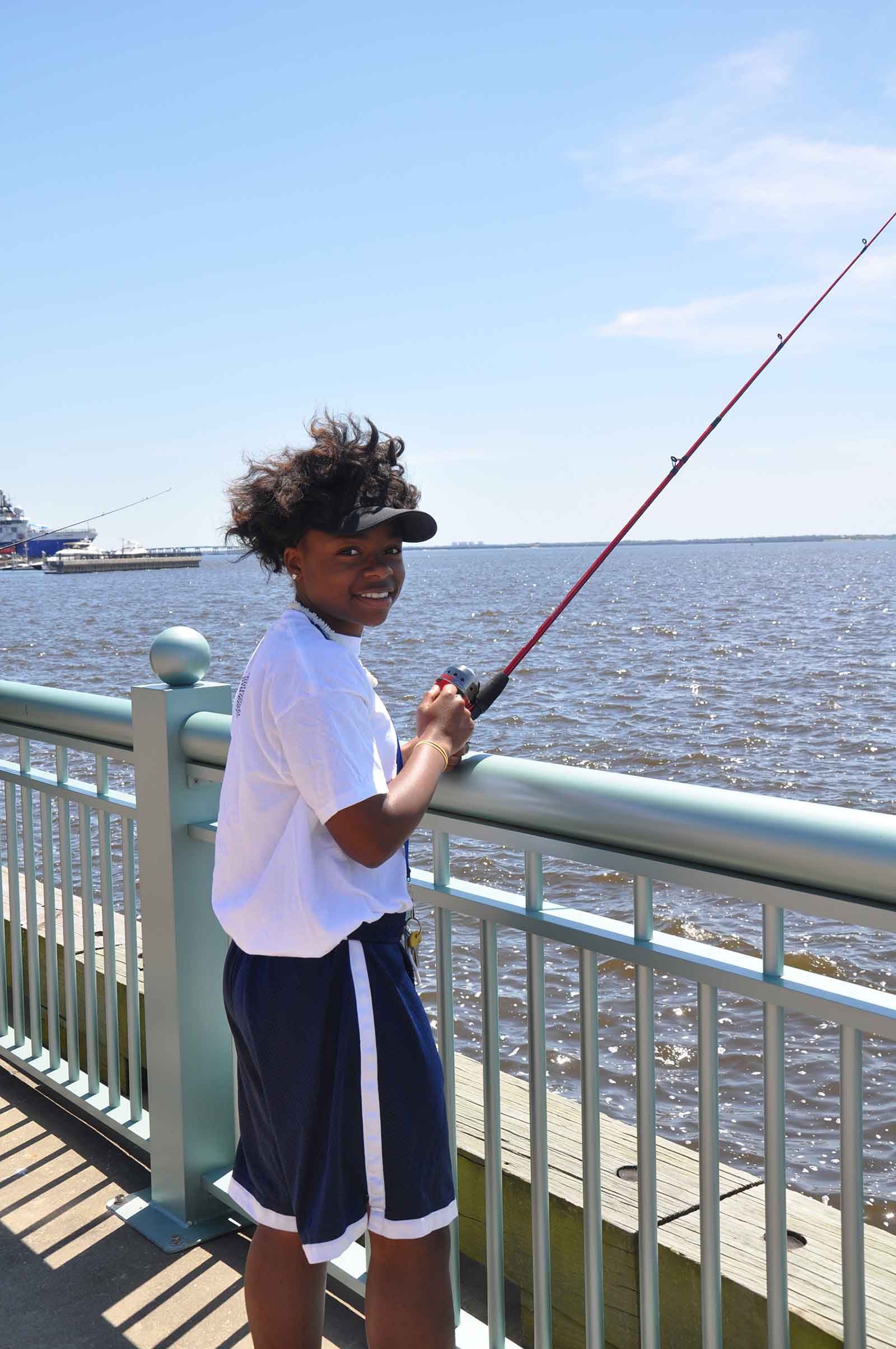 Still fishing or bait fishing are the most basic fishing techniques. Still fishing is dropping your baited line in the water and waiting for a fish to bite. Still fishing can be done from anywhere: a boat, a pier, or simply standing on shore.
In Florida, anchoring offshore and dropping live or cut bait to the bottom is a popular method for many desirable species including grouper and snapper. Bottom fishing means you need to add a weight to your rig. It should be heavy enough to beat the current and get to the desired depth. The key is being ready for changing conditions and using the lightest possible weight to get your bait down to the bottom. Do not bottom fish in areas where your gear might get snagged such as over oyster beds.
Drift Fishing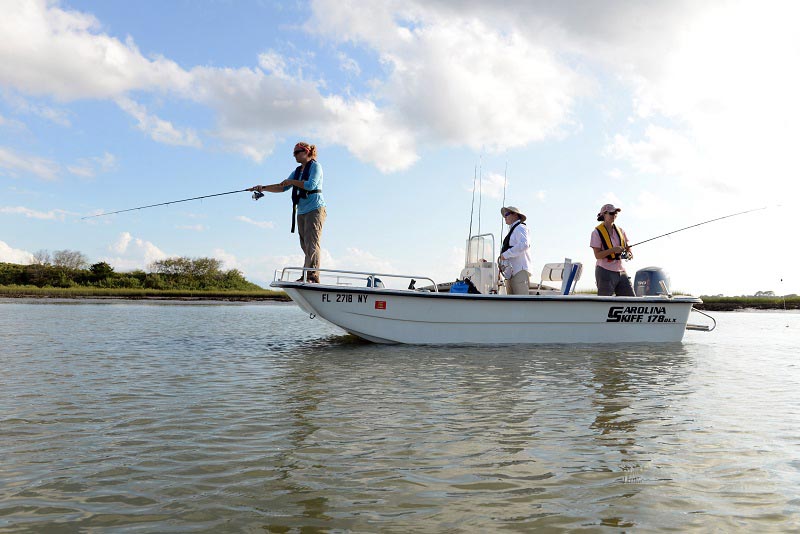 When drift fishing, the motion of the boat moves the bait through the water slowly as you drift along. You can also drift a bait under a bobber or popping cork. Both natural and artificial bait can work well when drift fishing. Some weight is required to get the bait down.
Trolling
Trolling is a popular fishing technique which can be done with live bait or artificial lures and requires a boat. Let your bait out behind the boat and put the boat in gear. Slowly trolling live baits has proven a favorite method for many Florida anglers, especially for king mackerel and other pelagic species. A downrigger may be used to adjust the depth while outriggers can spread out bait.
Jigging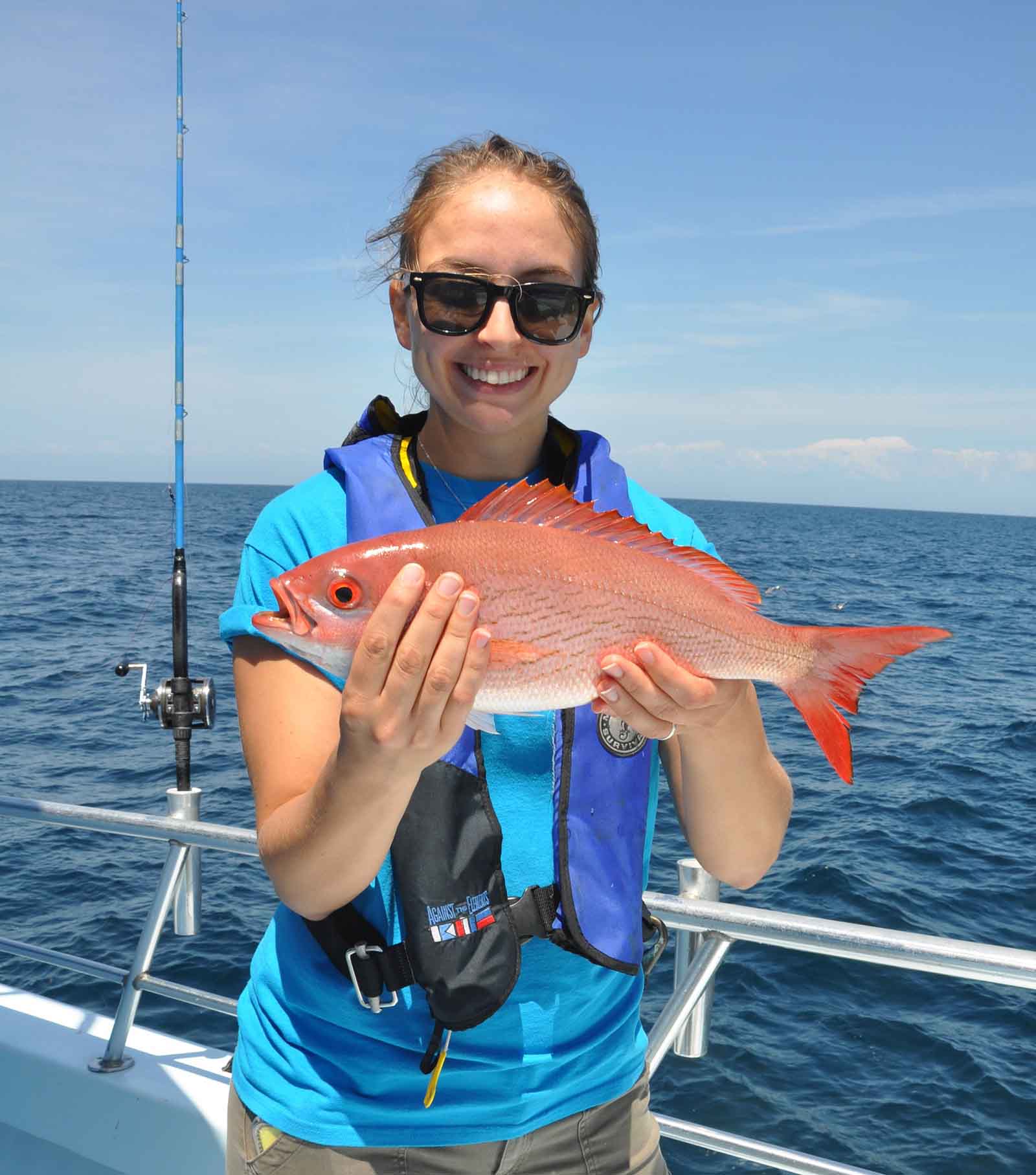 Jigging, one of the oldest and most popular fishing techniques, gives the appearance of an injured fish. To jig, cast out and let your jig sink to the bottom. Using your wrist quickly snap and flick your rod either horizontally (side to side) or vertically (up and down). Afterward, proceed to let your jig sink back to the bottom. Repeat the process. This is a popular inshore and offshore method that can lead to success with many different species by simply adjusting the weight of the jig and speed of the motion.
Lures are shiny, colorful, artificial baits used to attract or lure fish. Coming in all types, shapes and sizes, lures usually look like small baitfish or insects. Lures are used by many anglers, and some consider them to be the best way to catch fish. Each lure type has its own techniques and lures are available for nearly all species of fish.
When using multi-hook lures or rigs, remove all but one set of the hooks. When using lures with treble hooks, clip off one of the trebles. This will help fish survive if released and reduce the chances of hooking yourself. 
Here are 5 types of lures you can try:
Spoons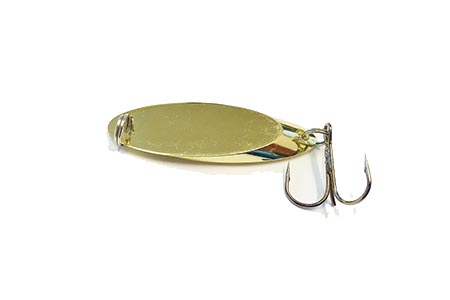 Spoons are exactly what they seem – they have the concave shape of a spoon. Spoon lures shimmer like the scales on a small baitfish to imitate prey. They come in many different weights and colors and are useful in multiple fishing techniques. However, their two primary uses are to troll or cast and retrieve. They are effective for covering large distances with a quick retrieve, making them an effective method for finding fish in an unknown area. They are effective in trolling for the same reason.
Jigs
Jigs are some of the most popular lures around. Used in both freshwater and saltwater, jigs come in many different shapes, colors, and sizes. Jigs usually consist of a weighted head and a hook or a slender, narrow metal jig. This is when the jigging technique should come into play.
Plugs and Crankbaits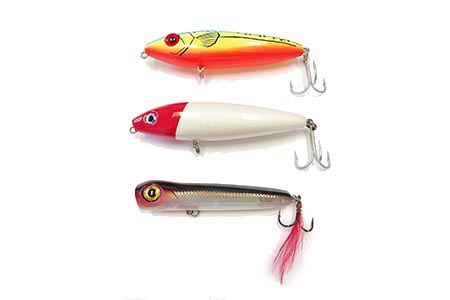 Plugs and crankbaits, much like poppers, attract fish at the top of the water. However, unlike poppers, plugs can be used beneath the surface depending on the style.  Some plugs include lights, rattles, propellers, diving lips and much more! This makes for a fun style of lures to explore and find your favorite. Watch a video on how to use topwater plugs.
Poppers
Poppers are either wooden or plastic lures that are typically used in topwater fishing techniques. Carved with the cupped faces, poppers are designed to create topwater commotion to attract predators. While they are often used for other species, they are primarily known for their use in bass fishing.
Spinner Baits
Spinners or spinner baits are used to catch inshore or freshwater species. This bait works by having an arm or blade spin around a hook or a lead head jig. Spinner baits work by imitating the sounds and movements of prey.
Nothing beats the real thing. Whether in saltwater or freshwater, natural bait is often considered one of the simplest and most effective methods of fishing. They appear, smell and taste appealing to fish. However, to choose your bait, know your fish. The best tip and old saying for live bait is to "match the hatch." This means whatever the fish is naturally eating is most likely your best bet to use as bait.
Learning to throw a cast net can be essential to getting a live well of fresh, lively and local baits (Watch a video to learn how to pick a cast net and another on how to throw it). Here are some popular, universal freshwater and saltwater natural baits to help you get started:
Shrimp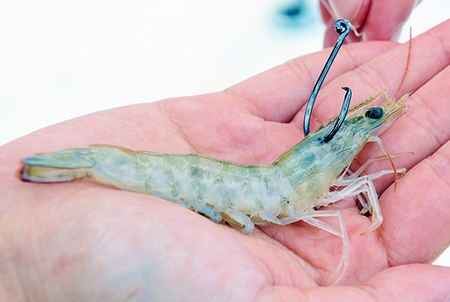 Insert a circle hook through the head and avoid dark spots in order to keep the shrimp alive; effective near the bottom or midwater using a float rig.
Baitfish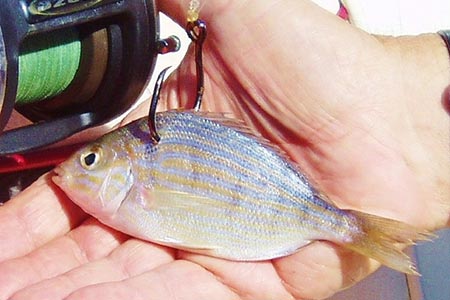 Insert a circle hook across the "nose" of the fish, upward through the top of the mouth, or through the back of the fish, just in front of the dorsal fin. Common baitfish include ballyhoo, bonito, pinfish, pigfish, mullet and killifish. 
Crabs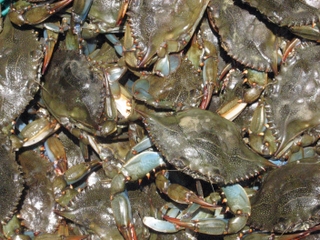 Insert a circle hook up through back corner of shell, near swimmerets, or cut the body into halves or quarters; work well for bottom fishing.
Sand Fleas
Used to catch pompano and other fish in the surf zone. Insert a circle hook up through the sand flea (also known as mole crabs or sand crabs).
Cut Fish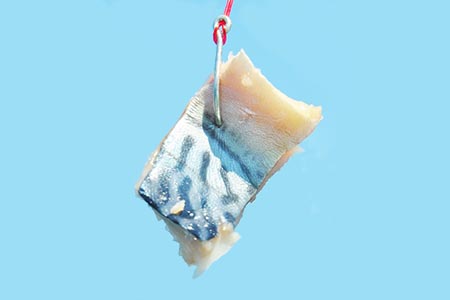 Cut fish into strips or chunks and attach to hook, using the smallest pieces possible to avoid losing the bait. 
Cut Squid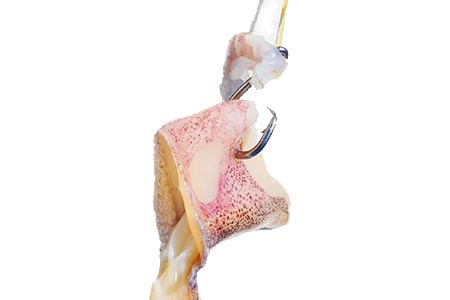 Sold frozen and can be cut into pieces; works well for bottom fishing.
Below are a few common knots to get you started. As you gain more experience, you'll most likely expand your knowledge far beyond this list. As you experience situations where more complicated knots are necessary, try visiting our freshwater knot tying page or saltwater fishing how-to videos.
Improved Clinch Knot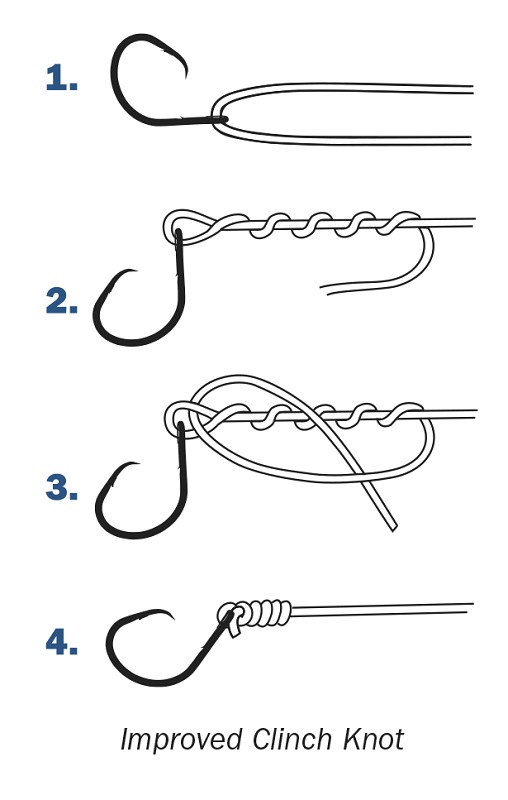 Serving as one of the most basic and easiest knots, improved clinch knots are used when tying hooks, various lures and swivels to a line. Watch a video of how to tie an improved clinch knot.
Uni Knot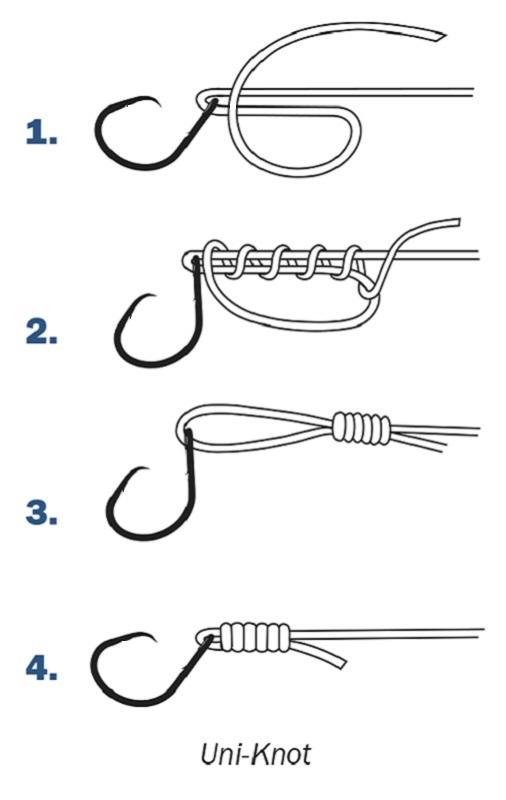 The uni-knot, also known as the Duncan knot, is not only extremely versatile but also extremely easy to master. It is most notably used when tying lines together (double uni knot) or tying a hook or lure to your line. Watch a video on how to tie a uni and double uni knot.
Palomar Knot

Palomar knots are one of the strongest knots to tie for braided line. Popularly considered one of the most reliable knots, palomar knots are used to attach a line to a hook, leader, etc. and is also best when tying braided fishing line to a hook.