High School Fishing Program
High School Fishing Program
What We Do!
The Florida Fish and Wildlife Conservation Commission (FWC) developed the High School Fishing Program for students who are interested in learning how to become effective, conservation minded anglers. The goal is to teach students about ethical angling, conservation, Florida's aquatic and marine habitats, basic fishing gear, and general fishing concepts to help create confident and responsible anglers. FWC works with each school, providing them with the curriculum, knowledge, and funding opportunities to run a successful fishing club. Each school will learn the curriculum, plan fishing activities, and conduct a conservation project by the end of the year. Let's Go Fishing!
How to Get Started
Contact us at R3Fishing@MyFWC.com or 850-617-6012 to let us know you are interested in participating. The best time to get involved is early in the school year. Your school will need a program sponsor such as a teacher, coach or parent who will oversee the High School Fishing Program, usually as an extracurricular club or a team. The sponsor is responsible for setting up club meetings and fishing opportunities, submitting student documents to the FWC, teaching the core curriculum, and helping the club work on their conservation project.
Reach out to us! the FWC has many resources available to help you make your High School Fishing Program a great success.
Need Equipment? Check out these Grant Opportunities!
If your fishing club is interested in obtaining rods and reel, there are several grants program that can help you get started.
Teaching Environmental Conservation
To participate in the FWC High School Fishing Program, your club is required to complete at least one conservation project activity each school year. The FWC has partnered with Costa to support their Kick Plastic campaign by focusing the required conservation project activity on reducing single-use plastics. This format awards points per club participation in a pre-determined list of activities. The clubs will be competing in a three-tier prizing structure with a Grand Prize, Second Place Prize and Third Place Prize. The club with the highest number of activity points by April 3, 2020 will receive the Grand Prize, with the runner-ups receiving the Second and Third Place Prizes, awarded by Costa and Shimano, among our other partners.
Approved Activies
Lead the creation of a school-wide recycling program, if not already in place: 100 points
Lead a school-wide campaign to reduce single-use plastic products (such as straws): 100 points

The club will receive points for meeting with their school administration to present their ideas and explore options for reducing single-use plastics. The school administration will sign a form (available by request from the FWC) indicating that the meeting was held. Points will be awarded on effort and not on implementation of the campaign.

Club creates and completes their own conservation project related to reducing single-use plastics. 90 points
Organize and host a Kids' Fishing Clinic (FWC can provide a protocol and guidance): 90 points per event
Organize and host a Waterway/Beach Clean-up: 80 points per clean-up
Encourage school sports teams to commit to using reusable bottles instead of single-use plastic sports drink or water bottles. Have the teams sign an "anti-single-use plastic agreement" and send the FWC photos of them using their reusable bottles: 70 points
Volunteering to maintain a local Monofilament Recovery and Recycling (MRRP) bin – 60 points per bin
Conduct a school screening of the movie Junk Raft; https://www.junkraft.org/videos: 40 points for hosting
Participate in Waterway/Beach Clean-ups: 5 points per school participant (can include non-anglers and parents/chaperones)

Ideas: CCA Trash Tour Stops, International Coastal Cleanup events, and/or local county clean-up events.

Sign the FWC and ASA's Pitch It Pledge and/or "share your story" (https://www.pledgetopitchit.org/): 15 points
Taking a personal pledge to reduce use of single-use plastics and encouraging friends to take the pledge, as well: 10 points
Promote clean-ups within the Florida Keys National Marine Sanctuary, Florida state parks, refuge areas, and other county, state, and federal areas: 5 points per promotion (send proof of promotion with this form)
Promoting your fishing club and its events on social media: 5 points per monthly promotion(s) (send proof of promotion, such as a screenshot of the social media post, with this form)
Building personal Monofilament Recovery and Recycling Program bins and providing them to school fishing club members – 5 points per bin per student
Building personal Monofilament Recovery and Recycling Program bins and providing them to local fishing clubs – 5 points per distributed bin
Angler Recognition Programs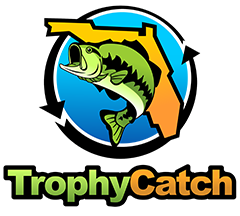 TrophyCatch transforms and activates the angling community into becoming "Champions of Conservation" by having anglers photo-document and submit pictures of their largemouth bass catches that weigh eight pounds or heavier to TrophyCatch. This catch-and-release program rewards anglers for their catches by placing them into a prizing category based on the weight of the fish.
The benefits of participating in TrophyCatch include collecting valid citizen-science information about trophy bass to help the FWC better enhance, conserve and promote trophy bass fishing.
Catch a Florida Memory (CAFM) includes three saltwater angler recognition programs that allow participants to earn prizes, recognition and bragging rights all while supporting marine fisheries conservation. Benefits of participating include encouraging anglers to target a diversity of species which helps reduce fishing pressure on the most sought-after catches, expanding fishing experiences for seasoned anglers, cultivating an interest in saltwater fishing for those new to the sport, and strengthening marine fisheries conservation ethics. 
Contact
For more information about the program you can contact:
Brandon Stys
Statewide Fishing R3 Coordinator
850-617-6012
R3Fishing@MyFWC.com