Managing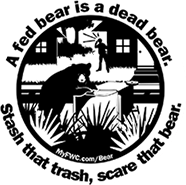 Fortunately, the Florida black bear population is growing, we have more bears now than at any time in the last 100 years.  But our conservation efforts are not finished, there is still work to be done. 
With more bears and more people in Florida, we are asking all Floridians to take action to make sure our conservation success story continues into the future. Many Floridians live, work, or play where we have bears, and it's critical that everyone knows how to take precautions to avoid negative encounters with bears.  The most important action is to make sure bears do not have a reason to spend time near people. We can accomplish this by keeping anything that might attract a bear secure on our properties.
Please visit our securing your attractants page to see all of the ways you can "stash that trash, scare that bear!"
For more information on how to live BearWise, please explore these links:
Management Measures
Wildlife in North America is managed using the North American Model of Wildlife Conservation. The Model dictates that wildlife resources are managed by state wildlife agencies in trust of the public using science as the basis of management decisions. The Wildlife Society, a non-profit scientific and educational association focused on wildlife management, has a webpage that provides an overview of the Model.
In August 2012, the Florida Black Bear Management Plan was put into place as a comprehensive document to guide how FWC should manage Florida's bears over the next 10 years. The plan creates Bear Management Units (BMU) based on the seven geographically distinct bear subpopulations in Florida. BMUs give people an opportunity to play an active role in efforts to manage and conserve bears in their local community.
In June 2015, the FWC Commissioners approved a limited bear hunt to take place in October 2015 in four of the seven BMUs. As outlined in the article by FWC Director Nick Wiley, bear hunting is a tool used to stabilize bear subpopulation numbers. 
A total of 304 bears were taken during the 2015 hunt.  To learn more about the full details of the hunt, please review the summary document and spreadsheet of all data collected on harvested bears.
In April 2017, the Commission made the following statement:
"As shown by today's staff presentation on population, habitat, human-bear conflict and outreach, we have a long-standing, proactive approach to bear management and will continue to build on that existing foundation. We will continue implementing our comprehensive approach to bear management. We directed staff to bring back a revised bear management plan in two years, including hunting as a management tool."
-      Brian Yablonski, Chairman
Who is Bear Management?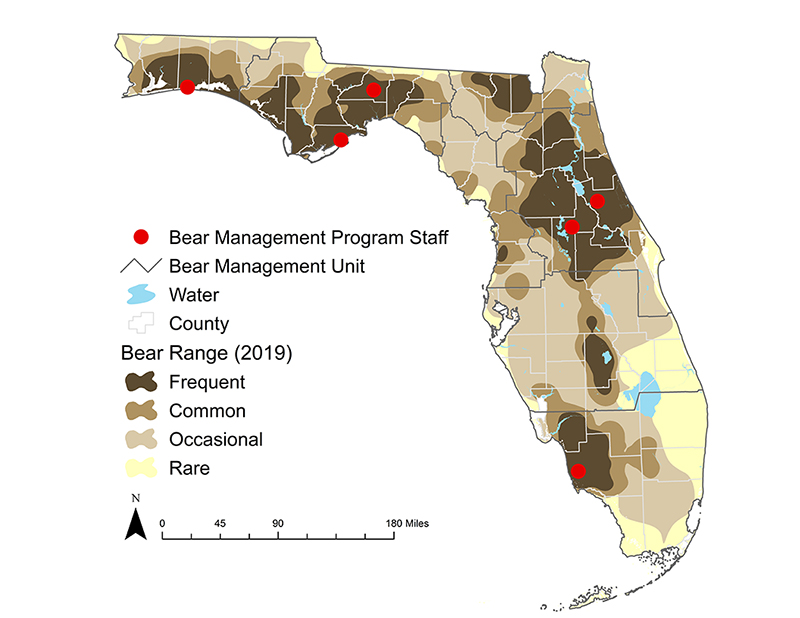 The Florida Fish and Wildlife Conservation Commission has a well trained staff of approximately 3,000 people, many of which assist with the mission of "maintaining sustainable black bear populations in suitable habitats throughout Florida for the benefit of the species and people".
FWC wildlife biologists are based at almost every one of our over 150 Wildlife Management Areas (WMA) spread across the State.  These biologists assist with bear management activities in addition to their regular activities on the WMAs.  In addition to these biologists, each of the five FWC regional offices has a Wildlife Assistance Biologist who provides advice to members of the public calling with questions about wildlife, including human-bear conflicts.
The FWC also has a Bear Management Program.  The Program has nine staff who are specifically trained and solely dedicated to bear management.  Staff are located in key areas across the state.
There are five Area Bear Biologists who are located in the West Panhandle, East Panhandle, Central, North and South BMUs. These field biologist positions address local human-bear conflicts through direct response, outreach to the public and partnering with local municipalities.
Each Area Bear Biologist also leads their local Bear Stakeholder Group (BSG).  This core group of local stakeholders meets quarterly to discuss recent updates in bear management and progress on management tasks the group has set for itself. 
In addition, each Area Bear Biologist coordinates three to 10 Bear Response Contractors to help with requests for assistance from the public. Bear Response Contractors are private individuals who have been trained by FWC to recover bears hit and killed by vehicles, set and monitor traps, and advise people on ways to resolve their specific conflicts with bears. 
The Bear Management Program also has three staff located in Tallahassee and one additional staff member in the Central BMU. These staff focus on statewide policies and guidelines, data management, government partnerships, and outreach.
FWC's Bear Management Program staff:
Complete professional training in chemical immobilization of wildlife from Safe Capture
Train other biologists on the best management practices for bear management, including trapping and handling bears, scaring bears, investigating livestock depredations, and speaking with the public about bears
Participate in and instruct Wildlife Human Attack Response Trainings for FWC law enforcement and biologists
Instruct Bear Response Trainings for local law enforcement on appropriate expectations and actions to take when first on the scene of a human-bear conflict situation
Take courses from Management Assistance Team
Participate in, present to, and are panel members for conferences with other wildlife professionals from across North America and the world, including:
Bear management is guided by studies from the Bear Research Program staff.
Staff regularly publish documents related to bear management and research in Florida.  Most of these articles are printed in peer-reviewed journals ensuring a robust evaluation by fellow biologists is completed prior to publication.   
Want to become a wildlife professional?  Visit our employment webpage to learn more.