Diamondback Terrapin Biological Status Assessment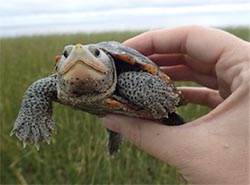 FWC is collaborating with partners to conduct a biological status assessment of the diamondback terrapin (Malaclemys terrapin) in Florida. The Florida coastline represents approximately 20% of the species range and is home to five of seven subspecies, three of which occur only in Florida. However, little is known about the status and distribution of diamondback terrapins in Florida, and stakeholders are concerned about a perceived decline.
FWC will conduct population assessments in three locations with known terrapin populations to estimate population sizes, sex ratios and age distributions, which will help to assess population trajectories. Where possible, FWC will also work with partners to facilitate smaller scale population assessments and surveys elsewhere. Other efforts will include gathering and consolidating existing data from partners statewide to map the known distribution of terrapins in Florida, then develop a spatial model to quantify habitat availability. Also, in collaboration with research partners, we will conduct a genetic analysis to assess validity of the currently recognized subspecies taxonomy.  At sites where adequate numbers of genetic samples are obtained, we will estimate effective population sizes and magnitudes of population declines based on genetic bottlenecks. Finally, to assess the probability and magnitude of past or future population reductions, we will conduct a literature review of sources that document historic habitat losses and project habitat changes into the future. The goal of the project is to provide information needed by the agency to assess the status and long-term viability of terrapin populations in Florida, and thereby establish meaningful management goals and appropriate regulatory recommendations.