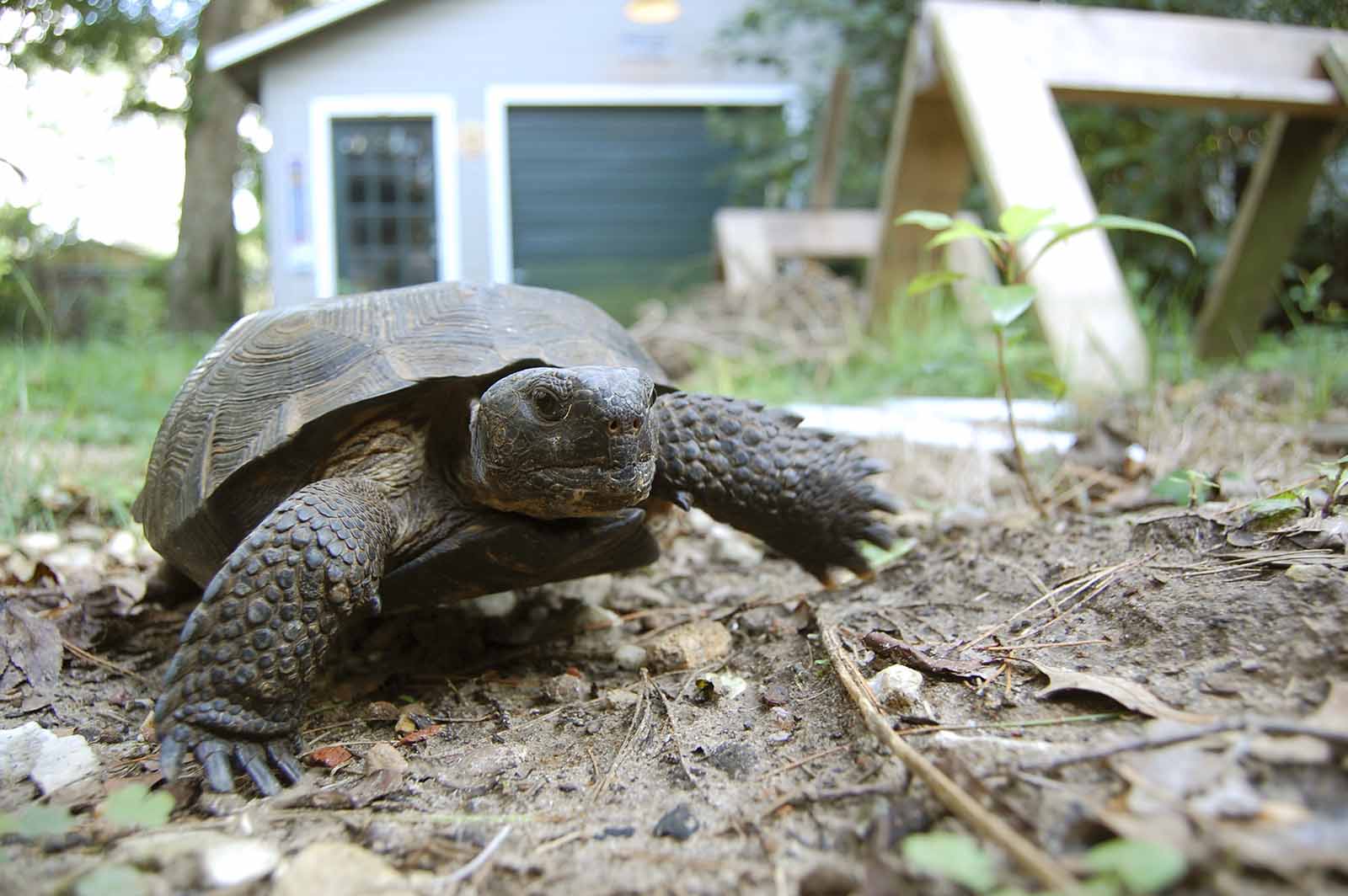 Gopher tortoises are protected by state law, Chapter 68A - 27.003, FL Administrative Code.  Visit the Gopher Tortoise Home Page for more information on Gopher tortoises.
There are four available options to address the presence of gopher tortoises on lands slated for development:
avoid development;
avoid destruction of tortoise burrows;
relocate tortoises on-site (permit required); or
relocate them off-site (permit required).
Most typical activities associated with residential lawn and landscape maintenance do not require a permit, provided they do not collapse gopher tortoise burrows or harm gopher tortoises.
Permitting Guidelines
On January 1, 2017, the FWC will implement revisions to the the Gopher Tortoise Permitting Guidelines (April 2008 - revised January 2017). To assist with the implementation of these changes, a summary of these changes is provided and an email notification was sent to all Authorized Gopher Tortoise Agents registered in the FWC online permit system. If you have questions regarding the new revisions or implementation of the revised guidelines, please contact the Gopher Tortoise Program at gtpermits@MyFWC.com, or by phone at (850) 921-1031.
Guidance regarding acceptable forms of local government approval for Gopher Tortoise Conservation and 10 or Fewer Burrows (off-site) relocation permits (January 2017) is included as a reference for permittees authorized to relocate gopher tortoises off properties. This guidance document provides a list of acceptable forms of local government approval and may be updated as these types of approvals change.
The Division of Habitat and Species Conservation's, Species Conservation Planning Section (SCPS) issues three types of gopher tortoise relocation permits: 
Notification on annual CPI adjustment to mitigation contributions
(Updated 14 June 2018)
Annual Consumer Price Index (CPI) adjustments were made to all gopher tortoise permit mitigation amounts, effective 1 July 2018 as outlined in the mitigation amounts table.  Please refer to the Gopher Tortoise Permitting Guidelines (p. 7) and email notification that was sent on 14 June 2018 to all Authorized Gopher Tortoise Agents and applicants (for 10 or Fewer Burrow, on-site permits) with information regarding current and future permit applications effected by this adjustment. Tying these changes to the Consumer Price Index ensures mitigation contributions are adjusted relative to actual price increases or decreases. The FWC uses the "All Urban Consumers Price Index" (CPI-U) for the South region, which reflects the highest percentage of the population. Information on the Consumer Price Index is available online at www.bls.gov/cpi.