Flounder
Regulations Gulf and Atlantic State Waters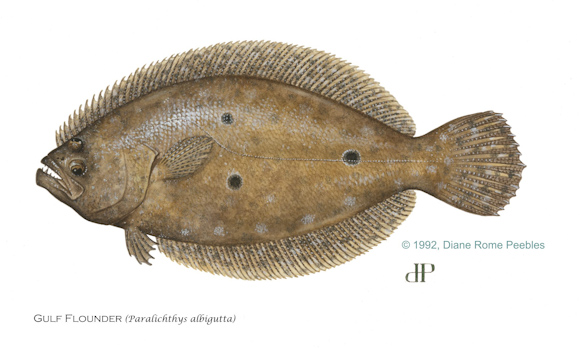 Minimum Size Limit: 12" total length (will be 14" starting March 1, 2021)
Daily Bag Limit: 10 per harvester (will be 5 per person starting March 1, 2021)
Seasonal Closure: Effective March 1, 2021, recreational harvest will be closed annually from Oct. 15 through Nov. 30.
Gear Requirements:
Legal Gear: spears, gigs, hook and line, seine, cast net
Illegal Gear: harvest prohibited by or with the use of any multiple hook in conjunction with live or dead natural bait; snatching prohibited
*Note - Regulations on this page apply to Gulf flounder, Southern flounder, summer flounder and fringed flounder.
Special regulations apply for this species when fishing in Biscayne National Park.
Effective March 1, 2021, all flounder regulations will be extended into federal waters. 
---
Image Credit:Diane Rome Peebles