About the Program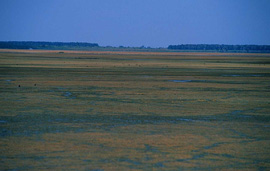 The Section's aquatic plant management program designs, funds, coordinates, and contracts invasive nonnative aquatic plant control efforts in Florida's 1.25 million acres of public waters under Florida Statute and Rule . Public water bodies are sovereignty waters accessible by public boat ramps. Invasive non-native aquatic plants, mostly hydrilla, water hyacinth, and water lettuce, are managed in several hundred water bodies each year.
Websites for the interested public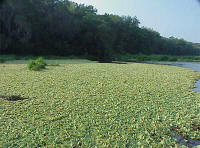 Plant Management In Florida Waters; All you want to know about Florida's lakes, rivers, springs, marshes, swamps and canals  is a collaboration of the Center for Aquatic and Invasive Plants, University of Florida, and the Invasive Plant Management Section, Florida Fish and Wildlife Conservation Commission.
Floridians ask many thousands of questions about a significant environmental and economic issue in our state: the management of our freshwaters, especially of aquatic and wetland plants. They ask their more-than-100 government management agencies, their legislative representatives, their educators and their advocacy groups. The FWC Invasive Plant Management Section is the "lead agency" for aquatic plant management in Florida. View the overview of the Section's role .
For plant pictures, drawings, identification, information, books, etc. feel free to check out the UF/IFAS Center for Aquatic and Invasive Plants .