Box-R - Planning Your Visit
Helpful Information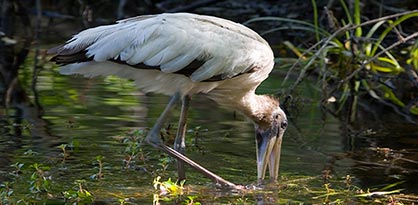 From archery season in October to spring turkey season in April, Box-R WMA offers ample opportunities for hunting deer, turkey, feral hog and small game. Hiking, biking and horseback riding are likely to be most pleasant on non-hunting days in the fall through the spring. Enjoy paddling year-round but heat, thunderstorms and biting insects can make summer visits unpleasant. The fall and spring seasons are best for birding and observing new spring leaves and colorful fall foliage on the deciduous gum trees, red maples and cypress trees.
Get directions to Box-R Wildlife Management Area.  
See the Regulations Summary for hours of operation and vehicle use guidelines.
Dogs are permitted, but must be kept under physical restraint at all times.
Regulations regarding hunting dogs can be found in the Regulations Summary.
Restrooms are not available at this location.
A Daily-Use Permit is not currently required to enter this area. To hunt or fish, you must possess the appropriate license and permit.
Seasons Summary Dates (range July 2018 through June 2019)
| Season | Dates |
| --- | --- |
| Wild Hog-Dog | July 13-15, August 10-12 and September 14-16, 2018; and May 10-12 and June 14-16, 2019 (Hunting is allowed from sunset until 10:00 a.m. Hunts begin at 12:01 a.m. Friday morning and end at midnight Sunday evening.) |
| Archery | October 20-26 and October 27 through November 4 |
| Small Game | November 10-18 |
| General Gun | November 22-25, January 10-13, 17-20 and 24-27 |
| Muzzleloading Gun | December 1-3 |
| Wild Hog - Still | December 8-14 |
| Spring Turkey | March 16-19, 28-31 and April 11-14 (Legal shooting hours are 1/2 hour before sunrise until sunset.) |
Calendar does not reflect migratory game bird hunting seasons; please check the regulations summary for specifics.