Tiger Bay Wildlife Management Area
Tiger Bay Wildlife Management Area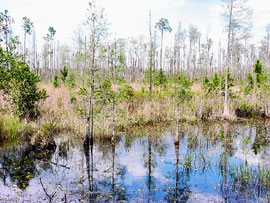 Managed in cooperation with
Florida Forest Service.
St. Johns River Water Management District
Volusia County.
Tiger Bay WMA is an extensive wetland in north central Volusia County, near Daytona Beach. The area is part of the more than 31,000-acre Tiger Bay State Forest. The wildlife management area is bisected by U.S. 92 between Deland and Daytona. Most of the area is cypress swamps and pine-palmetto flatwoods, which burned during the extensive wildfires of 1998. Recreational opportunities on Tiger Bay WMA include hunting, fishing on several ponds, wildlife viewing, hiking, picnicking, horseback riding, and bicycling (on designated forest roads). Wildlife that make their home on the area include white-tailed deer, wild turkey, black bear, wood stork, wading birds and Bachman's sparrow. 
Add your bird observations to the Tiger Bay Forest WMA eBird Hotspot.
Children under the age of 16 are required to wear a helmet when horseback riding on public lands.  For more detailed information go to Nicole's Law.  All horseback riders must have proof of current negative Coggins Test results for their horses when on state lands. Camping is prohibited. Also see the Tiger Bay - Rima Ridge Unit website.
Rules Regarding Dogs
For purposes other hunting, dogs are allowed, but must be kept under physical restraint at all times.
Hunting dogs may be taken onto the WMA after 8 a.m. the day before the opening of a season and shall be removed by 6 p.m. one day after the end of the season.  Dogs on leashes may be used for trailing wounded game.
Hunting with dogs is prohibited, except bird dogs and dogs with a shoulder height of 15 inches or less may be used for hunting small game. Dogs are prohibited in areas posted as "Closed to Public Access" by FWC administrative action. No person shall allow any dog to pursue or molest any wildlife during any period in which the taking of wildlife by the use of dogs is prohibited.
More Information