Tiger Bay WMA - Rima Ridge Unit
Tiger Bay WMA - Rima Ridge Unit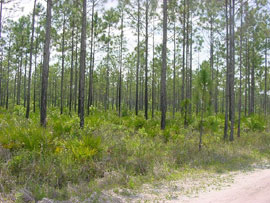 Managed in cooperation with
Florida Forest Service
St. Johns River Water Management District
The Rima Ridge Unit of Tiger Bay WMA is a ridge of uplands that was named after an extensive wetland of the same name in central Volusia County, near Daytona Beach. This unit of the Tiger Bay State Forest consists of more than 11,000 acres between SR 40 and US 92 and is primarily pine flatwoods, hardwood hammocks, and hardwood swamps. Tiger Bay State Forest is a critical recharge area for the Floridian aquifer as well as a wildlife corridor for black bears and potential habitat for bald eagles. The entire forest was greatly impacted by the summer fires of 1998, and restoration is on-going. Hunting, fishing, wildlife viewing, hiking, picnicking, paddling, boating, and primitive camping, provide many recreational opportunities. Horseback riding and bicycling are allowed on designated forest roads.  Children under the age of 16 are required to wear a helmet when horseback riding on public lands.  For more detailed information go to Nicole's Law.  All horseback riders must have proof of current negative Coggins Test results for their horses when on state lands. Boats powered by internal combustion engines are prohibited on Indian and Scoggin lakes. A two-mile interpretive hiking trail and a boat ramp are located at Indian Lake. For additional information, a recreation guide is available from the St. Johns River Water Management District.  Also see the Tiger Bay website.
Rules Regarding Dogs
For purposes other than hunting, dogs are allowed, but must be kept under physical restraint at all times.
Hunting dogs may be taken onto the WMA after 8 a.m. the day before the opening of a season and shall be removed by 6 p.m. one day after the end of the season. Hunting with dogs is prohibited, except bird dogs and dogs with a shoulder height of 15 inches or less may be used for hunting small game. Dogs on leashes may be used for trailing wounded game.
Dogs are prohibited in areas posted as "Closed to Public Access" by FWC administrative action. No person shall allow any dog to pursue or molest any wildlife during any period in which the taking of wildlife by the use of dogs is prohibited.
More Information