Saltwater Public Comments
Saltwater Public Comments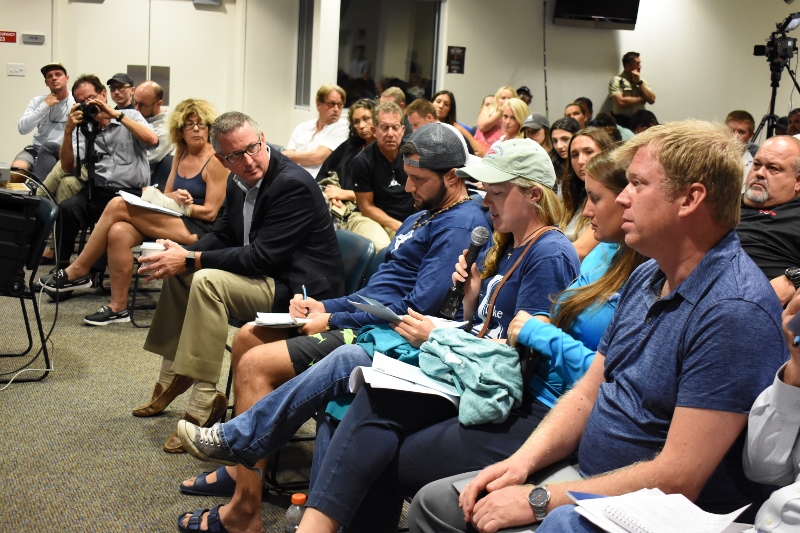 The FWC welcomes comments on any species, even those not featured on this page, at any time via the comment form below, email at Marine@MyFWC.com or phone at 850-487-0554.
The following topics are either tentatively slated to be brought before the Commission in the near future or items FWC staff plan to begin working on.
This is not an all-encompassing list and topics may be moved to a later date or not discussed at all.
Visit the Commission meeting agenda page to see what FWC staff will be presenting to the Commission at an upcoming meeting.
Future Commission Meeting Topics
A stock status update completed by FWC's Fish and Wildlife Research Institute suggests that the flounder fishery statewide has been in a general declining trend in recent years and is likely overfished and undergoing overfishing on the Atlantic coast of Florida.  Over the past few years, staff has also heard a variety of concerns and requests for management changes in the flounder fishery.  In response to the recent flounder stock status update and public feedback, staff is seeking additional public comment on a potential management proposal.
The Commission approved draft changes at the July 2020 FWC meeting and this item will be brought back for draft consideration in October.  Learn more. 
Provide comments below
The Apalachicola Bay oyster population has been declining since 2013 as a result of low freshwater input.  The oyster population in the Bay continues to remain at a historic low despite FWC taking several steps to address concerns in this fishery over the years. 
Starting Aug. 1, 2020, harvest of all wild oysters from Apalachicola Bay will be temporarily suspended and on-the-water possession of oyster harvesting equipment (tongs) will be prohibited.  Staff will bring this item back before the Commission in October for final consideration and, if approved, these measures will remain in place through Dec. 31, 2025, or until 300 bags per acre can be found on a significant number of reefs.
Blueline tilefish, also known as gray tilefish, is most common in federal waters (beyond 3 nautical miles offshore in the Atlantic) but can be found in deeper Atlantic state waters off southeast Florida.  Blueline tilefish has experienced overfishing in the Atlantic in recent years, meaning more fish are being caught than is sustainable.
The Atlantic recreational fishery for blueline tilefish is managed with a small quota in federal waters, and harvest from state waters counts against the federal quota.  If the recreational quota is met, the fishing season in federal waters can close early, as it did in 2015. 
Recreational bag limit and season regulations for blueline tilefish differ between Atlantic state and federal waters.  If FWC adopted a bag limit and season for blueline tilefish in Atlantic state waters that was consistent with the federal rules, the risk of continued overfishing and the likelihood of future in-season closures for the federal recreational fishery would be reduced. 
Currently, blueline tilefish fall under the default recreational bag limit of 100 pounds in state waters and harvest is open year-round. FWC is gathering public input on making blueline tilefish recreational regulations in Atlantic state waters consistent with Atlantic federal waters:
Establishing a three-fish bag limit for Atlantic blueline tilefish and including it in the Atlantic grouper aggregate recreational bag limit.
Setting a recreational season for Atlantic blueline tilefish to be May 1 – Aug. 31.
Provide comments using the form below.
The South Atlantic Council recently modified hook requirements for reef fish in Atlantic federal waters as part of an effort to increase survival of released fish and promote best fishing practices. To be consistent, staff propose approval of a federal consistency action that would implement the same hook requirements for those harvesting reef fish on board a vessel in Atlantic state waters.
Proposed regulation changes for those fishing for reef fish with natural baits on hook and line on board a vessel in Atlantic state waters:
Require the use of non-stainless steel, non-offset circle hooks north of 28 degrees North latitude
Require the use of non-stainless steel hooks south of 28 degrees North latitude
Research shows that circle hooks are more likely to hook a fish in the mouth rather than the esophagus; reducing internal harm, decreasing de-hooking time, and increasing chance of survival for the reef fish. If a non-stainless-steel hook cannot be removed from a fish, they will rust and deteriorate sooner compared to stainless steel hooks, increasing the survival rates of reef fish.
Provide comments below.
Future Topics
The FWC will be reviewing several trap fisheries in the upcoming year including spiny lobster, blue crab, pinfish/baitfish, trap retrieval, recreational trap fisheries, and traps used for shellfish aquaculture leases. 
Staff has been hearing concerns about the status of various fisheries in Charlotte Harbor and is gathering feedback on the fisheries in that area.
Atlantic States Marine Fisheries Commission (ASMFC) coordinates management of spot and croaker along the Atlantic coast through an interstate fishery management plan. Population trends indicate potential cause for concern for these species and the Commission may consider modifying regulations.  
Blue Crab Trap Bycatch Reduction Devices (BRDs)
 Diamondback terrapins live in coastal brackish-water ecosystems, commonly inhabiting salt marshes and mangroves, and their populations in Florida have been declining. Because their habitat can overlap with species like blue crabs, which are recreationally and commercially harvested, terrapins can be incidentally caught in traps. 
The Commission may consider a suite of conservation measures to benefit diamondback terrapins in Florida.  One of the potential measures that may be implemented is requiring BRDs in all recreational and commercial blue crab traps in nearshore or inshore waters.  This would include all blue crab traps within 1 nautical mile on the Atlantic coast and 3 nautical miles on the Gulf.