Saltwater Public Comments
Saltwater Public Comments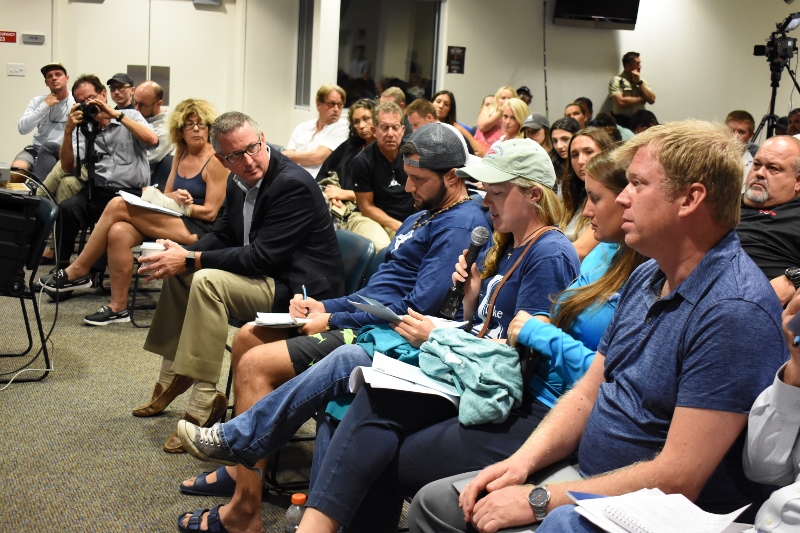 The FWC welcomes comments on any species, even those not featured on this page, at any time via the comment form below, email at Marine@MyFWC.com or phone at 850-487-0554.
The following topics are either tentatively slated to be brought before the Commission in the near future or items FWC staff plan to begin working on.
This is not an all-encompassing list and topics may be moved to a later date or not discussed at all.
Visit the Commission meeting agenda page to see what FWC staff will be presenting to the Commission at an upcoming meeting.
Commission Meeting Topics
The Biscayne National Park (BNP) Fishery Management Plan (FMP), which was developed jointly by the FWC and the National Park Service, includes a goal of increasing the size and abundance of fishery species in BNP by 20%. FWC is requesting feedback on the status of BNP fisheries and input on potential rule changes that could help achieve the goals of the FMP.
Potential changes FWC is gathering input on include: 
Modified size and bag limits
Coral reef protection areas
Trap free zone north and east of park area
No-trawl zone
Learn more:
December 2019 Commission Meeting Presentation
October 2019 Workshop Presentation
At the December meeting, the Commission approved draft dates for the 2020 Gulf red snapper season to be June 11- July 25 (45 days). The final season will be approved at the February 2020 Commission meeting. The Commission will also consider final rules that would allow FWC to manage harvest of red snapper by private recreational anglers in Gulf federal waters.
Staff is seeking Commission direction on proposed regulatory changes for the Florida Keys National Marine Sanctuary (FKNMS). NOAA's Office of National Marine Sanctuaries is seeking input from the public and management partners, including FWC, on FKNMS Restoration Blueprint. This proposal includes expanding FKNMS boundary, modifying existing and creating new marine zones, and updating regulations and management in the FKNMS. 
Public comments may also be submitted to our federal partners until Jan. 31 at Regulations.gov. 
The Florida Fish and Wildlife Conservation Commission (FWC) needs public input on the Gulf County (including St. Joseph Bay) bay scallop season dates for 2020 and future years. This area's scallop population was negatively impacted by a red tide event in 2015. Since then, FWC has been working with the community to set a later season that balances scalloping opportunities with the continued recovery of the scallop population. 
Future Topics
FWC is collecting feedback on Florida's flounder fishery. If you fish for this species, we'd like to know more about:
Your thoughts on how these fisheries are doing – compared to the past and/or compared to other fisheries
Your thoughts on current management of these species
The FWC will be reviewing several trap fisheries in the upcoming year including spiny lobster, blue crab, stone crab, pinfish/baitfish, trap retrieval, recreational trap fisheries, and traps used for shellfish aquaculture leases. Workshops scheduled for May. 
Staff has been hearing concerns about the status of various fisheries in Charlotte Harbor and is gathering feedback on the fisheries in that area.
Recreational bag limit and season regulations for blueline tilefish and snowy grouper are different in Florida's Atlantic state and federal waters.  Atlantic blueline tilefish has experienced overfishing in recent years.  There is a federal rebuilding plan for Atlantic snowy grouper, which has been overfished since the early 1980s.  The federal quotas for both species are small and harvest of these fish in state waters counts against their federal quotas.  Thus, harvest from Florida state waters may contribute to in-season closures in federal waters. 
FWC is gathering public input on aligning recreational regulations in Atlantic state waters with those in federal waters:
Including blueline tilefish in the three-fish grouper aggregate recreational bag limit.  Blueline tilefish currently fall under the default recreational bag limit of 100 pounds in state waters.
Reducing the snowy grouper recreational bag limit from one fish per person to one fish per vessel, within the three-fish grouper aggregate. 
Setting a recreational season for blueline tilefish and snowy grouper in state waters.  Currently, these species are open year round in Atlantic state waters.  The current federal season for blueline tilefish and snowy grouper recreational harvest is May 1 – August 31.
Staff will update the Commission on the current catch-and-release status of snook, red drum, and seatrout in Southwest Florida at an early 2020 Commission meeting. The Commission will consider allowing snook to open March 1 (when snook normally opens across the Gulf) and may consider other updates to the catch-and-release status of these fisheries, including whether the fisheries should remain catch-and-release for more time.
The Atlantic bluefish fishery is managed cooperatively by the Mid-Atlantic Fisheries Management Council (MAFMC) in federal waters and the Atlantic States Marine Fisheries Commission (ASMFC) in state waters.  A 2019 stock assessment found that bluefish are overfished but overfishing is not occurring.  Because of the assessment result, the MAFMC adopted more restrictive recreational bag limits, and ASMFC is requesting states implement similar regulations.  In response to the ASMFC request, FWC will discuss and potentially modify current Atlantic bluefish regulations.