Are you curious about a particular place to fish in Florida? Planning a trip? Find your destination on the map below and scroll down matching the number to learn where to go fishing, what you might catch there and when the best time might be!
Did we miss a popular fishing location or commonly-caught species? Email us at Saltwater@MyFWC.com.
Learn how to fish
View saltwater fishing basics to get you well on your way to catching a Florida memory.
Numbers 1-6: Northwest Region
Numbers 7-9: Central West Region
Numbers 10-12: Southwest Region
Numbers 13-17: South Region
Numbers 18-21 Central East Region
Number 22: Northeast Region
Fishing Information for Nassau and Duval counties: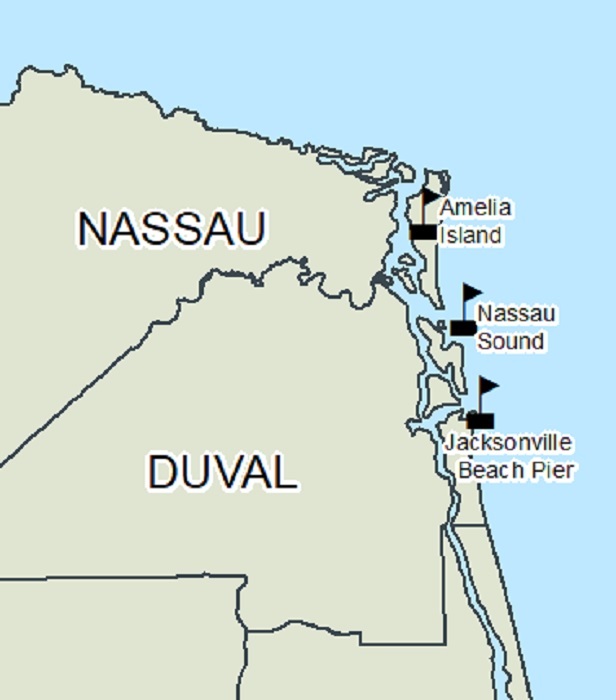 Popular Fishing Locations:
Nassau
Amelia Island
Fort Clinch State Park
George Crady Bridge Fishing Pier State Park 
Goffinsville Park
Nassau Sound
Saint Mary's Jetty
Duval
Bert Maxwell boat ramp and fishing pier
Blue Cypress Park
Fort George Island
Halfmoon Island Park
Jacksonville Beach Pier
Jim King Fishing Pier
Little Talbot Island
Lonnie Wurn Park
Reddie Point Preserve
Riverfront Park
Stockton Park
Interactive Boating and Angling Guide for this Area 
Habitat: Rock shorelines, oyster bars, mud flats, sand bars, marshes, hardbottom
Commonly-caught species and best times to catch them (**check regulations for open/closed season):
Inshore/Coastal:
Black drum: Fall-spring
Bluefish: Winter
Crevalle jack: Spring-fall
Croaker: Late summer-fall
Flounder: Fall and spring
Ladyfish: Summer
Pompano: Spring-fall
Red drum: Fall-late winter
Sharks: Year-round
Sheepshead: Fall-winter
Spanish mackerel: Fall-spring
Spotted seatrout**: Spring and fall-winter
Tarpon: Summer
Weakfish: Winter-spring
Whiting: Year-round
Offshore:
Cobia: Winter-spring
Dolphinfish: Late spring-early summer
Flounder: Winter
Groupers**: Fall-winter
King mackerel: Late spring-early fall 
Sailfish: Early summer
Snappers**: Year-round
Tripletail: Late spring-fall