Lake Victor
Holmes County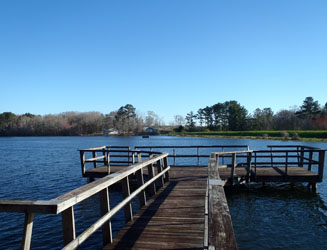 Lake Victor is a 130-acre artificial impoundment constructed in 1966 and opened to fishing in 1968. It has an average depth of 8 feet and a maximum depth of 23 feet. Deepest areas are near the dam and along the old stream bed. A considerable amount of timber remains, providing fish habitat and cover. The lake has been previously stocked with sport fish include largemouth bass, bluegill, redear sunfish (shellcrackers), and channel catfish. The lake also supports a fairly good population of black crappie which appear to peak every 5 to 7-years. The lake is located in north Holmes County, south of S.R. 2, approximately one mile west of the New Hope community. It is within easy commuting distance from Chipley, Bonifay, DeFuniak Springs, and south Alabama. There is a concrete boat ramp with ample parking located near the dam on the northeast side of the lake.There are no public upland recreational facilities or boat rentals available. Lake Victor RV Park LLC, a privately operated camping area with an unimproved (oyster shell) boat ramp is located on the southeast side of the lake. For available camp sites or fishing conditions they may be reached at 850-956-4526.
Largemouth bass will become more active as water temperatures cool. Dark colored plastic worms and floater-diver type lures should be two of the more productive artificial baits when used along the shoreline or within the flooded timber. Rat-L-Traps are also effective according to numerous bass anglers. Bass can often be found hanging out around the edges of decaying standing vegetation remaining from the lake drawdown during 2002. Lake Victor has an excellent population for bass ranging between 2 and 8 pounds, and larger bass exist in the lake. Anglers should be observant of weather patterns during this time of year. Cold fronts will often push bass into deeper waters and jigs can be an effective lure when bass are holding in these areas. Warm days following a cold front will often result in bass moving back into shallower habitats to feed, and fishermen will need to adjust their strategies accordingly. Shallow areas that are adjacent to deeper water drop-offs, where bass can seek refuge during cold periods, can be prime habitat this time of year. A key to success this time of year is to be observant of conditions and adjust your fishing strategies, lures, and presentations based on these observations. Bluegill and redear sunfish (shellcracker) can be caught using live baits such as red worms, wigglers, and crickets fished on light tackle. If you are catching a lot of small bream, larger bream can often be found by fishing just a little deeper in the same area. Using the appropriate size hook is also an important factor when fishing for bream. Bream have small mouths and most bait and tackle stores sell "bream hooks" that are perfect when you are targeting these fish. As with bass, these fish will be moving between shallow and deep-water areas based on changing weather patterns. Catfish can be caught using chicken livers and earthworms.
Popular Species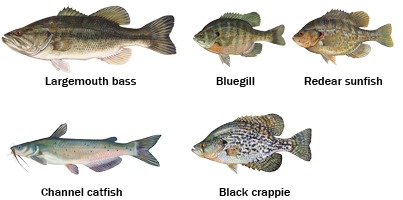 Fish graphics by Duane Raver, Jr.
More species information is available for:
Largemouth bass, Bluegill, Redear sunfish, Channel catfish, Black crappie

TrophyCatch Tracker
TrophyCatch is FWC's citizen-science program that rewards anglers for documenting and releasing trophy bass 8 pounds or larger. The following TrophyCatch bass have been submitted from Lake Victor:
Lunker Club (8 – 9.9 pounds): 4
Trophy Club (10 - 12.9 pounds): 1