Lake Victor
Holmes County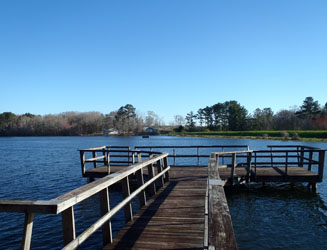 Lake Victor is a 130-acre artificial impoundment constructed in 1966 and opened to fishing in 1968. It has an average depth of 8 feet and a maximum depth of 23 feet. Deepest areas are near the dam and along the old stream bed. A considerable amount of timber remains, providing fish habitat and cover. The lake has been previously stocked with sport fish include largemouth bass, bluegill, redear sunfish (shellcrackers), and channel catfish. The lake also supports a fairly good population of black crappie which appear to peak every 5 to 7-years. The lake is located in north Holmes County, south of S.R. 2, approximately one mile west of the New Hope community. It is within easy commuting distance from Chipley, Bonifay, DeFuniak Springs, and south Alabama. There is a concrete boat ramp with ample parking located near the dam on the northeast side of the lake.There are no public upland recreational facilities or boat rentals available. Lake Victor RV Park LLC, a privately operated camping area with an unimproved (oyster shell) boat ramp is located on the southeast side of the lake. For available camp sites or fishing conditions they may be reached at 850-956-4526.
Springtime FWC electrofishing surveys have documented strong numbers of quality largemouth bass in Lake Victor and although these fish have finished spawning, they can still be caught well into the summer months. Target deep water structure and fish soft plastics with a slow retrieve to tempt sluggish, summertime bass. Noisy topwater baits, fished along the edges of vegetation and around structure in 2-5 feet of water can also produce bass during the early morning and evening hours. During warm weather bass will often seek shelter in the shade of floating or emergent plants and ambush prey along the edges of this vegetation. Slow rolling a spinnerbait along the edge of thick vegetation stands or skipping a rubber frog across floating lilies can often entice one of these predators to strike.
Spring time electrofishing surveys have collected quality black crappie. Although they have been done spawning for months, these fish can still be targeted throughout the summer. Standing timber in the middle of the lake should congregate these fish. Target these areas and don't be afraid to switch up your tactics or baits. Small spinners, crankbaits, or even a different presentation for live bait could make the difference.
With bream congregating throughout the lake to spawn, fish red-worms, wigglers, or crickets in about 2-5 feet of water to produce quality bluegill and redear (shellcracker) sunfish. If you prefer to use artificial baits, it's hard to beat a roostertail, beetle spin, or small curly-tailed jig.
Large channel catfish and butter-cats (bullhead) can be caught in deeper water near the dam or off the ends of docks. Fish earth worms or chicken/beef livers on the bottom to entice these whiskered predators. If you have trouble keeping messy livers on the hook, try wrapping it in surgical gauze or pantyhose, but make sure you stretch the fabric to allow a nice odor to emanate from your bait.
Popular Species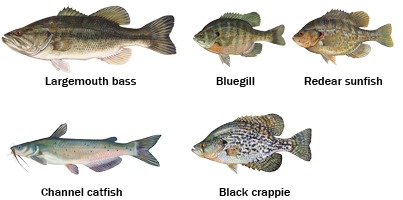 Fish graphics by Duane Raver, Jr.
More species information is available for:
Largemouth bass, Bluegill, Redear sunfish, Channel catfish, Black crappie

TrophyCatch Tracker
TrophyCatch is FWC's citizen-science program that rewards anglers for documenting and releasing trophy bass 8 pounds or larger. The following TrophyCatch bass have been submitted from Lake Victor:
Lunker Club (8 – 9.9 pounds): 4
Trophy Club (10 - 12.9 pounds): 1