Lake Stone
Escambia County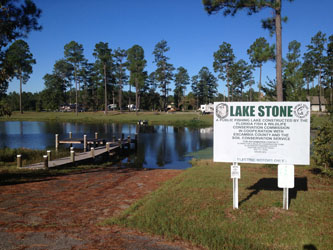 Lake Stone in a 130-acre man-made impoundment constructed in 1967, opened to fishing in 1969 and designated as a Fish Management Area. It has an average depth of 6 feet and a maximum depth of 22 feet. Deepest areas are located near the dam and along the old streambed. A considerable amount of flooded timber remains, providing fish habitat. This lake has been stocked with Largemouth Bass, Bluegill, Redear Sunfish (shellcracker), Black Crappie, and Channel Catfish. Lake Stone is located in northern Escambia County near Century, FL. Entrance to the lake is located on Lake Stone Rd off SR 4 approximately 1.5 miles west of US 29 in Century. There is one concrete boat ramp with ample parking available on the northwest end of the lake with an additional boat launching site constructed with crushed rock on the northeast side of the lake near the dam. Several earthen fishing fingers have been constructed on the lake to provide fishing opportunities for bank anglers. Bait and fishing supplies are available in nearby Century. Escambia County maintains the Lake Stone Recreation Area located on the northwest end of the lake. This area provides fee-type camping with or without electric/water hookups. Lake Stone is subject to the rules and regulations currently in effect for Fish Management Areas. Please refer to a current copy of Florida Freshwater Sport Fishing Regulations. Gasoline boat motors are prohibited from use on Lake Stone; however, use of electric trolling motors is allowed.
For additional information regarding fishing opportunities at Lake Stone contact Blackwater Fisheries Center in Holt: 850-957-6177.
For reserving campsites and cabins in Florida State Parks check the Reserve America website or call 888-622-9190.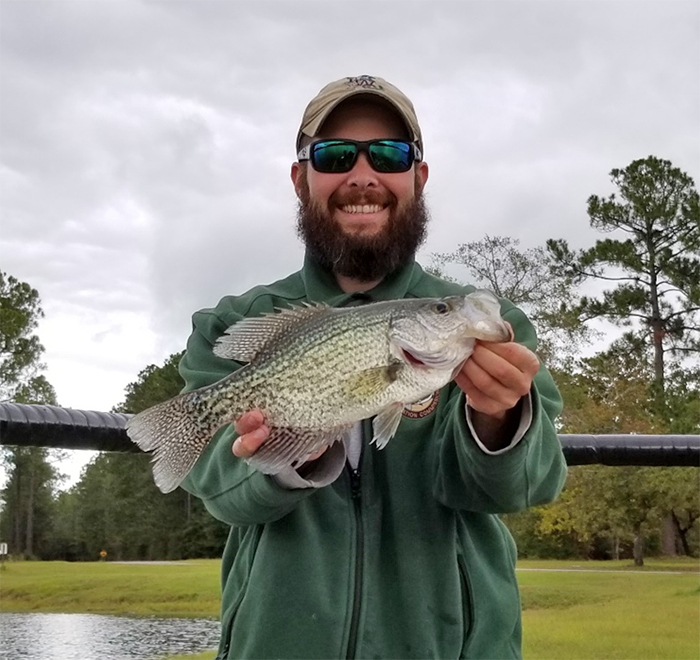 Lake Stone boasts premier largemouth bass fishing opportunities in the panhandle, harboring several "Trophy Catch" tagged fish and a population bristling with quality individuals. For largemouth bass, most success should come during the early morning and evening hours. Look toward the middle of the lake for numerous splashes at the surface, this indicates bass aggressively feeding on schools of shad. Target these areas of activity with spinner baits or dark colored soft plastics, and let your bait sink slowly into the area of activity before you begin to retrieve. Anglers have reported great success fishing around the two brush-pile fish attractors. These structures are marked with large, white buoys. Fish around the edges of these areas with spinner baits and crank baits to tempt hungry bass early in the season, but switch to soft plastics and a slow retrieve to entice strikes as bass grow sluggish from the mid-summer heat. If you plan to take any of these fish home with you, please consult this year's regulation booklet for new and updated regulations.
Bluegill and redear sunfish (shellcracker) should be congregating on beds and around fish attractors throughout the lake for the summer spawn and can be taken in about 2-5 feet of water with red worms, wigglers, or crickets. If you prefer to use artificial baits, it's hard to beat a roostertail, beetle spin, or small curly-tailed jig when fishing for bream. Earthworms or chicken/beef livers, fished on the bottom should produce nice catfish in the evening and after the sun goes down.
Spring time electrofishing surveys have recorded an excellent population of black crappie. Although they have been done spawning for months, these fish can still be targeted throughout the summer. Schools of threadfin shad will spawn continuously along shallow flats all summer and you can bet your bottom dollar that crappie will taking advantage. Look for any structure such as brush, stumps, or trees to congregate these fish in these areas and don't be afraid to switch up your tactics or baits. Small spinners, crankbaits, or even a different presentation for live bait could make the difference.
Popular Species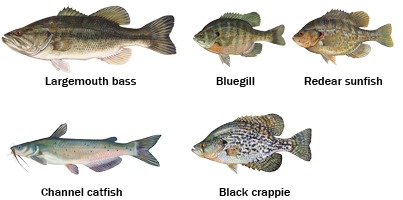 Fish graphics by Duane Raver, Jr.
More species information is available for:
Largemouth bass, Bluegill, Redear sunfish, Channel catfish, Black crappie

TrophyCatch Tracker
TrophyCatch is FWC's citizen-science program that rewards anglers for documenting and releasing trophy bass 8 pounds or larger.
Be the first to submit a trophy bass from Lake Stone!