Escambia County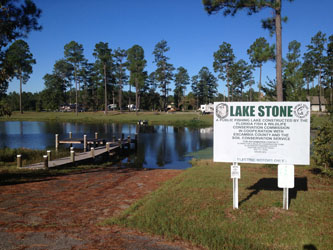 Lake Stone in a 130-acre man-made impoundment constructed in 1967, opened to fishing in 1969 and designated as a Fish Management Area. It has an average depth of 6 feet and a maximum depth of 22 feet. Deepest areas are located near the dam and along the old streambed. A considerable amount of flooded timber remains, providing fish habitat. This lake has been stocked with Largemouth Bass, Bluegill, Redear Sunfish (shellcracker), Black Crappie, and Channel Catfish. Lake Stone is located in northern Escambia County near Century, FL. Entrance to the lake is located on Lake Stone Rd off SR 4 approximately 1.5 miles west of US 29 in Century. There is one concrete boat ramp with ample parking available on the northwest end of the lake with an additional boat launching site constructed with crushed rock on the northeast side of the lake near the dam. Several earthen fishing fingers have been constructed on the lake to provide fishing opportunities for bank anglers. Bait and fishing supplies are available in nearby Century. Escambia County maintains the Lake Stone Recreation Area located on the northwest end of the lake. This area provides fee-type camping with or without electric/water hookups. Lake Stone is subject to the rules and regulations currently in effect for Fish Management Areas. Please refer to a current copy of Florida Freshwater Sport Fishing Regulations. Gasoline boat motors are prohibited from use on Lake Stone; however, use of electric trolling motors is allowed.For additional information regarding fishing opportunities at Lake Stone contact Blackwater Fisheries Center in Holt: 850-957-6177.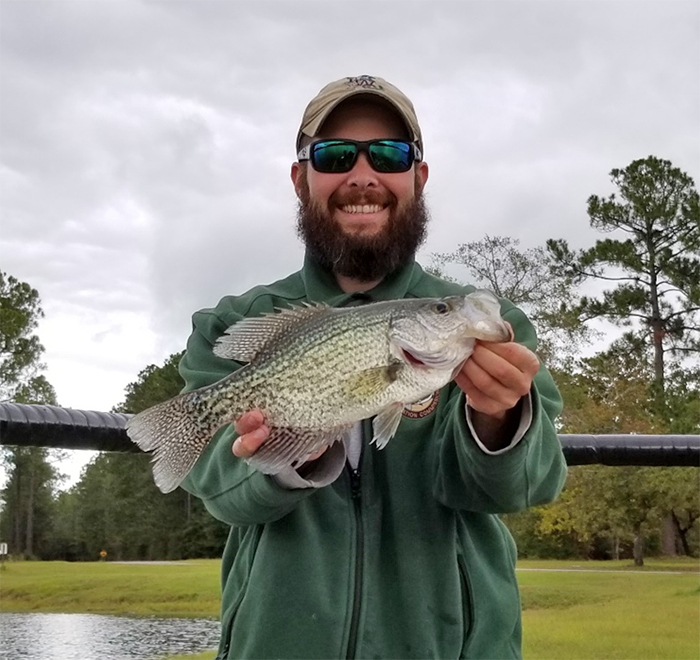 Lake Stone's healthy forage base, including threadfin shad and golden shiners, supports strong populations of largemouth bass and black crappie. Spring time FWC electrofishing surveys have seen numerous fish over the 5 lbs. mark. Fish the middles of coves around the lake in about 3-6 ft of water or around the small island adjacent to the campground to catch bedding bass. The FWC installed two large brush-pile fish attractors in December of 2017 which can be located by looking for the white, cylindrical buoys. Anglers have reported catching black crappie and bass on these structures, so they are certainly worth a try. With abundant shad, chubsuckers, and golden shiners, any bait which mimics these fish has the potential to hang a trophy bass. Rat-L-Traps, crank baits, or spinner baits should be productive while plastic worms and swim baits can be utilized to tempt more sluggish fish. During low light conditions, noisy topwater baits can provoke exciting strikes from bass feeding on schools of shad. Bluegill and shellcracker will begin to spawn as the water temperature increases (68-80 degrees) and can be caught off the bed using crickets, red-worms, or wigglers fished under a cork. If you prefer to fish more actively for bream, it seems you can never go wrong with a small roostertail, beetlespin, or curly-tailed jig. Black crappie will generally congregate around hard structure in deeper water to escape the summer heat. However, if you notice any schools of shad spawning in the shallows, this can often draw hungry crappie out of the depths. Look for these fish off the two points along the south shoreline or around fish attractors near the campground. Don't be afraid to switch up your presentation to live minnows, small crappie jigs, or tiny crankbaits and spinners. If you would like to catch catfish, try fishing in the evening or at night with the typical fare (chicken/beef livers or earthworms).
Popular Species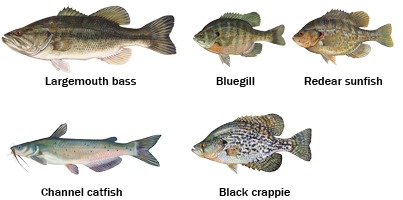 Fish graphics by Duane Raver, Jr.
More species information is available for:
Largemouth bass, Bluegill, Redear sunfish, Channel catfish, Black crappie

TrophyCatch Tracker
TrophyCatch is FWC's citizen-science program that rewards anglers for documenting and releasing trophy bass 8 pounds or larger.
Be the first to submit a trophy bass from Lake Stone!