Karick Lake
Okaloosa County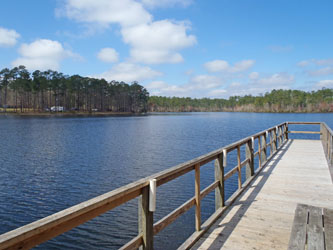 Karick Lake is a 65-acre man-made impoundment constructed in 1965, opened to fishing in 1966, and is designated as a Fish Management Area. The lake has an average depth of 7 feet with a maximum depth of 18 feet, with the deepest areas located near the dam and along the old streambed. A considerable amount of flooded timber remains, providing fish habitat. The lake has been stocked with largemouth bass, bluegill, redear sunfish (shellcracker), and channel catfish. Karick Lake is located in northwestern Okaloosa County off County Road 189 approximately 8 miles north of Baker, FL. Concrete boat ramps with courtesy docks are located in both the north and south campgrounds. A handicapped accessible fishing pier is located adjacent to the boat ramp in the north campground. Both campgrounds are accessible from CR 189. Informational kiosks are located adjacent to each boat ramp. The south campground contains primitive campsites (no electrical or water hookups) and picnic areas. The north campground has picnic grounds and campsites are available with both electric and water hookups. Both campgrounds have restroom/bath facilities and are maintained by the Florida Forest Service. Bait, supplies, and other conveniences are available in nearby Baker and Blackmon, FL. Karick Lake is subject to the rules and regulations currently in effect for Fish Management Areas. Please refer to a current copy of Florida Freshwater Sport Fishing Regulations. Gasoline boat motors are prohibited from use on Karick Lake; however, use of electric trolling motors is allowed.
For reserving campsites and cabins in Florida State Parks check the Reserve America website or call 888-622-9190.
For additional information regarding fishing opportunities at Karick Lake contact Blackwater Fisheries Center in Holt, Fl. Phone 850-957-6177.
Beginning July 10, 2017, the FWC began working in partnership with the Florida Forest Service to conduct a complete drawdown of Karick Lake Fish Management Area (Okaloosa County). The lake has since been dewatered and FWC contractors will use heavy equipment to remove excess muck, re-contour the lake bottom, and improve fish habitat. After renovations are complete the lake will be refilled and restocked with sport fish.
In order for the new sport fish community to become established, fishing will not be likely be permitted in Karick Lake until 2020 at the earliest. Campgrounds are currently unavailable to the public, but keep an eye for them to open as construction is expected to be completed this winter (See information and fishing forecasts for Hurricane Lake, Bear Lake, and other Northwest region resources at the Northwest Region Fishing Forecasts page). Karick Lake was determined a priority for renovation due to the degraded fish habitat and a very unbalanced sport fish community. After this treatment, the improved habitat and balanced fish community will provide premier freshwater fishing opportunities for anglers in Northwest Florida. For more information about this project contact Neil Branson, at (850) 957-0003.
Popular Species

Fish graphics by Duane Raver, Jr.
More species information is available for:

TrophyCatch Tracker
TrophyCatch is FWC's citizen-science program that rewards anglers for documenting and releasing trophy bass 8 pounds or larger. The following TrophyCatch bass have been submitted from Karick Lake:
Lunker Club (8 – 9.9 pounds): 1