Okaloosa County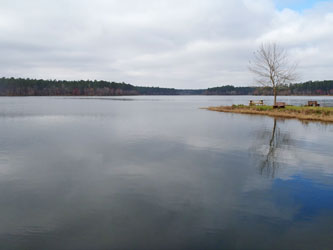 Hurricane Lake is a 318-acre man-made impoundment constructed in 1971, opened to fishing in 1973, and is designated as a Fish Management Area. The lake has an average depth of 7 feet and a maximum depth of 25 feet with the deepest areas located near the dam and along the old streambed. A considerable amount of flooded timber remains, providing fish habitat. The lake has been stocked with Largemouth Bass, Bluegill, Redear Sunfish (shellcracker), and Channel Catfish. Hurricane Lake is located in northwest Okaloosa County within the Blackwater State Forest approximately 12 miles northwest of Baker, FL. Concrete boat ramps with courtesy docks are located in both the north and south campgrounds. The south campground is accessible from Kennedy Bridge Road off Beaver Creek Road north of SR 4. This campground contains primitive (no electric or water hookups) camping sites maintained by the Florida Forest Service. Restroom and picnic facilities are available. Several earthen fishing fingers are located in this area for use by bank fishermen. Construction of a fishing pier in the south campground is planned for the near future. An informational kiosk is located adjacent to the boat ramp. The north campground is accessible from Hurricane Lake North Campground Road off Beaver Creek Road north of Kennedy Bridge Road. A handicapped accessible fishing pier and an informational kiosk are located adjacent to the boat ramp. This campground has campsites with electrical and water hookups which are maintained by DOF. Bait, supplies, and other conveniences are available in nearby Baker, Blackmon, and Munson. Hurricane Lake is subject to the rules and regulations currently in effect for Fish Management Areas. Please refer to a current copy of Florida Freshwater Sport Fishing Regulations. Gasoline boat motors are prohibited from use on Hurricane Lake; however, use of electric trolling motors is allowed.
For additional information regarding Hurricane Lake contact Blackwater Fisheries Center in Holt, FL: 850-957-6177.
This scenic lake has been known to produce quality largemouth bass, while providing a sprawling area for anglers to explore. Work dark colored, soft plastic worms, Rat-L-Traps, and diving crankbaits along the dam and around the small island located at the mouth of the northern most cove. The FWC also added to the brush-pile fish attractors and installed ten large gravel beds in February 2018. These areas should congregate bass and spawning bream so look for large lighter colored areas on the bottom of the lake and white fish attractor buoys to locate these different types of habitat. Bream tend to bed along the shoreline adjacent to the northern campsite and can be had with live crickets or small artificial baits (beetlespins, roostertails, and curly-tailed jigs). Look for lighter colored areas on the bottom which indicate gravel piles. Bream will congregate in these areas to spawn so try using light tackle, small hooks, and several split-shot sinkers to fish directly on the bottom for spawning sunfish.
Popular Species
Fish graphics by Duane Raver, Jr.
More species information is available for:

TrophyCatch Tracker
TrophyCatch is FWC's citizen-science program that rewards anglers for documenting and releasing trophy bass 8 pounds or larger.
Be the first to submit a trophy bass from Hurricane Lake!