Hurricane Lake
Okaloosa County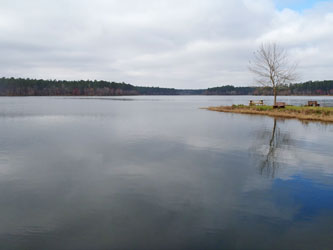 Hurricane Lake is a 318-acre man-made impoundment constructed in 1971, opened to fishing in 1973, and is designated as a Fish Management Area. The lake has an average depth of 7 feet and a maximum depth of 25 feet with the deepest areas located near the dam and along the old streambed. A considerable amount of flooded timber remains, providing fish habitat. The lake has been stocked with Largemouth Bass, Bluegill, Redear Sunfish (shellcracker), and Channel Catfish. Hurricane Lake is located in northwest Okaloosa County within the Blackwater State Forest approximately 12 miles northwest of Baker, FL. Concrete boat ramps with courtesy docks are located in both the north and south campgrounds. The south campground is accessible from Kennedy Bridge Road off Beaver Creek Road north of SR 4. This campground contains primitive (no electric or water hookups) camping sites maintained by the Florida Forest Service. Restroom and picnic facilities are available. Several earthen fishing fingers are located in this area for use by bank fishermen. Construction of a fishing pier in the south campground is planned for the near future. An informational kiosk is located adjacent to the boat ramp. The north campground is accessible from Hurricane Lake North Campground Road off Beaver Creek Road north of Kennedy Bridge Road. A handicapped accessible fishing pier and an informational kiosk are located adjacent to the boat ramp. This campground has campsites with electrical and water hookups which are maintained by DOF. Bait, supplies, and other conveniences are available in nearby Baker, Blackmon, and Munson. Hurricane Lake is subject to the rules and regulations currently in effect for Fish Management Areas. Please refer to a current copy of Florida Freshwater Sport Fishing Regulations. Gasoline boat motors are prohibited from use on Hurricane Lake; however, use of electric trolling motors is allowed.
For reserving campsites and cabins in Florida State Parks check the Reserve America website or call 888-622-9190.
For additional information regarding Hurricane Lake contact Blackwater Fisheries Center in Holt, FL: 850-957-6177.
Largemouth bass will become more active as water temperatures cool. Dark colored plastic worms and floater-diver type lures should be two of the more productive artificial baits when used along the shoreline or within the flooded timber. Rat-L-Traps are also effective according to numerous bass anglers. Bass can often be found hanging out around clumps of maidencane grass found in shallower areas around the lake. Anglers should be observant of weather patterns during this time of year. Cold fronts will often push bass into deeper waters and jigs can be an effective lure when bass are holding in these areas. Warm days following a cold front will often result in bass moving back into shallower habitats to feed, and fishermen will need to adjust their strategies accordingly. Shallow areas that are adjacent to deeper water drop-offs where bass can seek refuge during cold periods can be prime habitat this time of year. A key to success this time of year is to be observant of conditions and adjust your fishing strategies, lures, and presentations based on these observations. Bluegill and redear sunfish (shellcracker) can be caught using live baits such as red worms, wigglers, and crickets fished on light tackle. As with bass, these fish will be moving between shallow and deep-water areas based on changing weather patterns. Another productive method for catching bream is to take a small Beetle Spin (1/16 or 1/32 oz.), detach the spinner and use only the little lead headed jig preferably with chartreuse colored grubs. Bait with a cricket and fish 3 to 4 feet below a float. If you are catching a lot of small bream, often fishing a little deeper in the same area can catch larger bream that tend to stay a little deeper. Using the appropriate size hook is also an important factor when fishing for bream. Bream have small mouths and most bait and tackle stores sell "bream hooks" that are perfect when you are targeting these fish. For anglers without a boat, good catches of bluegill can be had by fishing off the fishing pier adjacent to the boat ramp in the north campgrounds or off the fishing fingers located in the south campgrounds. Catfish can be taken using chicken livers and earthworms.
Popular Species
Fish graphics by Duane Raver, Jr.
More species information is available for:

TrophyCatch Tracker
TrophyCatch is FWC's citizen-science program that rewards anglers for documenting and releasing trophy bass 8 pounds or larger.
Be the first to submit a trophy bass from Hurricane Lake!