Calhoun County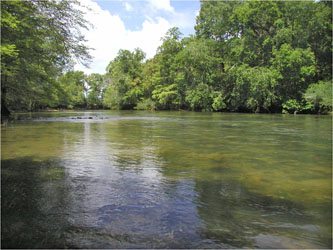 This river is home to the unique shoal bass. Note that shoal bass regulations changed this past year and are detailed below. The Chipola River is accessible in Marianna off CR 280 (Magnolia Rd), Peacock Bridge Rd (located north of Sink Creek), SR 274 west of Altha on Hamilton Spring Rd, and SR 20 at Clarksville. This very scenic, spring-fed coldwater river stretches about 95 miles starting just north of Marianna and running south through the Dead Lake and into the Apalachicola River. The Chipola River has fast water shoals and provides excellent sunfish (redbreast, redear and bluegill) fishing in the spring depending on the water level. Boat operators should be cautious of these shallow limestone shoals while running your boat in this river during low water.
Local information on these rivers and their fishes may be obtained from the Division of Freshwater Fisheries Management, Northwest Regional Office (850-265-3676). Information regarding canoe, kayak, and tube float trips on the Chipola River can be obtained from Chipola River Outfitters (850-762-2800 or 850-381-6062) or Bear Paw Adventures (850-482-4948). Bear Paw Adventures is closed during the winter but will reopen March 1st.
Statewide bag and length limits for black bass are: 5 Black bass (including largemouth, Suwannee, spotted, Choctaw, and shoal bass, individually or in total), only one of which may be 16 inches or longer in total length. There is no statewide minimum length limit for largemouth bass. There is a 12 inch minimum length limit for shoal bass, Choctaw bass, and spotted bass. Anglers should also note that there is a catch and release only conservation zone for shoal bass between Peacock Bridge and Johnny Boy Landing. Anglers may possess largemouth bass in this section.
Anglers should always be mindful of the rocky limestone shoals and snags in the river. During low river levels travel upstream through shallow, swift shoals may be impossible so anglers should plan accordingly. View daily river levels and flow.
Local information on these rivers and their fishes may be obtained from the Division of Freshwater Fisheries Management, Northwest Regional Office (850-265-3676).
Bream fishing (redear, bluegill, redbreast, and spotted sunfish) should be fair to good throughout the winter and early spring. Try fishing deep water "holes" in midwinter and the shallows around snags and stumps in early March. Recommended baits for bream are beetle-spins, worms, and crickets. Largemouth bass and shoal bass fishing will slow through January and should pick up between mid-February and early March. In the winter, try fishing deep areas of the river and backwaters with diving crankbaits worked slowly. Recommended baits for largemouth bass fishing include artificial lizards, dark worms, spinner baits, and lures and artificials that mimic crayfish. State record shoal bass have been caught in the Chipola River. For those anglers targeting shoal bass try fishing the deep holes below shoal areas between Magnolia Bridge and Johnny Boy landing. The best baits for shoal bass are artificial baits that mimic crayfish, like small crankbaits and plastic creature baits. There is a catch and release only section for shoal bass between Peacock Bridge and Johnny Boy Landing. Catch and release is recommended for all shoal bass since they are a unique species and high flows during over the past few springs (during the spawning period) have resulted in fewer shoal bass. A few black crappie (i.e., speckled perch) can be caught in deep holes around snags during the winter and spring with crappie minnows. Fly-fishing for bluegill and largemouth bass should pick up in March in the early morning or late afternoon. Hurricane Michael downed many trees and new log jams are making navigation difficult between Magnolia and Johnny Boy Landing. At the time of writing this report, upstream travel from Magnolia is impeded by a line in the water and downstream navigation is most impacted between the Magnolia and Peacock section (sections may be impassable or become trickier to navigate as water levels drop). Watch for a downed tree when launching a boat at Magnolia.
You can check USGS daily river levels and flow.
Popular Species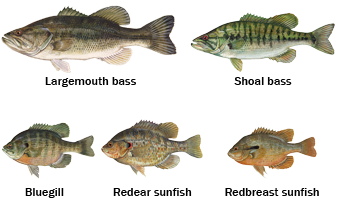 Fish graphics by Duane Raver, Jr.
More species information is available for:
Largemouth bass, Shoal bass, Spotted bass, Bluegill, Redear sunfish, Redbreast sunfish, Sunshine bass, Striped bass, Black crappie, Channel catfish

TrophyCatch Tracker
TrophyCatch is FWC's citizen-science program that rewards anglers for documenting and releasing trophy bass 8 pounds or larger.
Be the first to submit a trophy bass from the Chipola River!