Santa Rosa County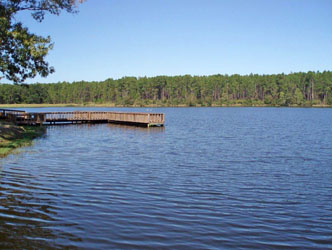 Bear Lake is a 107-acre man-made impoundment constructed in 1959, opened to fishing in 1961, and designated as a Fish Management Area. The lake has an average depth of 8 feet with a maximum depth of 23 feet. Deepest areas are located near the dam and along the old streambed. A considerable amount of flooded timber remains, providing fish habitat. This lake has been stocked with Largemouth Bass, Bluegill, Redear Sunfish (shellcracker), Black Crappie, Hybrid Striped Bass, and Channel Catfish. Bear Lake is located in northeast Santa Rosa County with in the Blackwater State Forest, approximately 2 miles east of Munson, FL on SR 4. A dual-launch concrete boat ramp is located within the Bear Lake Campground. Ample parking, a handicapped accessible fishing pier, and an informational kiosk are located near this ramp. The Florida Forest Service maintains the campground, which includes bath/restroom facilities, along with camping and picnic areas. The Florida Forest Service charges a $2.00/car fee to all persons entering the Bear Lake Campground area. Two primitive dirt boat landings are accessible from Hurricane Lake Rd. and are not currently subject to this fee. A limited number of small jon-boats and canoes are available to rent from DOF for use on the lake. Information regarding these rentals can be obtained by calling 850-957-6140. Bear Lake is subject to the rules and regulations currently in effect for Fish Management Areas. Please refer to a current copy of Florida Freshwater Sport Fishing Regulations. Gasoline boat motors are prohibited from use on Bear Lake; however, use of electric trolling motors is allowed.
For additional information regarding fishing opportunities at Bear Lake contact Blackwater Fisheries Center in Holt, Fl. Phone 850-957-6175.
See also our Fish Management Area Map for Bear Lake.
April through June brings increasing water temperatures to Bear Lake as largemouth bass near the conclusion of their spawning season. But don't let this discourage you, as quality Bass can still be had along the lake perimeter. These fish should be targeted with noisy topwater baits (buzzbaits & jerkbaits) during low light conditions or with soft-plastic baits when the Florida sun is burning bright. Fish Rat-L-Traps, crank baits, spinner baits, or soft plastics around deep structure for quality bass seeking refuge from the warmer, shallow waters. Spring FWC electrofishing surveys have yielded bass approaching 5 lbs along the edges of vegetation mats. Target these areas with weedless artificial baits. As the water temperatures reach 68-80 degrees, bream should begin to gather on beds throughout the lake. Crickets, beetlespins, roostertails, and small jigs can produce nice shellcracker and goggleye. Black crappie will generally congregate around any hard structure in deeper water to escape the summer heat. However, if you notice any schools of shad spawning in the shallows, this can often draw hungry crappie out of the depths. Look for these fish off the two points or along the dam and don't be afraid to switch up your presentation. Small crank baits and spinner baits can work just as well as your favorite crappie jig or a live minnow. As always, catfish will be hard pressed to resist a juicy beef or chicken liver. If you have trouble keeping these on the hook, try wrapping it in surgical gauze or pantyhose, but make sure you stretch the fabric to release a nice odor from your bait. If you have having trouble keeping the weeds off your hook then try rigging a small bobber in between your weight and hook to keep the bait suspended above any vegetation.
Popular Species

Fish graphics by Duane Raver, Jr.
More species information is available for:

TrophyCatch Tracker
TrophyCatch is FWC's citizen-science program that rewards anglers for documenting and releasing trophy bass 8 pounds or larger. The following TrophyCatch bass have been submitted from Bear Lake!
Lunker Club (8 – 9.9 pounds): 3
Trophy Club (10 - 12.9 pounds): 2