Bear Lake
Santa Rosa County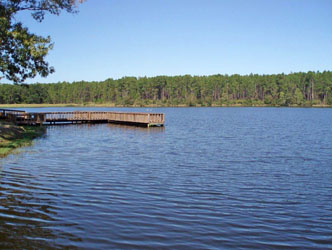 Bear Lake is a 107-acre man-made impoundment constructed in 1959, opened to fishing in 1961, and designated as a Fish Management Area. The lake has an average depth of 8 feet with a maximum depth of 23 feet. Deepest areas are located near the dam and along the old streambed. A considerable amount of flooded timber remains, providing fish habitat. This lake has been stocked with Largemouth Bass, Bluegill, Redear Sunfish (shellcracker), Black Crappie, Hybrid Striped Bass, and Channel Catfish. Bear Lake is located in northeast Santa Rosa County with in the Blackwater State Forest, approximately 2 miles east of Munson, FL on SR 4. A dual-launch concrete boat ramp is located within the Bear Lake Campground. Ample parking, a handicapped accessible fishing pier, and an informational kiosk are located near this ramp. The Florida Forest Service maintains the campground, which includes bath/restroom facilities, along with camping and picnic areas. The Florida Forest Service charges a $2.00/car fee to all persons entering the Bear Lake Campground area. Two primitive dirt boat landings are accessible from Hurricane Lake Rd. and are not currently subject to this fee. A limited number of small jon-boats and canoes are available to rent from DOF for use on the lake. Information regarding these rentals can be obtained by calling 850-957-6140. Bear Lake is subject to the rules and regulations currently in effect for Fish Management Areas. Please refer to a current copy of Florida Freshwater Sport Fishing Regulations. Gasoline boat motors are prohibited from use on Bear Lake; however, use of electric trolling motors is allowed.
For additional information regarding fishing opportunities at Bear Lake contact Blackwater Fisheries Center in Holt, Fl. Phone 850-957-6175.
For reserving campsites and cabins in Florida State Parks check the Reserve America website or call 888-622-9190.
See also our Fish Management Area Map for Bear Lake.
Bear Lake should produce plenty of legal bass this summer, ideally sized for eating. Having long since left their beds, you can target these fish in deeper water near the dam and around stumps in some of the coves. Try to avoid shallow, densely vegetated patches in the lake but don't be afraid to fish the fringes of these areas for cruising predators. In the early morning and late evening hours noisy topwater baits can prove effective, but you will likely want to switch to soft plastics and a slow retrieve as the temperatures begin to rise.
Bream should be congregating to spawn on beds throughout the summer season, look for lighter colored areas on the bottom which indicate spawning activity. These areas should be fished with crickets, red worms, or wigglers. Use a small hook with a small split-shot sinker attached about 1.5-3 feet above it on your line and try to cast your bait directly into the center of these light colored areas. Artificial baits such as beetle spins, roostertails, or curley-tailed grubs can also be an effective method for tempting a hungry panfish into striking.
As always, catfish will be hard pressed to resist a juicy beef or chicken liver. Fish these baits on the bottom, in deep water off the fishing pier or near the dam. If you have trouble keeping messy livers on the hook, try wrapping it in surgical gauze or pantyhose, but make sure you stretch the fabric to allow a nice odor to emanate from your bait. With a pleasant variety of fish, head out to Bear Lake and catch yourself a meal, but be sure to consult the new state regulation booklet for a detailed and updated description of this year's regulations.
The FWC recently installed 400 tons of gravel into Bear Lake at 6 gravel bed locations. These gravel beds will provide clean, firm spawning habitat for fish. The FWC also plans on installing Mossbacks, or artificial trees as additional habitat near the gravel beds. Artificial trees last longer than brush piles. The artificial limbs grow algae which provide a source of food for insects and then the bream feed on the insects. The bream hide in the trees from larger predators such as Largemouth Bass which congregate around the habitat to try and find a meal. Fish attractors such as the gravel beds and mossbacks will be marked with buoys. Both types of attractors have improved catch rates for anglers targeting these spots on Hurricane Lake and Lake Stone.
Popular Species

Fish graphics by Duane Raver, Jr.
More species information is available for:

TrophyCatch Tracker
TrophyCatch is FWC's citizen-science program that rewards anglers for documenting and releasing trophy bass 8 pounds or larger. The following TrophyCatch bass have been submitted from Bear Lake!
Lunker Club (8 – 9.9 pounds): 3
Trophy Club (10 - 12.9 pounds): 2