Indian River County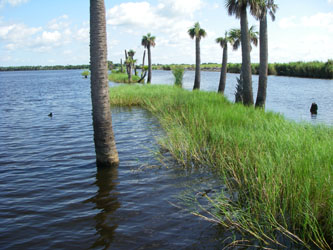 (Note that a new boat ramp was recently opened on the adjacent Fellsmere Reservoir, also known as Headwaters Lake. For more information on that separate location see the Fellsmere Fishing Forecast page.)
The St. Johns Water Management Area (SJWMA), known to most anglers as the Farm 13/Stick Marsh, is a 6,500-acre impoundment located along the east coast of central Florida in northwest Indian River County. Water depths range from 4 to 8 feet. Boaters unfamiliar with the SJWMA are advised to navigate to fishing locations with extreme caution due to the number of man-made and natural hazards present. Facilities include a double lane concrete boat ramp, air boat launch site, restroom and paved parking lot. Closest towns/cities are Melbourne, Palm Bay, Vero Beach, Sebastian and Fellsmere. No gas, food or bait available on site. Popular sportfish include largemouth bass, bluegill, redear sunfish, black crappie and several catfish species. This water body is noted for its excellent bass fishing due to the special no harvest regulation on largemouth bass. The SJWMA is one of the top 10 trophy bass spots in the state.
Anglers are reminded to exercise caution when boating due to submerged and floating timber in the Stick Marsh/Farm13 impoundment and that they are legally obligated to adhere to catch-and-release regulations for largemouth bass.
For more information on daily fishing forecasts and lake conditions for Stick Marsh/Farm 13, call Stick Marsh Bait & Tackle Shop at (772) 571-9855.
With Fellsmere Reservoir being recently opened, much of the local angling pressure has been focused there. Now is a great time to drive past the full parking lot of Fellsmere to the less pressured Stick Marsh/Farm 13. Habitat in the south end of the farm is best and where most anglers start. Eelgrass, Coontail, and Hydrilla exist amongst all of the stumps creating a great place for all species. Many trophies come out of the Stick Marsh this time of year. Spinnerbaits, buzzbaits, rattletraps, and zoom speed worms all produce. Junebug is a local favorite color for worms. Wild golden shiners are another great option for those wanting to try live bait. If there is any moving water coming from the water control structure, its worth casting around there. Carolina rigs fished along the ditch edges and shell beds can produce big bites. Anglers are reminded that all largemouth bass caught must be released immediately under the special no harvest regulation.
Black crappie should be concentrated during this quarter in Ditch 7, Ditch 13, the north flow-way, and in other submerged secondary canals. The cattail edge along the north end of the farm would be a good place to drop a jig. Any place that has an overhanging canopy of floating plants will provide good cover for crappie. Anglers targeting these tasty panfish are using minnows and/or small jigs (1/32-1/8 oz.) in twister tail or tube styles. Jigs in green, pink, brown, salt and pepper, or chartreuse seem to be hot colors to try for specks. Bluegill catches typically slow down this time of year but one can expect fair numbers to be caught by crappie anglers. There are also very impressive numbers of good size shell crackers in this impoundment. This isn't the prime time of year to catch them but they can still be found on the humps and shell beds around the perimeter of the Stick Marsh.
Popular Species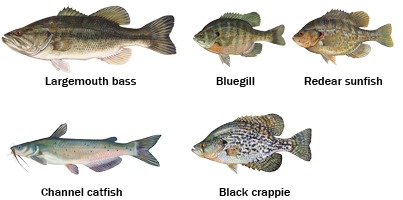 Fish graphics by Duane Raver, Jr.
More species information is available for:
Largemouth bass, Bluegill, Redear sunfish, Channel catfish, Black crappie

TrophyCatch Tracker
TrophyCatch is FWC's citizen-science program that rewards anglers for documenting and releasing trophy bass 8 pounds or larger. The following TrophyCatch bass have been submitted from Farm 13/Stick Marsh:
Lunker Club (8 – 9.9 pounds): 119
Trophy Club (10 - 12.9 pounds): 17
Hall of Fame (13+ pounds): 1