Indian River County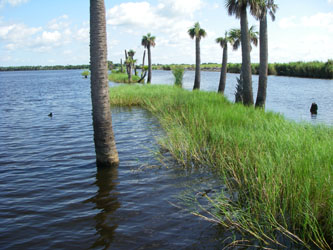 The St. Johns Water Management Area (SJWMA), known to most anglers as the Farm 13/Stick Marsh, is a 6,500-acre impoundment located along the east coast of central Florida in northwest Indian River County. Water depths range from 4 to 8 feet. Boaters unfamiliar with the SJWMA are advised to navigate to fishing locations with extreme caution due to the number of man-made and natural hazards present. Facilities include a double lane concrete boat ramp, air boat launch site, restroom and paved parking lot. Closest towns/cities are Melbourne, Palm Bay, Vero Beach, Sebastian and Fellsmere. No gas, food or bait available on site. Popular sportfish include largemouth bass, bluegill, redear sunfish, black crappie and several catfish species. This water body is noted for its excellent bass fishing due to the special no harvest regulation on largemouth bass. The SJWMA is one of the top 10 trophy bass spots in the state.
Anglers are reminded to exercise caution when boating due to submerged and floating timber in the Stick Marsh/Farm13 impoundment and that they are legally obligated to adhere to catch-and-release regulations for largemouth bass.
For more information on daily fishing forecasts and lake conditions for Stick Marsh/Farm 13, call Stick Marsh Bait & Tackle Shop at (772) 571-9855.
Conditions in the area have been very dry since January. The water level is two feet below the normal winter scheduled water level to start the quarter. The vegetation in the southern portion of Farm 13 is still the go-to location for the biggest concentrations of bass. The north flow-way aka. "The Back Lot" has less grass than in early 2019 but it did produce our highest electrofishing catches of bass during our annual counts this spring. Coming out of the spawning season it is worthwhile to look for the submerged levees and ditches that attract fish that are schooling on threadfin shad. The last couple of weeks of March have seen prolonged hot days and warm nights so fish are already moving into a post-spawn feeding pattern. The water is still getting pretty cloudy during and after windy weather. The water was quite turbid during most of the January through March period so keep that in mind when selecting lures. As spring becomes summer, look for bass to disperse throughout the reservoir closer to deeper water near Ditch 7, Ditch 13 and along the many secondary drainage ditches that crisscross the Farm13 pool. Historically, bass will often school up on threadfin shad in the central region of both pools this time of the year, so keep an eye out for feeding activity on the surface.
Moving water near the flow structures is often a good place to look for feeding activity but with the low water there isn't likely to be much water moving. But we had a similar situation last year and it ended up raining a lot in May. Water conditions will dictate lure selection. Golden shiners are the live bait of choice of many guides for trophy bass, followed by plastic worms (Texas or Carolina rigged) in June-bug, pumpkinseed, watermelon, tequila sunrise, and red shad), spinner baits (light colored), top water poppers and crank baits. In recent years crank baits fished along the shallow edges of drainage ditches proved to be an effective technique especially as water temperatures get up in the 80's.
Black crappie fishing was good in the first quarter and can be good this time of year for those anglers willing to search for them. Fish will be holding along the edges the ditches and other submerged edges. Most anglers fish with live minnows but small jigs (1/32 and 1/8 ounce) with twister-tail and tube style tails fished traditionally or vertically with jig poles will also catch fish. Bluegill and Redear Sunfish activity really picks up this time of the year as these panfish move into the shallow drop offs along levees and on top of the many submerged canal berms to spawn. Panfish are already bedding here as of the end of March. Live crickets, cut shrimp, beetle spins, and small jigs are all effective baits for the various panfish species. Biologists sampling for bass in January and February noted that there were big bluegill and redears all over the place.
Anglers are reminded to exercise caution when boating due to submerged and floating timber in the Stick Marsh/Farm13 impoundment. This is doubly true right now with the water being down a couple of feed. Also remember that anglers are legally obligated to adhere to catch-and-release regulations for largemouth bass.
Popular Species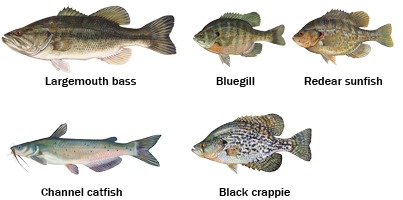 Fish graphics by Duane Raver, Jr.
More species information is available for:
Largemouth bass, Bluegill, Redear sunfish, Channel catfish, Black crappie

TrophyCatch Tracker
TrophyCatch is FWC's citizen-science program that rewards anglers for documenting and releasing trophy bass 8 pounds or larger. The following TrophyCatch bass have been submitted from Farm 13/Stick Marsh:
Lunker Club (8 – 9.9 pounds): 113
Trophy Club (10 - 12.9 pounds): 16