Indian River County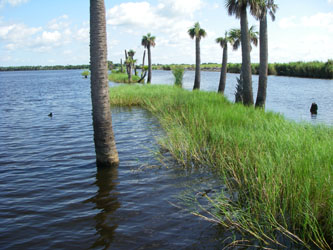 The St. Johns Water Management Area (SJWMA), known to most anglers as the Farm 13/Stick Marsh, is a 6,500-acre impoundment located along the east coast of central Florida in northwest Indian River County. Water depths range from 4 to 8 feet. Boaters unfamiliar with the SJWMA are advised to navigate to fishing locations with extreme caution due to the number of man-made and natural hazards present. Facilities include a double lane concrete boat ramp, air boat launch site, restroom and paved parking lot. Closest towns/cities are Melbourne, Palm Bay, Vero Beach, Sebastian and Fellsmere. No gas, food or bait available on site. Popular sportfish include largemouth bass, bluegill, redear sunfish, black crappie and several catfish species. This water body is noted for its excellent bass fishing due to the special no harvest regulation on largemouth bass. The SJWMA is one of the top 10 trophy bass spots in the state.
Anglers are reminded to exercise caution when boating due to submerged and floating timber in the Stick Marsh/Farm13 impoundment and that they are legally obligated to adhere to catch-and-release regulations for largemouth bass.
For more information on daily fishing forecasts and lake conditions for Stick Marsh/Farm 13, call Stick Marsh Bait & Tackle Shop at (772) 571-9855.
As water temperatures begin to cool in October and November, bass should become more active throughout the reservoir and for longer periods of time during the day. Anglers lucky enough to find moving water will probably have the most success. Water flow in the reservoir can be attributed to water control structures, agriculture pump stations, or wind driven. Anglers can expect to find heavy feeding activity around the inflows and outflows (S-96D, S-258, S-259, and S-96B water control structures) and other areas generating current (southeast corner of the Farm 13 pool, Ditch 13, east and west ends of Ditch 7, and channelized areas at the northwest and northeast ends of the Stick Marsh). The water level is at the scheduled level for this time of year and the water managers start storing water for the dry season starting on October 1. That should raise the water level a foot by the end of October but will also mean less water movement unless October brings a big rain before the dry season sets in. Keep an eye on the rain gages to be ready if water moves with a big rain. September ended on a wet note. Bass should go into their pre-spawning to spawning mode during December and be staging near the canals and submerged drainage ditches protected from strong wave action. Anglers will have to continue to depend upon onboard electronics to define the physical structure and depth in order to pattern fish around most areas of the reservoir. Submerged vegetation coverage in the southeastern and south-central section of Farm13 is holding steady, similar to previous years. If these plants maintain their density during the quarter, angler can expect these areas to attract and hold fish. Last year, these vegetated and submerged stump fields south of Ditch 13 were very productive for bass anglers. Ditch 7 and the flow-way (often referred to as the "Back Lot") at the north end of the Stick Marsh are also regions of the impoundment to pattern fish late this quarter. In recent years the biggest complaint by angler has been extremely cloudy water whenever the wind blows. Once the fall cool fronts start coming through expect things to get churned up for a few days after a good blow. Many anglers feel strongly that the extreme turbidity of the water has a negative affect on catch success. Consideration should be given as to wind conditions prior to and the day one chooses to fish. Water temperature and clarity of the water will dictate lure selection. During the fall and winter months, golden shiners are the live bait of choice by those seeking trophy bass. For those who prefer artificial lures, plastic worms (June-bug, tequila sunrise, and red shad colors) rigged a number of ways depending on depth and structure, are probably the most popular lures. Plastic swim baits mimicking threadfin shad are also popular. Some anglers prefer throwing shallow-running and deep diving crank baits, while others like to throw spinner baits which generate more attracting vibration in the more turbid water. Anglers are reminded that all largemouth bass caught must be released immediately under the special no harvest regulation.
Fair numbers of black crappie should be found in Ditch 7 and among other submerged ditches during this quarter. Best bets for these tasty panfish are minnows and/or small jigs (1/32 – 1/8 oz.) in twister tail or tube styles. Jigs in green or chartreuse seem to be popular colors to try for specks. The key to catching crappie and bluegills this time of year is locating good numbers of them, because they can be scattered. They can often be found along the bottom, on a drop-off, or suspended in the underwater canals. Crappie will also concentrate under float vegetation where anglers can find success fishing along the thick edges or by raking holes to fish underneath the matted vegetation.
Popular Species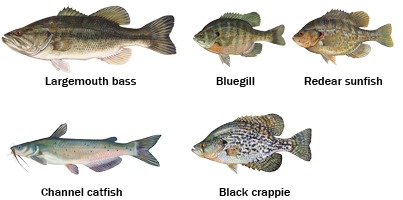 Fish graphics by Duane Raver, Jr.
More species information is available for:
Largemouth bass, Bluegill, Redear sunfish, Channel catfish, Black crappie

TrophyCatch Tracker
TrophyCatch is FWC's citizen-science program that rewards anglers for documenting and releasing trophy bass 8 pounds or larger. The following TrophyCatch bass have been submitted from Farm 13/Stick Marsh:
Lunker Club (8 – 9.9 pounds): 119
Trophy Club (10 - 12.9 pounds): 17