Indian River County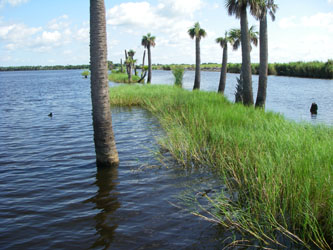 The St. Johns Water Management Area (SJWMA), known to most anglers as the Farm 13/Stick Marsh, is a 6,500-acre impoundment located along the east coast of central Florida in northwest Indian River County. Water depths range from 4 to 8 feet. Boaters unfamiliar with the SJWMA are advised to navigate to fishing locations with extreme caution due to the number of man-made and natural hazards present. Facilities include a double lane concrete boat ramp, air boat launch site, restroom and paved parking lot. Closest towns/cities are Melbourne, Palm Bay, Vero Beach, Sebastian and Fellsmere. No gas, food or bait available on site. Popular sportfish include largemouth bass, bluegill, redear sunfish, black crappie and several catfish species. This water body is noted for its excellent bass fishing due to the special no harvest regulation on largemouth bass. The SJWMA is one of the top 10 trophy bass spots in the state.
Anglers are reminded to exercise caution when boating due to submerged and floating timber in the Stick Marsh/Farm13 impoundment and that they are legally obligated to adhere to catch-and-release regulations for largemouth bass.
For more information on daily fishing forecasts and lake conditions for Stick Marsh/Farm 13, call Stick Marsh Bait & Tackle Shop at (772) 571-9855.
This is the time of year when the majority of trophy bass (8 lbs or greater) are caught and released by anglers in this well known impoundment. When fishing in the cooler water typically found in east-central Florida during winter and early spring, anglers can expect largemouth bass to follow traditional patterns associated with spawning, staging near the canals and submerged drainage ditches which provide some protection from strong wind and wave action and moving into the shallower edges and flats to spawn. Hydrilla and tape grass/eel grass are holding on in the south end of Farm 13 and in the north flow way 'Back Lot' between the boat ramp and the west outlet structure (S-96B). These are the top areas during the winter spring spawning season. The old submerged irrigation-drainage canals must now be located using onboard electronics. Other areas to look for bass this time of year are Ditch 7, and northwest corner (the palms) of the Stick Marsh. Popular spots in the Farm 13 section include the water control structure (S-96D) canal, levees or road-beds along submerged drainage canals/ditches, and the flooded timber in the flats south of Ditch 13.
The rainfall has been below normal for most of the year in the Upper St. Johns River Basin and the Farm 13/Stick Marsh is running about 1.5 feet below the normal winter level and is slowly falling. Extreme caution must be used while boating in these areas because as water levels drop during the dry season, more stumps, logs, and canal berms will be nearer the surface.
The water has been fairly turbid for several years now and gets very murky when the wind blows, especially when lower levels make it easier for wind to stir up the bottom. Water conditions (temperature, flow, and clarity) will dictate lure selection. Golden shiners are the choice of many anglers when searching for trophy bass this time of year, followed by plastic worms (June-bug, tequila sunrise, and red shad colors), light colored spinner baits (willow leaf-style blades), and soft jerk baits. As the water warms in late winter, it offers the opportunity to use top-water plugs and shallow running crank baits. Long stretches of very warm weather in February 2019 had fish temporarily go into a post-spawn style feeding mode. Anglers are reminded that all largemouth bass caught must be released immediately under the special no harvest regulation.
Black crappie should be concentrated during this quarter in Ditch 7, Ditch 13, the north flow-way, and in other submerged secondary canals. However, with the absence of hydrilla, specks may revert to the more traditional behavior they exhibit in central Florida lakes where boaters find them by just trolling or drifting the open areas of the lake. Best bets for these tasty panfish are minnows and/or small jigs (1/32-1/8 oz.) in twister tail or tube styles. Jigs in green, pink, brown, salt and pepper, or chartreuse seem to be hot colors to try for specks. Bluegill catches typically slow down this time of year but one can expect fair numbers to be caught by crappie anglers. There are also very impressive numbers of good size shell crackers in this impoundment. This isn't the prime time of year to catch them but they can still be found on the humps and shell beds around the perimeter of the Stick Marsh.
Popular Species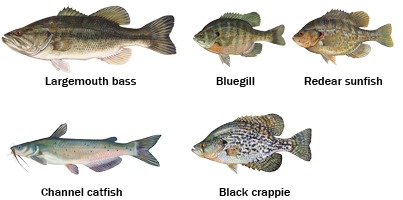 Fish graphics by Duane Raver, Jr.
More species information is available for:
Largemouth bass, Bluegill, Redear sunfish, Channel catfish, Black crappie

TrophyCatch Tracker
TrophyCatch is FWC's citizen-science program that rewards anglers for documenting and releasing trophy bass 8 pounds or larger. The following TrophyCatch bass have been submitted from Farm 13/Stick Marsh:
Lunker Club (8 – 9.9 pounds): 113
Trophy Club (10 - 12.9 pounds): 14