Alachua County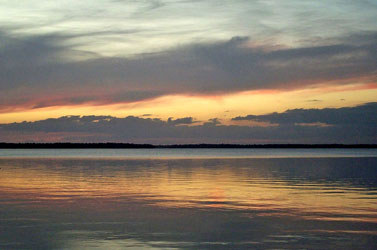 Lochloosa Lake (5700 acres) is designated as a Fish Management Area and located 5 miles south of Hawthorne near the town of Lochloosa. Most of the shoreline is bordered by old-growth cypress trees, and knotgrass and spatterdock (bonnets) are the predominant aquatic plants in the lake. A public boat ramp provides access to the lake from U.S. Highway 301 in the town of Lochloosa, and at Lochloosa Harbor Fish Camp just north of the town of Lochloosa, also accessed from U.S. 301. In addition, a public pier is located south of the town of Lochloosa on Burnt Island and is a popular fishing site for those without a boat. Lochloosa Lake offers good bluegill, redear sunfish and warmouth (bream) fishing during April through September; however, some bream can be caught year-round. Anglers targeting bream should fish with grass shrimp in deep-water spatterdock or deeper grass patches. Black crappie fishing is best from January through April in the spatterdock with grass shrimp and minnows. During summer and fall, crappie anglers should drift open water with grass shrimp and minnows.
For more and updated information please call:
Lochloosa Harbor Fish Camp 352-481-2114
Gary's Tackle Box 352-372-1791
Lochloosa Lake is known as one of Florida's leading crappie fisheries and anglers come from all over to fill their coolers. FWC biologists observed a bunch of Black Crappie this past fall while sampling with electrofishing and expect the bite to be pretty good again this year. While we didn't see as many slabs as we've seen in the past, the numbers were high enough to keep an anglers line tight. Black crappie will be moving in shore to spawn this spring and can be found in the thick vegetation and pads. Those full moons of February and March usually produce to memorable fishing trips. Try using minnows, crickets, and jigs to catch them. Lochloosa Lake also has one of the best Bluegill and Shellcracker populations in the area, both in terms of number and size. Try fishing the pads on the North or Southeast end of the lake with a cricket or grass shrimp on a hook under a cork as the water gets warmer in March. Largemouth Bass have also produced some big catches for anglers at Lochloosa Lake the past few years and FWC biologists have observed the same thing in their fish samples, catching some individuals that weighed over 12 pounds. The pads in Little Lochloosa and on the northwest side are good places to try casting a soft plastic or jerk bait. Anglers should be aware of tagged black crappies with rewards. If you catch a tagged crappie, call the number below to receive information on how to claim your reward.
Travis Tuten, FWC fisheries biologist: 352-415-6964
Popular Species

Fish graphics by Duane Raver, Jr.
More species information is available for:

TrophyCatch Tracker
TrophyCatch is FWC's citizen-science program that rewards anglers for documenting and releasing trophy bass 8 pounds or larger. The following TrophyCatch bass have been submitted from Lochloosa Lake:
Lunker Club (8 – 9.9 pounds): 21
Trophy Club (10 - 12.9 pounds): 11