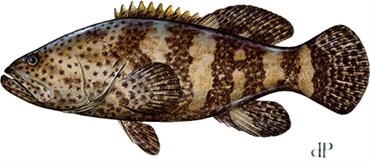 GOLIATH GROUPER ARE PROTECTED BY LAW.
DO NOT REMOVE THE TAG OR ATTEMPT TO HARVEST THE FISH.
REPORT SIGHTINGS TO:
FWC Angler Tag Return Hotline 1-800-367-4461
The Institute for Fishery Resource Ecology
Department of Biological Science
Florida State University
Tallahassee, FL 32306-1100
INFORMATION NEEDED
Your name, address, phone number, and e-mail
Fish's location, depth, and date seen
Fish's estimated total length
Tag number, bead pattern (if beaded tag), and photo if possible
Illustration (c) Diane Rome Peebles, and provided for viewing purposes only.