Recreational Fisheries Landings
Learn how recreational fishing landings and effort are estimated in the Marine Recreational Information Program (MRIP) and how to access recreational fishing data.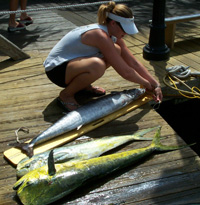 The Marine Recreational Information Program (MRIP), formerly known as the Marine Recreational Fisheries Statistical Survey (MRFSS), was developed by the National Marine Fisheries Service (NMFS) to monitor recreational fisheries. The MRIP is designed to collect a variety of data:
Target species
By species, the number of fish harvested and released
Lengths and weights of harvested fish
Anglers' resident state and county
Annual and recent angler fishing effort
Time and general area fished
Fishing effort per household
These data are used to estimate catch, harvest, and fishing effort in participating states.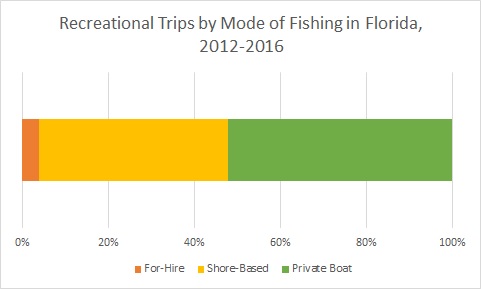 Florida's recreational fishery is among the largest in the country and is an important component of the state's tourism economy. Close to half the estimated recreational fishing trips in Florida are made by visitors to the state. The MRIP estimates more than 5.4 million recreational anglers took more than 22 million saltwater fishing trips statewide in Florida during 2016. Estimates of angler participation and numbers of recreational fishing trips provided by the MRIP give scientists a measure of the amount of fishing pressure that is exerted on fish populations.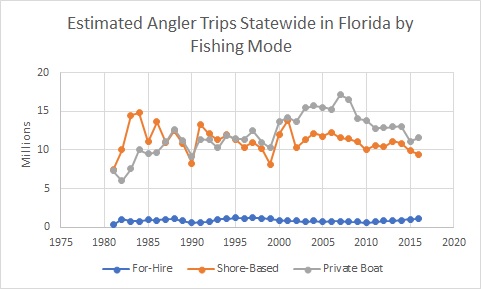 The estimated number of trips made by anglers from private or rental boats (PR) has significantly increased over time. Estimated PR trips in east Florida increased from approximately 2 million in 1981 to approximately 4.2 million in 2016. In west Florida, estimated PR trips increased from approximately five million in 1981 to more than 7.3 million in 2016. Statewide, angler trips from party and charter fishing vessels (PC), also called for-hire vessels, ranged between 2-6 percent of total estimated trips. Shore-based fishing trips (SH) decreased from approximately 60 percent of the total estimated trips in the 1980s to approximately 45 percent of total estimated trips in later years.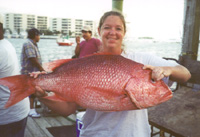 Why Collect Recreational Data?
Commercial seafood landings are reported to the state of Florida during the point of sale; however, there is no mechanism for the millions of recreational anglers targeting saltwater fish in Florida to report their harvest. The MRIP samples the recreational fishing public to estimate their contribution to the total harvest of fisheries resources. Reported commercial landings and estimates of recreational fishing effort, catch, and harvest are used to monitor the sustainability of fisheries and the effectiveness of conservation measures. The MRIP has been conducted for more than 20 years; this long-term data set allows fishery managers to track trends.
The Survey Design
The MRIP, a federal survey administered by NMFS, is conducted in coastal states around the country. The survey has two complementary components. The field intercept component collects catch and harvest data directly from anglers during personal interviews. The telephone survey component collects information about fishing trips from anglers, including numbers of anglers in each household contacted and how often they go fishing. Combined, the two portions of the survey are used to estimate total catch, harvest, and effort in the recreational fishery. This survey has existed in Florida since 1979 and the Fish and Wildlife Research Institute (FWRI) began conducting field components of the survey in the state in 1997.
On average, field samplers interview 24,000 anglers in Florida annually. Field intercepts are conducted at ramps, marinas, docks, piers, beaches, and other fishing access points. During an intercept, a trained biologist interviews the angler and inspects the available catch. Fish are weighed, measured, and identified to species. Three fishing mode categories are targeted during field intercept assignments: shore, charter and party boats (for-hire boats), and private or rental boats. Sites with these fishing modes present are randomly assigned each month for interview collection assignments. The frequency of site selection is based on the relative fishing activity at each site.
Separate estimates of catch, harvest, and number of fishing trips are generated for each mode of fishing, and those estimates are added together to get total catch, harvest, and number of fishing trips for all modes of recreational fishing. Because fish in the Atlantic Ocean and Gulf of Mexico are often managed as separate stocks, the survey in Florida is split into separate east coast and west coast regions. Survey methods are the same in both regions, and separate estimates of effort, catch, and harvest are generated. Statewide estimates are obtained by combining estimates from both regions.
Is the MRIP the Best Recreational Survey Design?
The MRIP is the only long-term, continuous recreational fishing survey using consistent methods over time. For monitoring and assessing Florida's most popular recreational fisheries, the MRIP is an invaluable data set. Because the MRIP is a large-scale regional survey, it is most effective for monitoring species frequently encountered in dockside surveys over large portions of the state. For small, localized fisheries or for species that are less frequently encountered in dockside surveys, supplemental data on recreational fishing may also be needed to adequately monitor and assess the fishery. For example, large pelagic species such as tunas and swordfish are not frequently encountered in dockside surveys and NMFS collects additional data on these fisheries through the issuance of special licenses and catch reports. The Florida Fish and Wildlife Conservation Commission (FWC) also conducts additional angler surveys for red drum, common snook and spotted seatrout in Tampa Bay and southern portions of the state to collect more localized data and supplement information collected by the MRIP.
Since it was first implemented, the MRIP has been reviewed and several improvements have been made. When FWC began conducting portions of the survey in Florida in 1998, the number of dockside interviews increased to improve the precision of catch rates. Since 2000, effort in the for-hire fishery has been estimated using an improved telephone survey of for-hire captains. Review of the survey and recommendations for improvement are ongoing. In early 2005, NMFS released its Recreational Fisheries Strategic Plan. The MRIP is currently undergoing a thorough review of national survey methods and data standards. Visit Count My Fish for more information on this effort.
How the MRIP Data Are Used
The Magnuson Fishery Conservation Act of 1976 (Public Law 94-265) requires sustainable management of fishery resources in federal waters (to 200 nautical miles offshore) and requires that federal fishery management plans give equal consideration to the effects of recreational and commercial fisheries. In federal and state stock assessments, MRIP data and commercial harvest data are used to evaluate the sustainability of recreational and commercial fisheries and the effectiveness of regulations.
Many organizations use data collected by the MRIP:
State and federal management agencies
Federal management councils
Interstate marine fisheries commissions
Non-governmental organizations
Public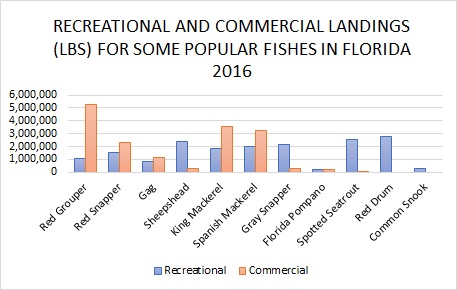 Data on the extent and magnitude of recreational fishing are also important for consideration of economic impacts of fishing regulations and fair distribution of harvest and harvest restrictions. The figure to the right shows recreational and commercial landings for some popular finfish species in Florida during 2016. Recreational landings are depicted by the light blue bars and commercial landings are depicted by the red bars.
How Can I Learn More?
The National Marine Fisheries Service maintains a Web site that gives a full description of the MRIP, how it is conducted, and how the data are used. You can also query the data and download Florida's estimated recreational catches and fishing effort information.
Learn more about MRIP and query the database.
Estimates generated from the MRIP are available at the National Marine Fisheries Service Web site to anyone with Internet access. The database may be queried for regional estimates of landings, total catch, fishing effort, and size distributions of harvested fish from 1981 to present.